How a China-Taiwan War Could Impact Your Portfolio
Aug 29, 2022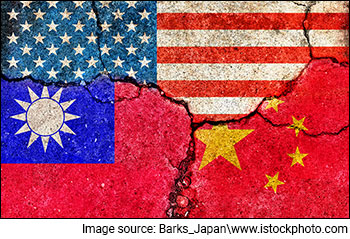 Over the last few months, the world has accepted a long, drawn out Russia-Ukraine war as a fact.
But a new geopolitical crisis has emerged. A more dangerous one.
As tensions between China and Taiwan heated up, the US got involved in a big way.
The visit of the US speaker of the house, Nancy Pelosi, to Taiwan has permanently changed the way the world perceives this issue.
Until last month, the world did not think the US would need to intervene in Taiwan because China wasn't prepared to attack Taiwan yet.
However, now an attack on Taiwan is on everyone's mind. The question is 'when' and 'how', rather than 'if'.
Impact on Financial Markets
This is also how global markets are viewing it. Investors now believe a war in Taiwan is inevitable, even if it doesn't happen soon.
Eventually, China will make its attempt to capture Taiwan and the US will intervene. It will be a conflict that will define the world order for the rest of the 21st century.
If the US wins, China's rise as a superpower could be halted, maybe for good. If China wins, it might replace the US as the next superpower. Or both sides might fight each other to a stalemate.
Whatever happens, there will likely be one big loser, i.e. global stock markets. Markets will crash, probably even before the conflict starts. But that is easy enough to understand.
Much harder is understanding how the conflict will impact your portfolio. Will every stock crash? Which stocks could rise?
Let's try and answer these questions...
Will the market crash?
Initially, yes.
When Russia attacked Ukraine, the world was expecting it. Yet the markets crashed. Almost every stock in the Indian stock market declined that day.
So the initial reaction of many traders and investors alike will be to exit all their positions. Even those who don't sell are unlikely to start buying immediately.
Thus, we will see a sharp fall when the war breaks out. But what will happen next?
Which stocks could benefit?
After the initial crash, which could last a few days, value investors will begin to selectively buy stocks.
These will be the stocks that will start outperforming the market. They will either fall less than other stocks or may even start to go up.
This outperformance will attract more investors and traders to these stocks. And very soon, specific themes like 'war investing' will find many takers.
So which stocks could these be?
Defence stocks is the answer. The expectation would be these companies will receive more orders in times of war.
The Indian armed forces will be on high alert if China attacks Taiwan. It's likely there could be an increase in defence spending by the Indian government, no matter the outcome of the war.
We have highlighted the top 5 defence stocks that could benefit from a China-Taiwan war.
There are other defence stocks that could profit from this conflict too. These are Astra Microwave, Paras Defence, M&M, Zen Technologies, Bharat Forge, among others.
Keep an eye on them too if China attacks Taiwan. If any of these stocks are trading at attractive valuations at that time, they could be potential multibagger stocks.
If you're interested in digging deeper in these stocks, check out Equitymaster's stock screener on the Best Defence Stocks in India.
Happy Investing!
Disclaimer: This article is for information purposes only. It is not a stock recommendation and should not be treated as such. Learn more about our recommendation services here...