How do you spend your weekends?
Movies, parties, dinner dates, getaways, catching up with friends?
I enjoy all of this. But what makes the weekend special for me is a mall close to my place. It's not for shopping, or even window shopping.
What draws me to it is a 'Crossword' store on the third floor of the mall. I love gorging on the books the polished wooden shelves have to offer. There is nothing more inviting than thousands of books, a cozy sofa, soft instrumental music in the background and a quaint wooden polish smell pervading the store.
It's here that I get the chance to sample what some of the most brilliant minds in the world have to say.
This week, it was an orange book that caught my attention - Zero to One from Peter Thiel.
Peter Thiel is the founder of PayPal, co-founder of a billion-dollar company, Palantir Technologies, and a significant investor in Facebook.
If you are an entrepreneur, or want to be one, I strongly recommend this book to you. It shows how huge value and great businesses are created.
In the book, an idea that resonated with me was horizontal versus vertical progress.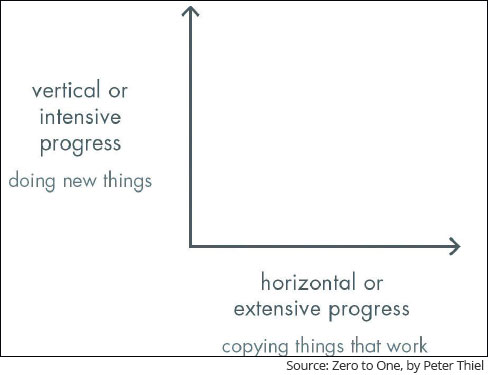 Thiel defines horizontal progress as going from one to n. It's like setting up a second hotel in the vicinity of one already doing well.
Vertical progress, on the contrary, is going from Zero to One...doing something that no one has thought of doing...getting where no one has been. It's unique and original. Think of companies like Google and entrepreneurs like Mark Zuckerberg and Bill Gates...
While Thiel sets all this in the context of doing business, it is equally relevant in the world of investing.
How?
Think of the stock tips you get from your friends, broker, or CNBC. What is unique about them?
Nothing.
You're learning about them because they are well-known companies. Or some big investor has already invested in them and is making a case for it in the media. And whoever is listening or reading it - rest assured it's not just you - may have an equal urge to buy it.
What does it do to your potential returns?
If you are lucky, you may make a moderate gain. In some cases, since there is already too much interest in the stock, it may have run up past its real value. And by the time you bet your money on it, it may already be too late to make any real gains.
So how can you invest 'Vertically'...or 'Zero to One'?
It's only possible when you are among the first few to spot a potential multibagger. Only by identifying great companies with stocks with no or low institutional holding.
Where can you find these stocks?
Large and mid-caps...and even well-known small caps...are out of question.
You will find these opportunities where no one else is looking...in the least liquid segment in the stock markets. I call it the Phase One segment.
A Year Long Journey
It was a year ago we started exploring this space. The question we asked was not what great company or stock someone is buying or holding...but what great company someone is building...and no big investor is holding so far. Our goal has been to capture value as it gets created. Instead of following big investors, we expect big money follow our recommendations. So that you earn not only the vertical returns - Zero to One - but one to n as well.
With this objective and vision, Phase One Alert was launched for an exclusive set of subscribers. The aim was to find great businesses well before others. Qualitative analysis and management meetings are of paramount importance. And a big challenge.
Unlike with well-known companies that are represented by some investor relations agency or where management appears on media and concalls, meeting and getting to know the managements of these Phase One companies has not been easy. Being true fanatics, they are not too interested in entertaining anything or anyone that takes their time away from their business. In a lot of cases, we were the first ones to express any interest to meet the management with an intent to recommend it as an investment.
Most of these managers were owner-operators and first-generation entrepreneurs. And most of them distrusted market players and brokers. With little experience with analysts, they were suspicious in the beginning. They wanted to know why we are so keen on what we are doing. It took some time for them to open and share their journeys, visions, and strategies.
I remember the management of our first recommendation (Mr Palaniswamy) grilled us on why we were considering a low liquidity company for recommendation. It was only when we told him that this service was for an exclusive set of subscribers that he agreed for interview. And in the end told us to be realistic in how we portray the company (in case we were recommending). Such genuine concern for investors is rarely seen in big companies where managements tend to give unrealistic guidance and pitch their stocks.
But it was all worth it. Of all the meetings I have attended, our Phase One Alert meetings have been the most interesting and inspiring. Not just for returns we expect these companies to offer, but because learning the journeys of first generation entrepreneurs directly from them is a rewarding experience.
Now, getting managements to meet was not the only challenge.
For every recommendation we made, we had to reject five to six after meeting the managements. It took us around two months after the launch of the service to come up with our first recommendation. We'd made multiple journeys to meet with candidates that just couldn't quite make the list. And then we came across this intelligent fanatic - Mr Palaniswamy who made us zero in on National Fittings. The financial performance of National Fittings has surpassed our forecasts and expectations. The stock is up 47% since recommendation in September 16.
This was followed by a string of meetings across Delhi, Kolkata, and Chennai. After a series of rejections, we found in Arrow Textiles, a Nasik-based company, a perfect proxy play on growth in the branded garment industry, with clients like H&M and Page Industries.
Our third recommendation followed close on the heels. Demonetisation and the market's misunderstanding of long term impact on microfinance companies offered a great opportunity - Arman Financial Services Ltd, an NBFC that has been perfectly balancing the risks and growth, unlike other players who are recklessly pursuing the latter.
Pokarna Ltd, our fourth recommendation, is a turnaround story that could soon become household name after its tie up with IKEA. Post our recommendation, the company has talked of a backward integration in the fast-growing quartz segment of the business. It's a significant positive development and gives us further confidence on the management's execution skills.
With Captain Polyplast, we met our commitment of five recommendations in a year.
Here is a performance review for all open positions:
Performance Review Table
Company
Reco. Date
Reco.
Reco. Price (Rs)
Maximum Buy
price (Rs)
Price as on
August 1, 2017 (Rs)
Change (%)**
View as on
August 1, 2017
National Fittings Ltd
22-Sep-16
Buy
189
230
277
47%
Hold
Arrow Textiles Ltd
2-Feb-17
Buy
43
60
44
3%
Buy
Arman Financial Services Ltd
6-Feb-17
Buy
238
270
209
-12%
Buy
Pokarna Ltd
4-Apr-17
Buy
1,232
1,400
1,330
8%
Buy
Captain Polyplast Ltd
8-Jul-17
Buy 50% of the sum intended to invest into the stock
174
190
174
0%
Buy 50% of the sum intended to invest into the stock
Source: Ace Equity, Equitymaster
As you can see, four of five recommendations are still actionable...and underscore our point that a staggered buying approach is the best to invest in Phase One Stocks.
The Road Ahead
As per the screener I ran yesterday, there are still 80-odd stocks that look interesting. With AGM season kicking in, it's going to be a hectic but interesting travel-packed time for my team and me.
Prospective Recommendations?
One candidate that looks particularly interesting is in the textile segment and has made a transition from commodity play to specialised and high value business. Today, it is one of the most vertically integrated players in its niche. The company has been consistently reducing debt. Most importantly, valuationwise, it's at a sweet spot in these heady markets. There could be real value out there as the promoter stake too has gone up.
As for the other candidate, we could not have spotted it just going by financials. It was something in the annual report of the company that suggested that this could be a strong turnaround story. The company is based in the south. Even though it is a Phase One company - i.e. small - the management is very transparent and diligent in its communication. The management understands the importance of being ahead of the curve and is working on a strategy to ensure a moat around its business.
The third candidate, despite being in the manufacturing segment, with its niche expertise has managed returns like those of a leading FMCG company, even as its peers are struggling to remain viable. Most importantly, it is available at an undemanding valuation. The team is willing to brave Gujarat floods to meet the management at the upcoming AGM.
So stay tuned... A recommendation could be coming soon.
Meanwhile, if you have any feedback or queries, please do write to us. We would be glad to hear from you and assist you.