Realty Stocks on a Roll. Oberoi, Sobha, & Prestige Estates Surge
Aug 2, 2021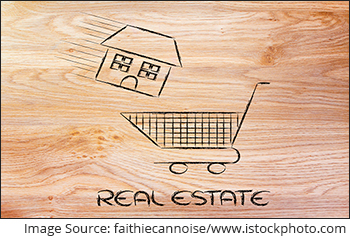 Realty stocks were in focus today, surging up to 10% on expectation of improved outlook for the realty sector.
Shares of Oberoi Realty, Prestige Estates Projects, Indiabulls Real Estate, and Sobha surged up to 10% in intraday trade.
While Brigade Enterprises, Godrej Properties, Sunteck Realty, and DLF among others, gained in the range of 2-4%.
What's driving the rally?
There are many factors at play here.
Increase in demand for housing.
Lower interest rates.
Upcoming festival season.
On account of lower home loan interest rates, fast approaching festival season is expected to fuel demand for real estate properties.
The festival season is considered the best for real estate companies in terms of sales.
Good results by top companies
Realty major DLF reported sales booking jump of nearly 7-fold year on year (YoY) to Rs 10.1 bn during the April-June quarter, on strong demand for its independent floors and luxury homes in Gurugram.
In its investor's presentation, DLF said it sustained sales momentum during the June quarter despite the resurgence of infections.
Out of the total sales bookings in June quarter of 2021, the launches of new projects contributed Rs 5.4 bn.
The company's management also gave a positive commentary. DLF's net debt reduced by Rs 1.4 bn during the June quarter and came down to Rs 47.5 bn.
Meanwhile, Oberoi Realty reported sales volume of 0.9 lakh sq ft (up 6.5x YoY). The sales value was up 5.9x YoY at Rs 1.7 bn.
Oberoi Realty's management said the real estate sector is undergoing major consolidation as very few developers have the financial stability to undertake large capital-intensive projects.
Macrotech Developers (Lodha) clocked a total sales booking of Rs 9.6 bn, of which Rs 6.5 bn came in June.
Bullish on the outlook for housing demand, the company said,
Importance of owning a house has increased significantly since the outbreak of Covid-19 pandemic. People are using their savings to buy homes. Interest rates on home loans are at a historical low.
Last week on Friday, Macrotech Developers reported a consolidated net profit of Rs 1.6 bn for the June quarter. It had posted a net loss of Rs 1.3 bn in the year-ago period.
Equitymaster's technical view on the realty sector
We reached out to Brijesh Bhatia, Research Analyst at Equitymaster, for his view on the realty sector.
Here's what he had to say:
In my previous note on 12th July 2021, I had highlighted that the realty index is breaking out of decade range followed by cup and handle.

Post breakout, the index witnessed brisk move from 360 to 420, a rally of 16%.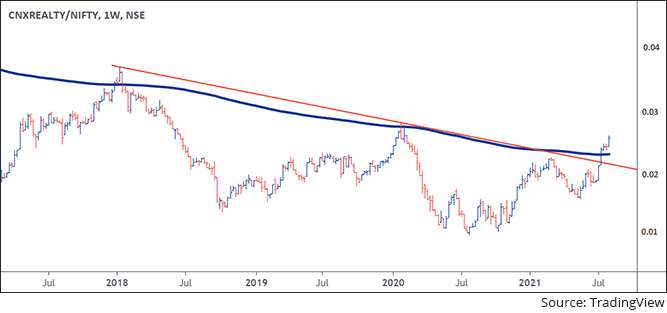 The rally has triggered the fresh breakout from three years trendline on ratio chart of Nifty Realty to Nifty 50.

The breakout on this ratio chart means realty index will outperform against Nifty 50 in coming weeks.

Traders should keep in mind the volatility in realty stocks before entering the trade.
To learn more about ratio charts, you can watch this video by Brijesh.
How realty stocks are performing today
Most of the realty stocks ended on a positive note today.
Among the top stocks, Oberoi Realty zoomed over 10% to Rs 755 on the BSE.
Meanwhile, Prestige Estates surged soared 7% to Rs 367.
Sobha, Omaxe, and Puravankara gained 4-5% while Kolte Patil Developers surged 11% to Rs 266.
Both, the BSE Realty Index and the Nifty Realty Index gained 4% as compared to a 0.7% rise in BSE Sensex.
In the past three months, realty indices have outperformed the benchmark indices, surging over 35%.
To know more, check out real estate companies' results here.
You can also compare top realty stocks with their peers.
Oberoi Realty vs Sunteck Realty
Why larger and established players have the upper hand
Buyers always trust the developers that have a firm delivery track record.
These players have better access to land deals as landowners will not always trust smaller developers.
Their debt levels are also falling. All listed developers surveyed showed a decline or flat debt numbers over the last year, even though in the last decade they had risen sharply. Also, large developers can borrow at rates that are much lower.
However, one must be careful while selecting stocks from the realty sector.
Here's what Tanushree Banerjee, Co-head of Research at Equitymaster, has to say about the realty sector.
The biggest drag on real estate players is high debt and with interest rates moving up, investors need to be wary of realty companies with the tendency to pile up debt and dines with poor cash flows.

Also, this is a sector where investors have to be very careful about the management quality. Poor accounting and lack of corporate governance has been the reason for many large realty companies performing poorly in the past.
Market experts are suggesting that the June quarter will not be as good as the March quarter due to the state-wise lockdown, but the long-term story of the real-estate market has been maintained.
Record low interest rates, good schemes, discounts, are among the key drivers boosting outlook for the sector even as stamp duty cuts have been rolled back. Construction activities have also resumed.
As per reports, property prices have begun to rise at rates seen only before the 2007-08 global financial crisis (the biggest since the Great Depression).
Industry experts are predicting realty prices in India to rise more as steel and cement costs have risen, making it more difficult for the companies to sell flats without baking in higher input expenses.
But how long can the rally sustain?
The outlook for the sector looks much better than what it was a year ago, but with the pandemic far from over, there can be volatility.
It remains to be seen how the realty sector performs as the activity reopens.
To know what's moving the Indian stock markets today, check out the most recent share market updates here.
Disclaimer: This article is for information purposes only. It is not a stock recommendation and should not be treated as such. Learn more about our recommendation services here...