Can Vodafone Idea Survive if Government Provides Support?
Aug 3, 2021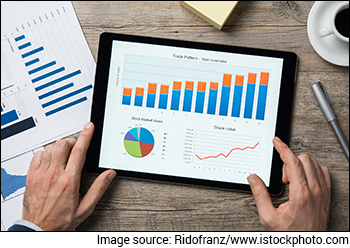 Shares of Vodafone Idea (Vi) slumped 12% in early trade today on the BSE after reports suggested Kumar Mangalam Birla has told the government that he is willing to give up promoter stake in the company.
Shares of the company hit a 52-week low of Rs 7.17 on the back of above news. Shares were trading at their lowest level since July 2020. The stock had hit a record low of Rs 2.61 in November 2019.
Letter to cabinet
The Aditya Birla group's chairman had nearly two months ago offered to hand over the group's 27.66% stake in Vodafone Idea to any public sector undertaking (PSU) or domestic financial entity who could keep the company afloat.
He had asserted that without immediate government support, the company would be driven to an irretrievable point of collapse.
Here's what he said in a letter dated 7 June to Cabinet Secretary Rajiv Gauba.
It is with a sense of duty towards the 270 m Indians connected by VIL, I am more than willing to hand over my stake in the company to any entity - public sector/government/domestic financial entity, or any other that the government may consider worthy of keeping the company as a going concern.
He further added that potential foreign investors wanted the government to show clear intent of its keenness to have a three player telecom market.
--- Advertisement ---
Missed Watching Richa Agarwal's Top 3 Stocks for 2022 MEGA summit?

Here You Go...




Catch a FREE REPLAY Here. Airing at 1PM
------------------------------
Government takeover unlikely
Last week, it was reported that while a government takeover of Vodafone Idea had been informally discussed, it was unlikely.
In the past, the government and financial regulators have taken charge of companies such as Satyam, IL&FS, and most recently DHFL.
But a senior official clarified that those were instances of financial irregularities.
Challenges to keep the company afloat
To keep the company afloat, there are several options such as extension of moratorium in spectrum dues, reduction in licence fees and spectrum usage charges (SUC), and a prospective relook at the adjusted gross revenue (AGR) definition under consideration.
But none of these measures are enough to ensure the survival of the company.
Over the last year, Vodafone Idea has made several efforts to improve its operational efficiency through prudent capital spending, manpower restructuring, and other cost cutting steps.
Despite all this, the liquidity position has sharply deteriorated.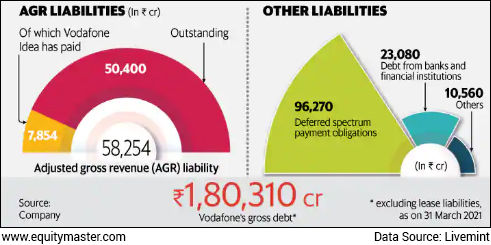 For example, Vodafone wants spectrum related moratoriums to increase. But this will turn in government losing revenues.
Also, without the support of government, promoters are unwilling to infuse funds and investors are also hesitant.
One other concern is that Vodafone idea wants floor price for tariffs, but the pricing is decided by TRAI.
TRAI has not acted on this despite consultation process.
So now the main question is, will the company survive even if government provides support?
Track: Stocks Recently Bought by Mutual Funds for FREE
Merger Plans?
Deutsche Bank in a recent report said the government must back state control of Vodafone by quickly merging it with BSNL and recapitalising it.
But senior government officials appeared doubtful about the wisdom of such a move. They added that in the cases of DHFL and IL&FS, promoters were alleged to have siphoned off funds and small depositors stood to lose their money.
However, this (VIL) is an entirely different case. There is no financial irregularity or scam as far as the subscribers are concerned. It is not as though they don't have any alternate telecom operators to port out to.
Another government official said merging VIL with BSNL was a "hard option" and that government had already committed to reviving BSNL.
Taking on debt of over Rs 1.8 lakh crore in Vodafone Idea's case when its underlying business by the admission of its own promoter is suffering isn't prudent.
Other private players in the market are Reliance Jio and Bharti Airtel which are competing neck to neck.
How Vodafone Idea is performing today
Vodafone Idea share price slumped as much as 12% today after Kumar Mangalam Birla told the government that he is willing to give up promoter stake in the company.
Shares of the company hit a 52-week low of Rs 7.17 today, and were trading at their lowest level since July 2020. The stock had hit a record low of Rs 2.61 in November 2019.
--- Advertisement ---
There is a new paradigm shift currently unfolding across the global economic landscape...

And at the heart of this massive SHIFT is...

INDIA!

India is on the verge of a multi-trillion-dollar rebirth that could potentially mint countless new millionaires...

If you are on the right side of this mega shift, then it could be your biggest opportunity to build potentially massive wealth over the long term.

Click here to find all the details...
------------------------------
Selling pressure was also seen as brokerages houses initiated sell rating on the stock as they see payment of liabilities coming soon.
Vodafone Idea shares have a 52-week high quote of Rs 13.80 touched on 15 January 2021.
In the past one month, the company's shares have lost 18%. In the past five years, the stock price has fallen as much as 88%.
About Vodafone Idea
Vodafone Idea is an Aditya Birla Group and Vodafone group partnership. It's among India's leading telecom service provider.
The company provides pan India voice and data services across 2G, 3G, and 4G platforms.
On 31 August 2018, Vodafone India merged with Idea Cellular, to form a new entity named Vodafone Idea.
Vodafone currently holds a 45.1% stake in the combined entity and Aditya Birla Group holds a 26% stake.
On 7 September 2020, Vodafone Idea unveiled its new brand identity, 'Vi' which involves the integration of the company's erstwhile separate brands 'Vodafone' and 'Idea' into one unified brand.
The company is developing infrastructure to introduce newer and smarter technologies, making both retail and enterprise customers future ready with innovative offerings.
For more details about the company, you can have a look at Vodafone Idea's factsheet and Vodafone Idea's quarterly results on our website.
You can also compare Vodafone Idea with its peers.
Vodafone Idea vs Bharti Airtel
Vodafone Idea vs Tata Communications
To know what's moving the Indian stock markets today, check out the most recent share market updates here.
Disclaimer: This article is for information purposes only. It is not a stock recommendation and should not be treated as such. Learn more about our recommendation services here...