3 Companies to Watch Out for Bonus Shares and Stock Splits in August 2022
Aug 3, 2022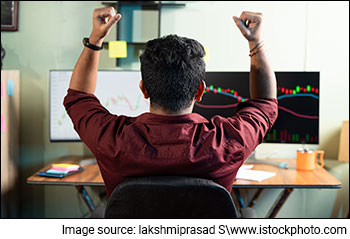 I went shopping yesterday. It was a stock clearance sale, so after jostling through hordes of clothes lying in a heap, I finally found two t-shirts.
When I went to the billing counter, they told me I had to select one more because these t-shirts were on sale. The typical Buy 2 get 1 free scheme.
Though I was sad about having to jostle through the pile again, I was happy that I'll would something extra for the same money!
We all love the feeling of getting something extra, don't we?
You can also get this feeling of something extra while investing in the stock market. In stock markets, this feeling of 'extra' is called bonus shares and stock splits.
This month, there are three companies recording, bonus shares and stock splits.
Read on to find out more.
Companies Recording Bonus and Splits This Month
#1 REC (Rural Electrification Corporation)
Rural Electrification Corporation's (REC) board of directors recommended the issue of bonus shares on 17 June 2022. The record date for the same is 18 August 2022.
REC has fixed the bonus ratio of 1:3. This means REC will issue one fully paid equity share of Rs 10 each for every 3 shares held in REC.
So if you hold 300 shares of REC, you'll get 100 additional shares on 17 August 2022.
Prior to this, REC had declared a bonus issue in the ratio of 1:1 in September 2016.
REC, formerly Rural Electrification Corporation, is a public infrastructure finance company in India's power sector. It is a Public Sector Undertaking (PSU) company.
It finances and promotes power projects across India. It is a Navratna company under the Ministry of Power.
REC funds all kinds of its loans on its own. It holds the highest domestic credit ratings from CRISIL, ICRA, IRRPL, and CARE, and internationally it is rated at par with the sovereign rating.
#2 High Energy Batteries (India)
On 29 June 2022, High Energy Batteries (India)'s board passed a resolution to split the equity shares. A fully paid-up equity share of Rs 10 will be split into fully paid-up equity shares of Rs 2 each.
This means, if you have 100 shares of High Energy, on 8 August, the same will be converted to 500 shares after taking into consideration the stock price adjustment.
The resolution fixed 10 August 2022 as the record date for the split.
This is High Energy's first stock split.
High Energy Batteries (India) is an established manufacturer of Hi-Tech batteries.
These batteries are used in Army, Navy, Air force, and launch vehicle. It also manufactures commercial batteries for Auto, and Standby VRLA applications.
High Energy Batteries also exports products to various countries.
It was established in the year 1979. It has a strong base of in-house Research and Development Wing.
The wing designs develop and establish the manufacturing of batteries.
High Energy Batteries operate through two segments: Aerospace Naval and Power System Batteries and Lead Acid Storage Batteries.
#3 Variman Global
Vairman Global Enterprises, erstwhile known as Spring Fields Infra will also undergo stock split this month on 11 August.
Shares of the company will be split in the ratio of 10:1 as the company is changing its face value from Rs 10 to Rs 1.
The company is engaged in wholesale trade services.
Corporate action events like bonus issues and stock splits often bring changes to a company through the capital structure.
In case of a bonus, they might seem to be good thing, but they actually give investors nothing they didn't already have.
In substance, it's just a way of breaking up the same company into a higher number of shares and distributing these additional shares pro-rata to shareholders.
Both, bonus issues and stock splits reduce the share prices of the company. This increases the liquidity of shares. Hence new investors can get an easy entry point due to the price fall.
Unsurprisingly, investors try to include stocks in their portfolio that often announces bonus and split.
However, investors must keep in mind that no lunch is free. Rewards come at the cost of money that could be used for the development of the company.
Stay tuned to Equitymaster to get more updates about bonuses and splits.
Happy Investing!
Disclaimer: This article is for information purposes only. It is not a stock recommendation and should not be treated as such. Learn more about our recommendation services here...