Is it Time to Say "YES" to this Bank?
Aug 4, 2022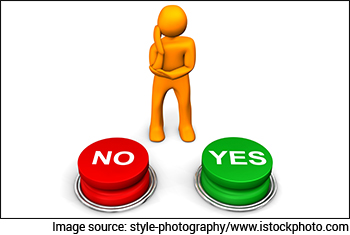 Would you like ice cream or cake for breakfast?
Yes!
Do you want a Ferrari or a Lamborghini?
Yes!
Do you trust your money with HDFC Bank or YES Bank?
Ummm
There are some questions that can be answered with a "Yes" simply because the choices don't matter. All the options are good!
But when it comes to your hard-earned money, which bank would you trust with it? That's when we get thinking, don't we?
And justifiably so. Over the last few decades, there have been multiple instances of troubled banks that have been bailed out by the government.
In March 2020, just a few days before the pandemic hit India forcing a nation-wide lockdowns, the Reserve Bank of India (RBI) superseded the board of crisis-ridden YES Bank.
What followed was arguably the largest bail out of a bank in Indian banking history by a State Bank of India (SBI)-led consortium. At the time, YES bank was the fifth largest private bank in the country.
The swift bail out of YES Bank, which had over Rs 3 lakh crore in assets, helped avoid a crisis in the financial system, which was already vulnerable after the IL&FS collapse.
Even then, it led to significant losses for holders of the bank's additional tier-1 bonds as well as equity shareholders.
Yes Bank share price crashed from its all-time high of Rs 393 in August 2018 to under Rs 11 over the next two years.
The story is a classic example of how a popular stock has turned into a penny stock.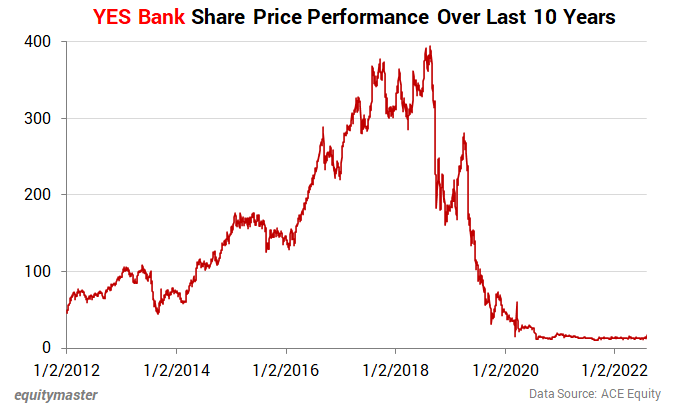 Since then, the bank has reported a turnaround and significant progress as it exited the reconstruction scheme of 2020.
Last week, the bank announced raising equity capital worth US $1.1 bn (Rs 89 bn) via funds raised from global private equity investors Carlyle and Advent International.
This is one of the largest private capital raises by an Indian private sector bank.
The stock has appreciated by as much as 35% over the last month to make a new 52-week high this week.
Everyone likes a good turnaround story of a company. But the trick is to identify the stock undergoing a turnaround before others. It is like finding a budding star before they become a superstar.
But is that the case with YES bank?
Could it be the best multibagger stock in 2022? )r a long-term stock to buy?
Or is the market being too optimistic too soon?
YES Bank - Good
Since the March 2020 rescue of YES bank, investors have shied away from the bank due to two primary concerns. The huge pile up of bad loans and the banks inability to raise fresh capital.
And in a way, both the concerns have been intertwined.
Resolving a large, stressed assets book of Rs 480 bn would take a very long time.
It would require a major effort by the management on recoveries rather than focusing on growth.
New investors weren't keen to invest in a bank with gross non-performing assets of 14%. The management of YES bank realised that early.
First set in motion in August 2020, the bank decided to segregate bad loans into a separate entity.
This ensured a cleaner balance sheet that potential investors would find attractive.
The plan was delayed due to various constraints over the last few months. But recently, the bank announced it has selected JC Flowers Asset Reconstruction Company (ARC) as a joint venture partner to buy its bad loans.
The ARC has offered to take over the bank's bad loans worth Rs 480 bn for a payment of Rs 111 bn.
Following the transfer of gross non-performing assets (gross NPAs), YES Bank's gross NPA ratio would dip below 2% from around 14% at present.
And within a few days after the announcement, YES Bank finally got not one, but two white knights to invest in the bank as strategic partners.
On 29 July, YES Bank announced raising equity capital worth US$ 1.1 bn (Rs 89 bn) from global private equity investors Carlyle and Advent International.
For a long time, there has been a misconception that funds raised by the bank would be used towards the stressed assets but this is not the case.
The money brought in by Advent and Carlyle will be specifically used for growth of the bank to capture business from less capitalised NBFC's and smaller banks.
YES Bank chief executive Prashant Kumar calls these investments as "confidence capital". He believes the funding will meet the banks growth requirements for the medium-to-long term.
Both Advent and Carlyle have decades of industry experience. They have a track record of investing in companies and working to make them better.
"We come in and help a company untangle a complicated situation, or accelerate their growth... When we sell, it's like cutting the weight off of a balloon." - David Mussafer, Managing partner of Advent International
Both Carlyle and Advent will have one nominee director on the board as part of the deal.
The market has been abuzz with the news that former HDFC Bank MD Aditya Puri, who is a senior advisor at The Carlyle Group, is likely to get a board seat in YES Bank.
This news has neither been confirmed or denied by either party.
This is one of the largest private capital raises by an Indian private sector bank.
Bringing in marquee investors such as Carlyle and Advent International with their long-standing experience in the financial sector is expected to play a crucial role in the next growth phase of the bank.
This capital infusion could potentially be a "Re-rating" event for the bank. This would not only provide more business opportunities but also reduce the cost of funding. This in turn would boost operating margins.
Consequent to the capital infusion, the bank's CET-1 ratio would significantly improve by 3.8% to 15.4%.
This brings it closer to the stronger players, HDFC and ICICI Bank which have a CET-1 ratio of 16.7% and 17.6% respectively.
CET-1 ratio compares a bank's capital against its risk-weighted assets. It's useful to determine its ability to withstand financial distress.Total capital adequacy ratio (CAR) would improve to 21%. This would be higher than 18.9% for HDFC Bank and 19.2% for ICICI Bank. The higher a bank's CAR, the more likely it is to be able to withstand a financial downturn or other unforeseen losses.
The asset sale and subsequent improvement in the asset quality has helped YES Bank exit its reconstruction scheme. It has paved the way for the long-pending fund-raising by the bank.
Clearly, this is seen as a very positive implication for the bank and its future growth outlook.
YES Bank - Better
Bad loans seem to have been taken care of. The much-needed capital has been infused. But how is the bank doing otherwise?
Let us look at some key performance indicators. Let's see how they have changed ever since the fiasco of 2020 when the bank almost went under.
| (Rs in Crore) | FY 2021-2022 | FY 2020-2021 | FY 2019-2020 |
| --- | --- | --- | --- |
| Net Profit | 1,066.00 | -3,462.00 | -16,418.00 |
| Deposits | 197,192.00 | 162,947.00 | 105,364.00 |
| Advances | 181,052.00 | 166,893.00 | 171,443.00 |
| CASA Ratio | 31.1 | 26.1 | 26.6 |
| Cost of Deposits | 5 | 6 | 6.5 |
| Return on Equity | 3.2 | -11.4 | -81.8 |
| Net NPA | 4.5 | 5.9 | 5 |
| Retail MSME: Corporate Mix | 60:40:00 | 51:49:00 | 44:56:00 |
In the year ended March 2022, the bank was able to post one of its strongest annual and quarterly results. It closed the year with a full year profit of Rs 1,066 cr. It continued its efforts to grow across all areas of banking.
The bank's new leadership has been successful in implementing positive changes. It has put in place the bank's corporate governance, accountability, monitoring and oversight, and risk management structures.
One million CASA accounts and 1.1 million retail FD accounts were opened during the year. This is indicative of public confidence in the bank despite low-interest rates offered by the banking sector.
Another interesting takeaway is how the new management has very consciously moved in favour of retail loans and reduced the dependence on corporate borrowers.
YES Bank had collapsed under the weight of its bad corporate loans to companies in the past.
For the year ended March 2022, the retail/corporate mix stands at 60:40 as against 44:56 just two years ago.
The bank reported nearly Rs 330 bn in new sanctions and disbursements in retail assets in financial year 2021-22.
Next, let us briefly look at the latest quarterly results of June 2022 -
| All Figures in INR Crores | Jun-22 | Jun-21 | YOY% |
| --- | --- | --- | --- |
| Interest Earned | 513,485 | 452,542 | 13.5% |
| Advances | 186,367 | 163,654 | 13.9% |
| Deposits | 193,241 | 163,295 | 18.3% |
| Net Profit | 310.6 | 206.8 | 50.2% |
| EPS | 0.12 | 0.08 | 50.0% |
| Gross NPA % | 13.4% | 15.6% | -14.1% |
| Net NPA % | 4.2% | 5.8% | -28.1% |
| Return on Assets | 0.4 | 0.3 | 33.3% |
| Net Interest Income | 1850 | 1402 | 32.0% |
| Net Interest Margin | 2.4% | 2.1% | 14.3% |
The bank reported 50% year-on-year jump in profit after tax at Rs 3.1 bn for the quarter ended June 2022, compared to Rs 2.06 bn in June 2021.
The net interest income grew 32% year-on-year to Rs 18.5 bn in Q1 FY23, compared to Rs 14 bn during the same period last year. The Net Interest Margin (NIM) for the quarter came in at 2.4%.
How does a bank increase its profits? Through higher interest income and lower provisioning (fewer loans going bad).
In June 2022, the provisions stood at Rs 1.75 bn, a decline of 62% YoY and 36% on a quarter-on-quarter basis.
The slippages (when an asset becomes an NPA) was Rs 10.72 bn during the quarter compared with Rs 22.33 bn during the same quarter last year.
On the other hand, net interest income was up 32% YoY to Rs 1.8.5 bn.
Deposits grew by 18% YoY. This was much better than most of the biggies like Kotak Mahindra Bank, Axis Bank, and ICICI Bank which grew deposits by 10%, 12%, and 13% YoY respectively.
Hence, looking at the financials, we can say the bank has made solid progress on disbursements, profitability, and asset quality.
YES Bank - Worse?
Ok, so everything seems to be looking rosy for the bank. What could go wrong?
Well for one there is the supply overhang after the expiry of lock-in shares in March 2023.
As part of the final reconstruction scheme for Yes Bank by the RBI in March 2020, there was a mandatory lock in for all existing shareholders for a period of three years up to 75% of their shareholding.
Only those shareholders who held less than 100 shares in the bank, could sell their entire shareholding.
The expiry of this lock in comes into effect in March 2023. Some in the market are worried there will be a huge supply of shares coming in at that time. This would put heavy downward pressure on the stock price.
Of course, this doesn't necessarily mean the market will be flooded with shares after the lock in period ends. The situation has dramatically changed over the last two years with a successful turnaround of the bank.
At the time, investors would have been keen to offload their holdings due to uncertainty over the bank's future.
Given the positive developments over the last few weeks, and a promising outlook, investors may continue to hold on. They would look to ride the turnaround story.
Another thought is the management of YES Bank would ideally try to find new buyers so as to offer an exit to large institutions who want to sell. Large institutions prefer to deal through that route rather than dump shares in the open market.
Some analysts think the bank lacks any differentiation from other private banks currently. Hence a relatively weaker record on profitability may put YES Bank at a disadvantage vis-a-vis its competitors.
One could argue that tech enabled banks like YES Bank have an advantage over other players.
The bank does have a leadership position in United Payments Interface (UPI) and Aadhar Enabled Payment System (AEPS), with a market share of 43% and 18% respectively in financial year 2021-22.
In fact, the bank processes nearly every third digital transaction in India.
YES Bank also has a reasonable market share while processing payouts through NEFT (14% market share), IMPS (12% market share), and Micro ATMs (3rd largest player with 10% market share).
With Advent and Carlyle (may be even Mr. Aditya Puri) on board, the bank will have a very strong team. This should also be a key differentiator from other players.
Finally, you might wonder if the increase in authorised share capital to Rs 82 bn from Rs 62 bn currently would result in a dilution of Return on Equity (ROE).
This may not necessarily be the case. The market might have already priced the dilution into the stock price to an extent.
According to MD & CEO, YES Bank, Prashant Kumar the capital infusion will put the bank on a higher growth trajectory. It could also result in a rerating of the stock.
The bank's advances could go up and the cost of borrowing could reduce. Both of these factors would help the ROE to increase. Hence, the net dilution is expected to be minimal.
YES or No?
The market is divided over the near-term future of YES Bank.
We have exuberant investors shouting from the roof tops calling for a stock price as high as Rs 100 by the end of the year.
The naysayers on the other hand feel the bank has a long way to go. They say the current price has already factored in all the positive news.
These are still early days for YES Bank as it re-emerges from the shadows. Will it be a formidable force once again?
Only time will tell. For now, other banking stocks are way ahead. YES Bank has a lot of catching up to do.
The turnaround has no doubt been remarkable. Full credit for that goes to the management team. But the work is far from done.
The bank has to grow aggressively and yet ensure the quality of its assets does not get diluted.
If we look at some key metrics of other leading banks, we can see it has a long way to go.
| March 2022 | HDFC Bank | ICICI Bank | YES Bank | Axis Bank | Kotak Mah Bank |
| --- | --- | --- | --- | --- | --- |
| ROCE (%) | 3.2 | 2.9 | 1.0 | 2.2 | 2.9 |
| CASA (%) | 48.2 | 46.0 | 31.1 | 45.0 | 60.7 |
| Net Profit Margin (%) | 28.9 | 27.0 | 5.6 | 19.3 | 31.7 |
| Operating Profit Margin (%) | 5.8 | 5.6 | -11.5 | -3.3 | 8.2 |
| Return on Assets (%) | 1.8 | 1.7 | 0.3 | 1.1 | 2.0 |
| Return on Equity / Networth (%) | 15.4 | 13.7 | 3.2 | 11.3 | 11.9 |
| Net Interest Margin (X) | 3.5 | 3.4 | 2.0 | 2.8 | 3.9 |
| PE (X) | 20.7 | 22.3 | 35.2 | 14.9 | 40.8 |
| Price To Book Value (X) | 3.4 | 3.5 | 0.9 | 2.0 | 5.0 |
Although the CASA ratio has improved from 26% to 31% over the last two years, it is much lower than the other players.
The return on assets (ROA) is a key focus area for YES Bank after its Rs 89 bn fund raising exercise.
YES Bank's ROA which was -1.4% in 2021 has improved to 0.4 in 2022. HDFC bank and ICICI Bank have an ROA close to 2%.
YES Bank expects the ROA to improve to 0.75% by the end of March 2023 and further to 1.0-1.5% by financial year 2025.
Hence, assuming the bank is able to deliver on its guidance, even after three years, the ROA will still not be at the same level as its peers.
In order to achieve its ROA targets, YES Bank will need to scale up growth in its advances, improve efficiencies and sustain low credit costs.
NIM at 2% is significantly lower than its peers. It will also have to be improved to get it closer to the levels enjoyed by others.
The PE ratio of YES Bank is already much higher than that of HDFC Bank and ICICI Bank.
The only metric where YES Bank scores over its peers is the Price to Book (P/B) value ratio. YES Bank's P/B is at 0.9 as compared to 3.4 and 3.5 for HDFC Bank and ICICI Bank respectively.
Clearly, the bank is not in the same league as its peers.
However, the management has done a very good job so far. With the addition of seasoned partners such as Carlyle and Advent, the future looks promising for the bank.
If someone told me that YES Bank will be the best multibagger stock in 2022, I would probably be sceptical about it.
It would be foolhardy to have unrealistic expectations of the stock price shooting up immediately. This could be a long-drawn process.
However, since the whole fiasco started in 2020, the bank is in the strongest position it has been.
The downside risk from here seems limited. The upside opportunity to become a multibagger stock for next 10 years could be substantial.
To put it in a nutshell, the markets are unpredictable. There are multiple factors that can work for and against a stock. Knowing what to buy is one thing. When to buy is a whole different science!
Disclaimer: This article is for information purposes only. It is not a stock recommendation and should not be treated as such. Learn more about our recommendation services here...
Yazad Pavri
Cool Dad, Biker Boy, Terrible Dancer, Financial writer
I am a Batman fan who also does some financial writing in that order. Traded in my first stock in my pre-teen years, got an IIM tag if that matters, spent 15 years running my own NBFC and now here I am... Writing is my passion. Also, other than writing, I'm completely unemployable!