Why Zomato Share Price is Rising
Nov 7, 2023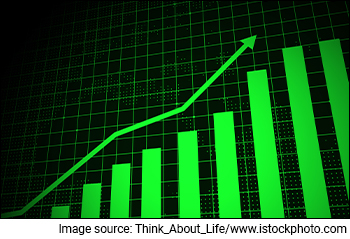 New age tech companies gave a tough time to many investors.
Take Paytm for example. Investors who followed the herd mentality and applied to the company's initial public offer were stuck for months with their investments with more than 50% decline at a point.
No doubt value investors had a tough time understanding their valuations and how these companies that do not show a positive profit can command such high valuations.
But the tide seems to be changing. New age tech companies, from a blind drive to chasing growth and market share, have suddenly woken up to the need to show profitability.
In August 2023, Zomato reported its first quarterly numbers for FY24 that came as a surprise to many investors. Many were expecting the company to turnaround soon so shares spiked 15% when it actually reported being profitable in August 2023.
Earlier this month on 3 November 2023, the company posted its September 2023 quarter earnings and yet again, the stock price rallied sharply in the next session to scale a 52-week high.
Let's find out why...
Why Zomato share price is rising
#1 Strong Q1 results
Zomato's revenue spiked by 54% in the June 2023 quarter and came in at Rs 27,860 million (m).
In a big relief to shareholders, the company reported positive adjusted earnings before interest, tax, depreciation, and amortisation (EBIDTA) of Rs 120 m in the quarter under review.
Consolidated adjusted EBITDA improved by 92.6% as compared to the same period in the previous year.
Zomato also reported a profit after tax (PAT) of Rs 20 m. The company finally turned profitable for the first time.
Note that the optimism comes after Zomato achieved the profitable status much earlier than the guidance provided.
The growth in first quarter can be attributed to rising demand and cooling inflation. Zomato's loyalty programme also helped bring in more revenue.
Update: On 3 November 2023, the online food delivery platform said its profitability improved further in the quarter ended September 2023 to Rs 360 million. The company's revenue from operations also spiked 71% year-on-year (YoY) to Rs 28,480 million, which was higher than street expectations.
Similar to the first quarter, the bottom-line this time was aided by a higher other income component and a tax credit of Rs 160 million.
The company also generated cashflow from operations at Rs 2.9 billion compared to an outflow of Rs 4.9 bn during the same period last year.
The company's quick commerce business Blinkit also turned profitable for the first time.
The company said that it's optimistic on higher sequential growth in the third quarter on the back of festive season demand and ICC Cricket World Cup.
One the company reported numbers, several analysts projected their bullish stance on the company as it performed well on most metrics.
As a result, the company's market-cap went past the Rs 1-lakh crore mark.
#2 Growth in demand
The quarter under review showed some signs of recovery of demand after the sluggish growth that the company saw in the past few quarters.
The demand grew by 11%. Although modest, the number shows the company's potential for growth. It highlights growth despite tricky weather conditions and torrential rains that impacted not just demand but also the delivery partners.
The company expects for the growth momentum to continue and it will continue to grow profits in the upcoming quarters as well. That's what the company has highlighted while presenting the first quarter results.
#3 Recent acquisition adds to the growth momentum
Blinkit's gross order value (GOV) is very close to Zomato's GOV in some large cities where they have an overlapping presence. Zomato believes that Blinkit will drive more value to the shareholders than Zomato in the coming quarters.
Meanwhile, Hyperpure revenue grew by 29% for the quarter ended on 30 June 2023 as compared to the previous quarter of the same period.
The growth can be attributed to increase in the minimum order value threshold below which restaurants are not allowed to place orders on Hyperpure. This led to two things:
The smaller, unprofitable restaurants churned out.
The average order value on the platform went up, driving both growth in revenue and improvement in profitability.
The fundamentals of Zomato have been improving. It's not all bad for the stock.
However, given the quantum of ESOP costs, and an increasingly competitive market, we think the road to profitability still remains unclear.
To know more, watch the below video by Aditya Vora where he decodes what investors and traders should do with the stock of Zomato.
How Zomato shares have performed recently
Shares of Zomato spiked up to 10% after declaring Q2 results. The shares have gained over 90% returns in last six months.
On a YTD basis, the stock is up over 100%.
Zomato shares hit a 52-week high of Rs 126.1 on 7 November 2023 and a 52-week low on of Rs 44.35 on 25 January 2023.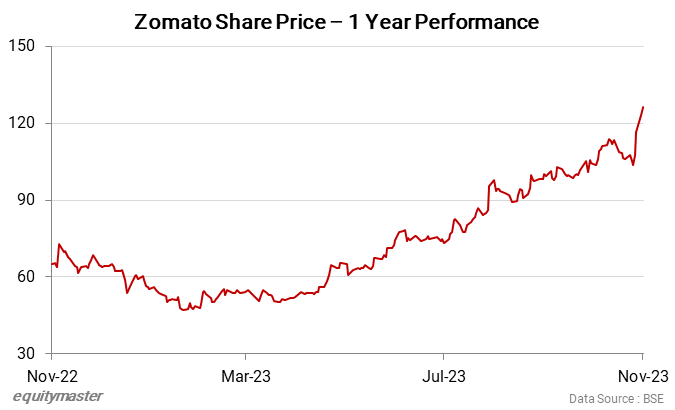 About Zomato
Launched in 2010, Zomato is a technology platform connects customers, restaurants, and delivery partners, serving multiple needs.
Customers use the platform to search for and discover restaurants, read and write reviews, view and upload photos, order food, book tables, and make payments while dining-out.
On the other hand, this platform provides restaurant partners with industry-specific marketing tools. This enables them to engage and acquire customers to grow their business while providing reliable and efficient last mile delivery.
Zomato also operates a one-stop procurement solution, Hyperpure. It supplies high quality ingredients and kitchen products to restaurant partners.
Zomato also operates Blinkit, a quick commerce platform where customers can order everyday needs across thousands of products and have them delivered in minutes.
For more details, take a look at Zomato's financial factsheet.
Investment in securities market are subject to market risks. Read all the related documents carefully before investing
Want to Grow Your Wealth With Safe Stocks?
If you want a simple, safe, and hassle-free approach to long term wealth building...
Without having to worry about negative news or every little downswing in the market...
And without having to worry whether your investments will actually "deliver"...
You must read our note on Blue Chip Stocks now.
Details of our SEBI Research Analyst registration are mentioned on our website - www.equitymaster.com
Disclaimer: This article is for information purposes only. It is not a stock recommendation and should not be treated as such. Learn more about our recommendation services here...