Godrej Consumer Products Shares Decline Post June Quarter Results
Aug 5, 2021
Godrej Consumer Products (GCPL) shares fell today after the company announced its results for the June 2021 quarter.
Prior to the results, the stock hit an all-time high of Rs 1,024 as markets did not expect any surprises in the numbers.
GCPL had shared a business update earlier this month on the back of which the stock moved to its record high.
The company reported a 24% year on year (YoY) jump in consolidated sales at Rs 28.6 bn for the June 2021 quarter. It had registered net sales of Rs 23.1 bn in the same period last year.
The revenue from the India business rose 19% YoY while the revenue in Africa, USA & Middle East surged by 60% YoY (in constant currency terms).
Latin America & SAARC also saw revenues jump by 48% YoY (in CC). However, growth in Indonesia came in flat.
Region-Wise Revenue Break Up (June 2021 Quarter)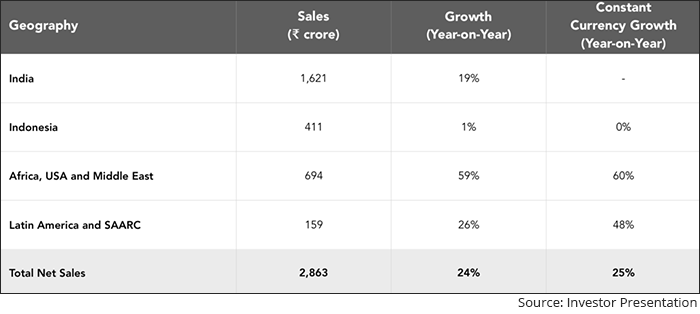 Category-wise, GCPL saw strong double-digit sales growth in the home care and personal care categories.
Home care grew by 14% YoY and personal care grew by 29% YoY. The sub-categories within home care and personal care saw broad-based growth.
--- Advertisement ---
21st Century's BIGGEST Revolution is Happening... Are You in?

The biggest revolution of the 21st century is Electric Vehicles.

But let me warn you that the usual way of investing in EVs may lead you to more trouble than profits.

After spending thousands of manhours on research, we've found a hidden way to profit from this EV revolution... which holds far more potential than buying regular big-name EV stocks.

And we're going to reveal it all at our exclusive online event.

Register Me for Free
------------------------------
Due to the increase in revenue, the company's EBITDA (earnings before interest, tax, depreciation, and amortisation) grew by 29% YoY. EBITDA margins increased marginally to 21.3%.
EBITDA margins in India came in lower by 1.1% YoY at 26.2%, as gross margins dropped 4% due to a lag between an increase in input cost and end consumer price increases. This was mitigated partly through scale leverage in employee benefit expenses and other expenses.
EBITDA margins in the international business saw an increase of 4.2% YoY at 14.8% driven by scale leverage in Africa, USA & Middle East cluster, and Latin America & SAARC margins.
Overall, the company reported a 5% YoY increase in net profit for the quarter.
Going forward, the company's management said it will continue to focus on product segments in home and personal care, which are witnessing strong demand.
It's also strengthening chain operations and distribution networks while ramping up digital capabilities and new channels such as e-commerce and chemists.
Adi Godrej steps down from board
Adi Godrej, the Chairman of the Godrej Group, has decided to step down from the board of directors of Godrej Consumer Products (GCPL).
The 79-year-old patriarch will continue to be the Chairman Emeritus of the company.
Commenting on the announcement, Mr Godrej said,
It has been a privilege to serve Godrej Consumer Products. I am grateful to our board for their continued guidance; to all our team members for their passion for Godrej and helping build a company that we can all be proud of; and to our customers, business partners, shareholders, investors, and communities, for their deep partnership over the years.
Adi Godrej had passed on the reins of GCPL to his daughter Nisaba in 2017.
The Rebirth of India: A Once-in-a-generation Wealth Making Opportunity Get Details Now
Change in leadership team
GCPL also announced changes to its leadership team, which will come into effect from 1 September 2021.
V Srinivasan, GCPL's chief financial officer and company secretary, has resigned to pursue opportunities outside Godrej.
Sameer Shah, GCPL's current head of finance and investor relations, will take over as the chief financial officer of the company.
Mr Shah has worked at GCPL for 15 years. He has held a number of key leadership roles including being the chief financial officer of the India & SAARC cluster.
He has led diverse priorities across the global portfolio such as investor relations, financial controlling, ERP implementation, global financial planning and analytics, and integrating inorganic businesses like Africa.
GCPL incorporates new subsidiary in India
The board of GCPL at its meeting held on 4 August 2021 approved the incorporation of a wholly-owned subsidiary company in India.
This new subsidiary company will engage in the business of manufacture, sale and export of personal and household care products.
The company expects to start manufacturing operations in the new company by end of March/early April 2022.
How the markets reacted to Godrej Consumer Products' June quarter results today...
Shares of the company opened the day higher at Rs 1,003 on the BSE and Rs 998 on the NSE today and then fell later during the day.
The scrip had touched its all-time high yesterday before the results were declared as markets did not expect any surprises in the numbers. GCPL had earlier shared a business update on the back of which the stock moved to its record high.
Over the last 30 days, the share price of the company is up by 6.2%. In the last year, the share price has moved up by 45%.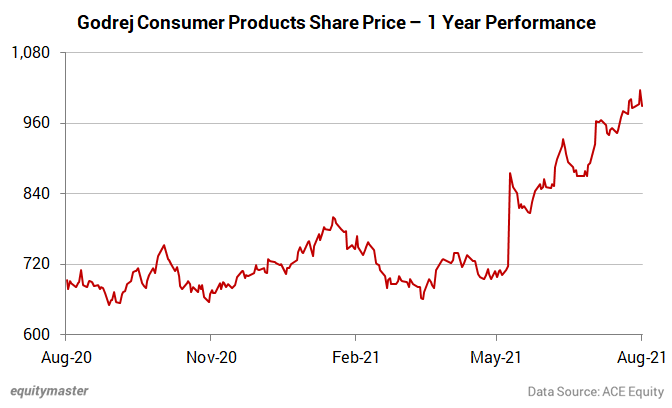 About Godrej Consumer Products
Godrej Consumer Products (GCPL) is one of the leading fast-moving consumer goods (FMCG) companies in India.
The company has five product segments namely household insecticides, soaps, hair colours, liquid detergents and air fresheners.
It has manufacturing facilities at Malanpur in Madhya Pradesh, Baddi in Himachal Pradesh, Guwahati in Assam, and Namchi in Sikkim.
For more details about the company, you can have a look at Godrej Consumer Products' factsheet and Godrej Consumer Products' quarterly results on our website.
You can also compare Godrej Consumer Products with its peers.
Godrej Consumer Products vs Bajaj Consumer Care
Godrej Consumer Products vs Marico
Godrej Consumer Products vs Hindustan Unilever
To know what's moving the Indian stock markets today, check out the most recent share market updates here.
Disclaimer: This article is for information purposes only. It is not a stock recommendation and should not be treated as such. Learn more about our recommendation services here...
Ayesha Shetty is a financial writer with the StockSelect team at Equitymaster. An engineer by qualification, she uses her analytical skills to decode the latest developments in financial markets. This reflects in her well-researched and insightful articles. When she is not busy separating financial fact from fiction, she can be found reading about new trends in technology and international politics.