HPCL Shares Under Pressure After Profit Declines in June Quarter
Aug 5, 2021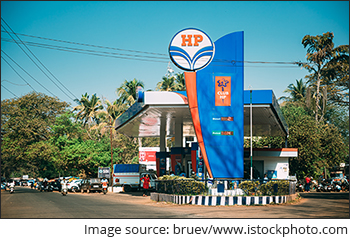 Hindustan Petroleum Corporation (HPCL) reported a net profit of Rs 18 bn on a standalone basis for the quarter ended June 2021, which is 36.2% lower than the profit of Rs 28.1 bn posted in the same quarter a year ago.
The company had posted a profit of Rs 30.2 bn in the March 2021 quarter.
The drop in profit is mainly on lower crude throughput, as its Mumbai refinery undertook a major shutdown of its various units as a part of the refinery expansion project.
The rising global crude prices also played a role in bringing down profits.
HPCL's total income increased 67% year on year YoY in the quarter to Rs 779.6 bn in the first quarter of 2022 from Rs 466.7 bn in the same period last year.
The revenue in the previous quarter was Rs 857.5 bn.
Expenses comprising mostly of crude oil purchases grew at a sharper rate of 75.9% to Rs 755.6 bn.
Other expenses stood at Rs 29.8 bn for the April - June quarter. This includes Rs 713.5 m towards loss on account of foreign currency transactions and translations.
Petrol sales increased despite the second wave of Covid-19
During the quarter, the sales of major products have shown significant growth compared to the same period last year in spite of the second wave of Covid-19 forcing partial lockdowns across the country.
The sale of petrol recorded growth of 36.6%, diesel 22.2% and aviation turbine fuel (ATF) 118.8%.
While petrol sales in July reached pre-pandemic levels, diesel is about 10% short.
August is generally a slow month for diesel due to monsoon but sales is likely to pick up from the festive season and harvesting thereafter in November/December.
HPCL Chairman and Managing Director, Mukesh Kumar Surana said,
Diesel sales should reach pre-pandemic levels or maybe about a % lower than that by the end of the year.
On prices, he said domestic fuel rates are dictated by benchmark international rates as India is 85% dependent on imports to meet its oil needs.
Crude prices are likely to stay in the range of US$70-75 per barrel in the near term or at least till March 2022, unless there was a major third wave of coronavirus infections which would impact demand, he added.
The company's turnover was up 68% to Rs 775.9 bn as oil prices soared from lows hit last year.
During the quarter, HPCL commissioned 142 new retail outlets taking the total retail outlet network to 18,776 as of June 2021.
Compressed natural gas (CNG) facilities were added in 50 retail outlets taking the total number of HPCL outlets with CNG facilities to 724 as of June 2021.
During the quarter, HPCL solarised 110 more outlets, with this, 25% of HPCL's retail outlet network runs on solar power.
Why has petrol consumption risen despite record high prices?
Demand is driven by need rather than price.
Commenting on the demand of fuel in India, Mr Surana said,
I don't think there is any impact of prices on the demand.

People are choosing personal transport over public due to concerns over Covid-19, thereby fueling consumption.
Apart from that, overall consumption of petroleum products is expected to rise 9.8% YoY to 215.24 m metric tonnes (MMT) in 2021-22.
A rebound in industrial activity and increased government spending is seen supporting the recovery.
HPCL petrol pumps to have Tata Power EV charging facility
Last month, Tata Power signed an agreement with HPCL, to provide end-to-end electric vehicle (EV) charging stations at HPCL's retail outlets (petrol pumps) in multiple cities and major highways across the country.
Under the agreement, Tata Power will provide EV charging infrastructure at HPCL pumps for EV users. The charging is enabled with the Tata Power EZ charge mobile application.
The partnership is expected to play a strong role in encouraging EV owners to charge their electric vehicles across various petrol pumps.
How the stock markets reacted to HPCL
Shares of HPCL opened the day at Rs 269 on the BSE and Rs 270 on the NSE.
Its share price closed at Rs 265 (down 2.5%) on the BSE and Rs 265 (down 2.7%) on the NSE.
At the current price, it's trading at a P/E of 3.6.
The share touched its 52-week high of Rs 312 and 52-week low of Rs 163.3 on 17 June 2021 and 15 October 2020, respectively.
Over the last 30 days, the HPCL share price is down 13%. Over the last one year, the company's share price is up 21.4%.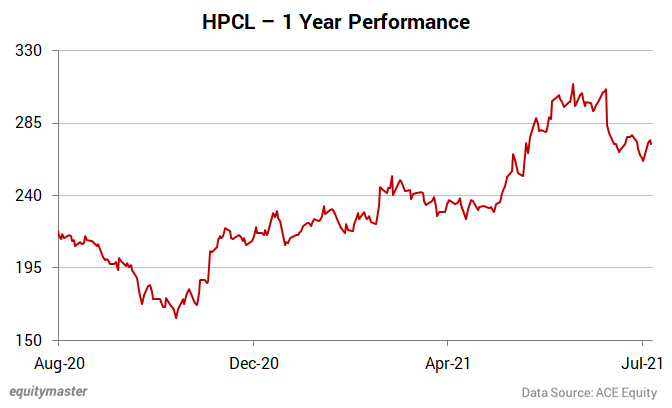 About HPCL
Hindustan Petroleum Corporation (HPCL) is a mega public sector undertaking (PSU) with Navratna status.
HPCL in collaboration with M/s Mittal Energy Investments Pte Ltd, operates 11.3 MMTPA capacity refinery at Bathinda Punjab with 49% equity stake.
Besides, the company also holds an equity stake of 16.96% in Mangalore Refinery & Petrochemicals Ltd (MRPL) a refinery at Mangalore with a capacity of 9 MMTPA.
The company's products and services include refineries, aviation bulk fuels & specialties, international trade, and liquefied petroleum gas (LPG).
The company is mainly engaged in the business of refining of crude oil and marketing of petroleum products production of hydrocarbons as well as providing services for management of exploration and production (E&P) blocks.
The company was incorporated on 5 July 1952 with the name Standard Vacuum Refining Company.
For more details about the company, you can have a look at HPCL company fact sheet and HPCL quarterly results on our website.
For a sector overview, you can read our energy sector report.
You can also compare HPCL with its peers on our website.
To know what's moving the Indian stock markets today, check out the most recent share market updates here.
Disclaimer: This article is for information purposes only. It is not a stock recommendation and should not be treated as such. Learn more about our recommendation services here...