5 Takeaways from Titan's Q1 Results
Aug 5, 2022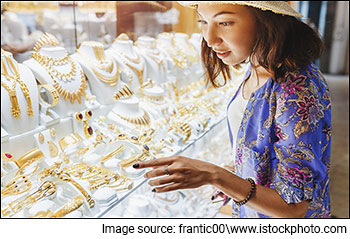 One of the strongest Tata group companies, Titan during market hours today reported its Q1 results.
Ahead of the results, analysts had projected The Tata group company to report a strong performance in its jewellery unit on account of a low base thanks to festive demand and stability in gold prices.
Well, Titan as usual didn't disappoint and posted stellar set of earnings.
Here are five key takeaways from Titan's Q1 results.
Titan Company's profit jumped multifold owing to strong business performance across all the business segments.

Net profit was 13 times higher at Rs 7.9 bn compared to Rs 0.6 bn net profit reported in the same quarter last year.
The company's total revenue from operations jumped to Rs 89.6 bn as compared to Rs 32.5 bn a year ago.
This is Titan's second-best quarterly revenue. Revenues were strong amid a strong festive demand in a near normal Q1 that came after a gap of two Covid disrupted periods.
Titan's jewellery business registered an income of Rs 76 bn compared with Rs 24.7 bn in the year-ago quarter, up 208% YoY riding on a good Akshaya Tritiya sales and a better studded mix compared to the same quarter previous year.
Titan added a net of 125 stores during the year. The company's retail chain (including Caratlane) has 2,303 stores across 366 towns with an area exceeding 2.9 million square feet as of June 2022.
The company's MD CK Venkataraman said the financial year has begun well for Titan and the company delivered a strong performance across business segments.

Despite challenging macro environment, the outlook for the remaining quarters looks positive and Titan continues to execute investment plans in India as well as chosen international geographies, he added.
How Titan has performed recently
Ahead of its results, Titan opened on a flat note today at Rs 2,430 against its previous close of Rs 2,423.
Even as the company reported stellar results, it affected little to the share price as it rose only a percent.
Titan has a 52-week high quote of Rs 2,767 touched on 21 March this year while it has a 52-week low of Rs 1,764 touched on 5 August last year.
On a YTD basis, share price of Titan is down 3%.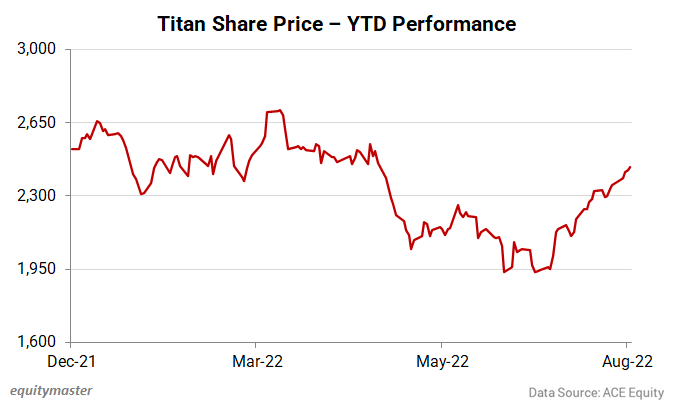 Titan share price was falling this year but the recent performance has changed the trend.
As of June 2022, promoters of the company hold 52.9% in Titan while foreign investors hold 16.77% stake.
Foreign investors have sold Titan shares for the past three consecutive quarters now, the latest shareholding pattern shows.
Here's an interesting data on Titan, even a tiny investment of Rs 1,000 per month in the stock of Titan, since 2002, would have led to mouth watering returns.
Take a look at how the power of compounding has gone wild here...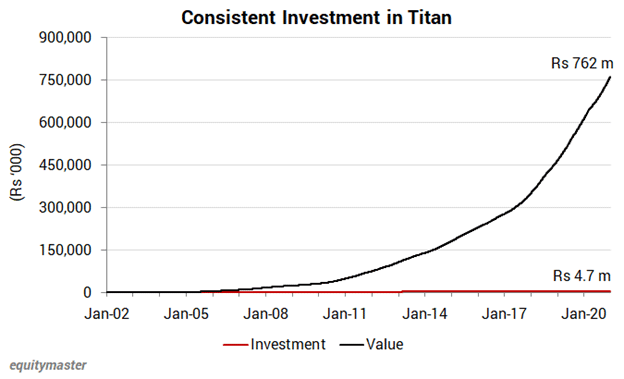 Believe it or not but Titan was a Tata group penny stock two decades ago.
About Titan
Titan was founded in 1984 as a partnership between the Tata group and the Tamil Nadu Industrial Development Corporation Ltd (TIDCO).
The company is a market leader in both of its key product categories - timepieces and branded jewellery.
Titan's watch brands include Titan, Sonata, Fastrack, and Raga while its jewellery brands include Tanishq, Mia, Carat Lane, and Zoya.
Precision engineering, prescription eyewear, accessories, perfumes, and ethnic clothing are among its other commercial interests.
In 2013, the firm also introduced a new perfume line called Skinn.
The Tata group and TIDCO own approximately 25% and 28% of Titan's equity shares, respectively.
To know more about the company, check out Titan company fact sheet and quarterly results.
You can also compare Titan with its peers.
Titan vs Thangamayil Jewellery
Titan vs Goldiam International
To know what's moving the Indian stock markets today, check out the most recent share market updates here.
Disclaimer: This article is for information purposes only. It is not a stock recommendation and should not be treated as such. Learn more about our recommendation services here...
Yash Vora is a financial writer with the Microcap Millionaires team at Equitymaster. He has followed the stock markets right from his early college days. So, Yash has a keen eye for the big market movers. His clear and crisp writeups offer sharp insights on market moving stocks, fund flows, economic data and IPOs. When not looking at stocks, Yash loves a game of table tennis or chess.