Ashish Kacholia Increases Stake in this Multibagger Smallcap Stock
Aug 5, 2022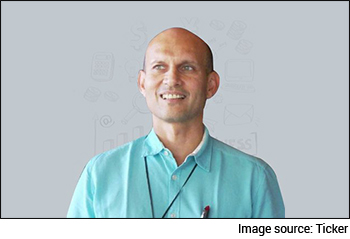 There is a preconceived notion, that following a trend often leads to inefficient results.
However, not all trends can be categorised like that. Some trends are very useful, like the 'sale' trend, which comes around July every year.
Similarly, in the stock markets, the trend set by the top investing gurus is often profitable.
These investing gurus ace the market test and earn high returns. Hence following their footsteps may result in gains.
So, in hopes that you too will gain from this trend, we will talk about what ace investor, Ashish Kacholia bought recently.
But before knowing what he bought, let us first talk about who Ashish Kacholia is.
Who is Ashish Kacholia?
When we talk about successful investors in India, it is impossible not to mention Ashish Kacholia. He has generated a net worth of 17 bn by investing in Indian stock markets.
Ashish Kacholia is known for identifying the best multibagger stocks. Hence, he is known as the 'Big Whale' of the Indian stock market.
Over the years, he has picked the best multibagger stocks by looking at the fastest growing companies from the midcap and smallcap space.
He started his career with Prime Securities in 1993. In 2003, he started Hungama Digital Entertainment Company along with Rakesh Jhunjhunwala. He is also the proprietor of Lucky Securities.
What did Ashish Kacholia buy recently?
On Thursday this week, Ashish Kacholia increased his stake in a multibagger smallcap stock - Fineotex Chemical.
The stock is up over 7% today after the news spread out to retail investors.
Fineotex Chemical is a specialty chemical company with its headquarters in Mumbai. It is engaged in the manufacturing of specialised chemicals and enzymes for various kinds of industries.
The plants of Fineotex are located in Navi Mumbai, Ambernath, and Selangor in Malaysia.
On Thursday, Ashish Kacholia bought shares of Fineotex Chemical. At present, his total stake in the company is 1.94%. Prior to the recent purchase, it was 1.93%.
While the stake increase may seem small in percentage terms, it's a lot more in absolute number of shares.
Yesterday, Fineotex Chemical's share price increased 11% and reached its 52-week high of Rs 237.9.
Today, it reached a new 52-week high of Rs 253.1.
Over the last one year , Fineotex Chemical's share price has surged 112%.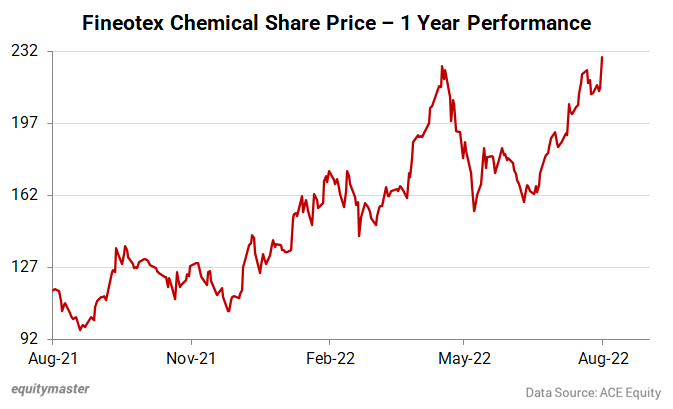 All chemical sector stocks are enjoying tailwinds because of China Plus One Strategy. China Plus one Strategy is the business strategy to avoid investing only in China and diversify business into other emerging countries like India.
On a CAGR basis, over the past four years', Fineotex Chemical's sales have grown by 22% and profits have grown by 16%. It is also a debt-free company.
Thus, Fineotex Chemical's financials, share price performance and overall growth prospects all look positive.
These could be the reasons why Ashish Kacholia increased stake in the company.
Investment Takeaway
Following a trend set by an ace investor may be good. But the investor should not forget that an ace investor's risk appetite is quite larger than an average investor.
So, if someone blindly follows an ace investor, he will fail miserably. Investment is always subjective to everyone's financial condition and preferred investment horizon.
Hence investors must be careful about choosing which trend to follow.
Stay tuned to this platform for more such updates.
Happy Investing!
Disclaimer: This article is for information purposes only. It is not a stock recommendation and should not be treated as such. Learn more about our recommendation services here...