Why You Should Be Paying Attention to this Fertilizer Company's Startup Portfolio
Aug 9, 2023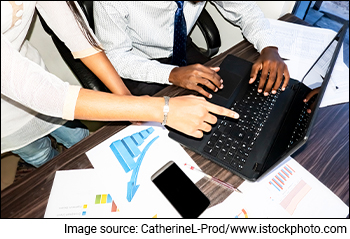 Indian drone startups have received increased attention in recent years and rightly so. It's the early investors in these startups that are making a killing.
Allow us to explain with the help of Info Edge, the company that runs Naukri platform.
As an early investor in Zomato, Info Edge multiplied its money once the food-delivery startup was listed on the exchanges.
In fact, Info Edge has been an early investor in many small businesses. As and when these startups get to a position where they could float an IPO for whatsoever reason, Info Edge will be running all the way to the bank.
Not just Info Edge. This trend is catching up where companies are investing in startups to diversify their business models and foray in to emerging megatrends such as artificial intelligence (AI), 5G, drone technology, or electric vehicles (EVs).
In the past, we wrote to you about two companies that have diversified their portfolio into several startups. You can read them here and here.
Today, let's look at a fertilizer company that's making its presence felt in the specialty chemical industry and the drone industry.
The company is Coromandel International.
Making its way in the drone industry
In December 2022, it was reported that agri-solutions company Coromandel International has invested Rs 200 million (m) in a drone startup Dhaksha Unmanned Systems for around 18.34% stake.
The investment was made through the company's venture capital arm Dare Ventures.
This year in June 2023, the company said it will raise its stake in the drone startup by investing an additional Rs 2.1 billion (bn) for 32.7% stake.
The company's total stake in the drone startup now stands at 51%, making it a majority shareholder. Going by the numbers, the drone startup's value comes to around Rs 6.2 bn.
This acquisition was the perfect move by Coromandel and aligns with its long-term plan to invest over Rs 20 bn in the business by 2025.
Dhaksha Unmanned Systems is a leading player in drone space in India, providing complete range of Unmanned Aerial Systems (UAS) technology solutions across agriculture, defence, surveillance, and enterprise applications.
Reportedly, it's the only player in India to receive type certificate from DGCA for three drone models in medium and small categories for agriculture and surveillance applications.
It's also the only player to offer type-certified petrol engine-based Hybrid Agri Drones. The company has been shortlisted under the production-linked incentive (PLI) scheme for promoting the manufacturing of drones and drone components.
The startup recently secured an order from the Indian army to supply 200 drones along with their accessories. The order amount is around Rs 1.7 bn.
This is in addition to a contract from agricultural inputs cooperative IFFCO which Dhakshan received wherein it'll supply 400 agri-spraying drones in the next 12 months.
Coromandel International's foray into specialty chemicals
On 22 March 2023, the Murugappa-group company announced that its board have approved the plan to expand their operations in crop protection chemicals and foray into the contract development & manufacturing organisation (CDMO) business.
The board further approved diversifying into new growth areas namely specialty and industrial chemicals.
Along with establishing a larger market share in its existing business, the company will also leverage its deep technical capabilities and best-in-class infrastructure to enter into new business avenues.
The company plans to invest Rs 10 bn over the next two years in the above businesses and leverage the macro tailwinds in the specialty chemical sector to build a business of scale.
The company's foray into the CDMO business is expected to help leverage expertise in handling complex chemistries at a commercial scale and strong development capabilities across various chemistries.
Wait, there's one more area of focus for Coromandel International
Apart from specialty chemicals and drones, Coromandel has also forayed into the mining business.
In FY23, Coromandel acquired a 45% stake in Baobab Mining and Chemicals Corporation (BMCC), Senegal to meet its rock phosphate needs, a key raw material for manufacturing Phosphoric acid.
BMCC holds a 20 years' mining license and has been producing commercial rock phosphate for use in Visakhapatnam plant. This move is expected to strengthen the company's backward integration.
Here's what the management said in the latest concall when asked about its mining business...
As far as the BMCC is concerned, there are two steps before we get the rock out of the mine. The basic mining where we remove the over burden, those processes have got stabilized. And we knew as we got into the mining operation, there is a lot that have to be done to get consistent output out of that.

So we are in the process of getting the second part, which includes crushing, screening, and then getting the rock out in a consistent manner. And we hope in the next two to three quarters that process will also stabilize and as shipment happen, that operation should get profitable.
What about the financials?
They are impressive with strong cash flows as well as a rock-solid balance sheet. The FY23 numbers topped the charts.
For the first time, the company crossed Rs 20 bn in net profit, aided by highly elevated raw material prices.
Coromandel International Financial Snapshot from 2019 to 2023
| Rs m, consolidated | FY19 | FY20 | FY21 | FY22 | FY23 |
| --- | --- | --- | --- | --- | --- |
| Revenue | 1,32,245.6 | 1,31,366.9 | 1,41,819.5 | 1,91,108.5 | 2,96,279.1 |
| Growth (%) | 19% | -1% | 8% | 35% | 55% |
| Operating Profit | 14,801.3 | 17,710.2 | 20,593.0 | 22,941.3 | 30,972.8 |
| OPM (%) | 11% | 13% | 15% | 12% | 10% |
| Net Profit | 7,204.8 | 10,650.4 | 13,291.5 | 15,284.6 | 20,129.3 |
| NPM (%) | 5% | 8% | 9% | 8% | 7% |
| Dividend Per Share (Rs) | 6.5 | 12.0 | 12.0 | 12.0 | 12.0 |
| Debt to Equity (x) | 0.9 | 0.4 | 0.0 | 0.0 | 0.0 |
Data Source: Ace Equity
It's also a zero-debt company, having pared debt in the past five years.
The company has a strong distribution network of 20,000 dealers and over 2,000 market development teams. This is the reason why it has enjoys decent margins and market leadership in certain segments.
As far as future growth prospects are concerned, the company has planned new product launches this year. The government is looking to reduce dependency on imports and replace them with domestically produced nano fertilizers by 2025.
Coromandel International is set to launch its nano DAP (Diammonium phosphate) for the Kharif season this year.
The company's venture capital arm has also made an investment in a renewable energy company Ecozen. It provides technology led solutions for agriculture for irrigation and cold storage.
Additionally, it also has some stake in StringBio, one of the few differentiated agri-biotech companies working on gaseous state fermentation of carbon dioxide and methane in India.
In its latest concall held in August 2023, the management has guided for a pick-up in demand with improved monsoon coverage.
The management also said that the investments in Dhaksha Unmanned Systems and the mining business are expected to turn profitable in the future.
How Coromandel International share price has performed recently
In the past five days, shares of the company have gained around 5%. In the month gone by, shares are up 11%.
On a year to date basis, Coromandel International shares are up around 20%. While in the past five years, shares of the company have zoomed over 140%.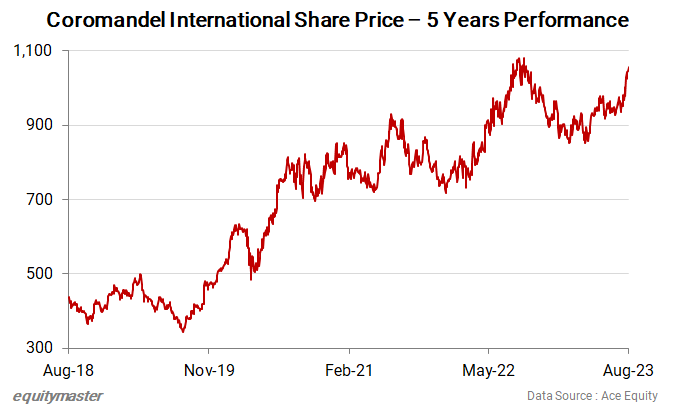 Coromandel International shares are currently trading close to their all-time high. At the current price, the company trades at a PE multiple of 15.2x compared to its 5-year median PE of 17x.
On the book value front, the company trades at a price to book value of 3.9x compared to its long term average of 4.3x.
Have a look at the table below to compare it with its peers...
Comparative Analysis
Company
Coromandel
Chambal Ferti
Paradeep Phosphates
RCF
National Fertilizers
ROE (%)
28.3
26.9
8.7
19.4
-4.5
ROCE (%)
40.5
23.7
17.4
17.5
1.7
Latest EPS (Rs)
68.2
24.9
1.5
17.5
9.3
TTM PE (x)
15.5
11.1
44.3
6.6
7.1
TTM Price to book (x)
3.9
1.6
1.6
1.4
1.3
Dividend yield (%)
1.1
2.7
0.8
4.6
0.0
Industry PE
14.0
Industry PB
2.2
Data Source: Ace Equity, Equitymaster
Investment in securities market are subject to market risks. Read all the related documents carefully before investing
Want to Grow Your Wealth With Safe Stocks?
If you want a simple, safe, and hassle-free approach to long term wealth building...
Without having to worry about negative news or every little downswing in the market...
And without having to worry whether your investments will actually "deliver"...
You must read our note on Blue Chip Stocks now.
Details of our SEBI Research Analyst registration are mentioned on our website - www.equitymaster.com
Disclaimer: This article is for information purposes only. It is not a stock recommendation and should not be treated as such. Learn more about our recommendation services here...
Yash Vora is a financial writer with the Microcap Millionaires team at Equitymaster. He has followed the stock markets right from his early college days. So, Yash has a keen eye for the big market movers. His clear and crisp writeups offer sharp insights on market moving stocks, fund flows, economic data and IPOs. When not looking at stocks, Yash loves a game of table tennis or chess.