Why Gland Pharma Share Price is Rising
Aug 9, 2023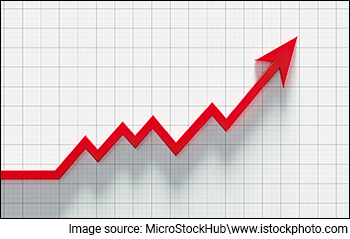 Pharma stocks have quietly emerged as outstanding performers in the current market environment. The Indian pharma industry has been experiencing a remarkable surge in growth, propelled by a combination of research and development (R&D).
Among the prominent names, Gland Pharma experienced a significant downturn in the past one year, as its shares kept hovering near 52-week low after it declared results for financial year ended March 2023.
In just two sessions, the sentiment has changed, and the company is now experiencing a turnaround with its spectacular Q1 results, after a disastrous year end.
Shares of the company spiked 20% yesterday and are up over 5% today.
Here's why...
Strong Q1 results
During the first quarter of financial year 2024, Gland Pharma's revenue from operation grew by 41% as compared to corresponding quarter of the previous year. The total revenue stood at Rs 12,087 million (m).
Out of the total increase in revenue, 37% was contributed from the acquisition of Cenexi and 4% from the base business.
The company improved gross margin both on yearly and sequential basis due to improved margin from the base business US portfolio and Cenexi's margin profile.
Gland Pharma through its wholly owned subsidiary in Singapore acquired 100% of Cenexi and accordingly two months' financials have been considered in the consolidated financials of Q1FY24.
The net profit for the quarter stood at Rs 1,941 m. Operating profit margins reduced to 16% as compared to the corresponding period in the previous year while net margins improved.
The poor results in the last quarter of financial year 2023 had put a lot of pressure on the stock. Things have changed now and the company is looking like a strong turnaround candidate.
The total R&D expense for Q1FY24 stood at Rs 457 million which was 5% of revenue from operation (excluding Cenexi).
During the quarter, Gland Pharma filed five abbreviated new drug applications (ANDAs) and received approval for 9 ANDAs. As of 30 June 2023, the company along with its partners had 337 ANDA filings in the US, of which 270 were approved and 67 are pending approvals.
The company is first-to-file (FTF) for one product filed during Q1FY24 with a US market size of around US$ 170 m. The filing plan is on track for 3-4 complex products during FY24.
Geographical expansion
China remains a key geographic focus for Gland Pharma and it launched the first product in the region during the quarter. The company expects growth in the European market with the acquisition of Cenexi.
Cenexi will serve as contract development and manufacturing organisation (CDMO). However, Cenexi's facilities will be having a 4-week annual summer shutdown in the ongoing second quarter of FY24.
The company is looking for opportunities to penetrate in rest of the world markets.
It's establishing a bio-similars CDMO and also expanding its plasma protein portfolio in Shamirpet facility.
The company has already announced an investment of Rs 4 bn in its Genome Valley facility in Hyderabad to manufacture biologicals, biosimilars, antibodies, and recombinant insulin.
All these factors indicate that the company could be on its way towards its next leg of growth.
Gland Pharma's previous capex spending have helped it more than double revenues in the past and all these future expansion plans and growing R&D spending could potentially drive revenue in the medium term.
How Gland Pharma shares have performed recently
Gland Pharma share price zoomed over 30% in the past five trading sessions. The shares have gained over 40% in last 6 months.
Gland Pharma hit a 52-week high of Rs 2,607 on 02 September 2022 and 52-week low of Rs 861 on 22 May 2023.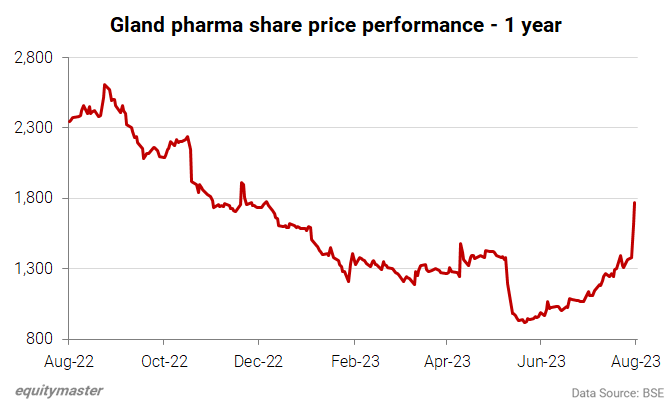 About Gland Pharma
Gland Pharma has grown over the years from a contract manufacturer of small volume liquid parenteral products, to one of the largest and fastest growing generic injectables manufacturing companies, with a global footprint across 60 countries.
The company operates primarily under a business to business (B2B) model and has an excellent track record in pharmaceutical research and development, manufacturing and marketing of complex injectables.
For more details, take a look at Gland Pharma's financial factsheet.
Investment in securities market are subject to market risks. Read all the related documents carefully before investing
Want to Grow Your Wealth With Safe Stocks?
If you want a simple, safe, and hassle-free approach to long term wealth building...
Without having to worry about negative news or every little downswing in the market...
And without having to worry whether your investments will actually "deliver"...
You must read our note on Blue Chip Stocks now.
Details of our SEBI Research Analyst registration are mentioned on our website - www.equitymaster.com
Disclaimer: This article is for information purposes only. It is not a stock recommendation and should not be treated as such. Learn more about our recommendation services here...