This Fintech Stock Zooms 20% in 5 Days After Madhusudan Kela Picks Stake. What Lies Ahead?
Aug 9, 2023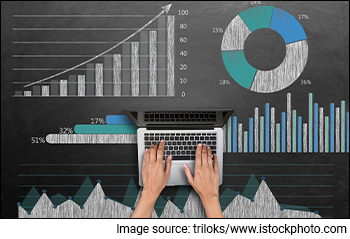 In recent times, there has been a notable upswing in the number of stocks hitting their upper circuit.
For instance, on 8 August 2023 an impressive total of 120 stocks achieved the upper circuit on the NSE. This surge is particularly striking compared to the preceding months, during which an average of around 50 stocks reached their upper circuit daily.
Having such a stock in one's portfolio is often a coveted aspiration. However, uncovering these hidden gems is a complex endeavour.
It demands years of patient dedication, meticulous research, a profound understanding of the intricate stock market dynamics, and a touch of luck.
Consequently, many individuals seek guidance from seasoned market veterans who have diligently honed these skills over time.
Among these respected figures is Madhusudan Kela, who has recently risen to fame.
Recently, he added Niyogin Fintech to his portfolio, and since then, the stock has consistently hit consecutive upper circuits.
The stock has soared over 20% in the past five days.
Who is Madhusudan Kela?
Known for his ability to identify quality companies with strong growth prospects, Madhusudan Kela is one of the most well-known and seasoned investors in the Indian stock market, with an extensive experience of over 27 years.
He prefers a value investing style and has a long-term investment horizon.
Why did Madhusudan Kela buy this multibagger stock?
Ace investor Madhuri Kela, wife of Madhusudan Kela, has picked up a stake in Niyogin Fintech through bulk deals on 2 August 2023.According to bulk deals data available with the exchanges, Madhuri Kela has bought 50.2 lakh shares or 5.3% stake in the company. The transaction was done at a weighted average price of Rs 61.7.
Meanwhile, WF Asian Reconnaissance Fund has sold 12.1 m shares in the company, while Think India Opportunities Master Fund has bought 5.1 m shares, data further showed.
According to block deal data on the BSE, WF Asian Reconnaissance Fund and Carmignac Portfolio collectively sold 13.5% of the total outstanding equity. Out of this, Madhuri Kela acquired shares worth Rs 310 m, equivalent to 5.3% of the company's equity.Niyogin Fintech caters to India's MSMEs and is a B2B company. It operates on a tech centric platform-based model.
Madhusudan Kela's decision to add Niyogin Fintech to his portfolio can be attributed to several compelling factors arising from the company's recent performance and strategic moves.
Strong quarterly business growth
In June 2023, Niyogin Fintech demonstrated an impressive 115% surge in its gross loan book, which soared to Rs 1.2 bn compared to Rs 553 m in the corresponding quarter of the previous year.
This substantial growth signifies the company's effective lending activities and its ability to attract borrowers.
Niyogin Fintech also witnessed remarkable leaps in its gross transaction value, which surged by 266.4% to reach Rs 98.9 bn from Rs 27 bn a year ago.
This reflects a significant rise in the volume of transactions, showcasing the company's expanding presence and popularity among its target market.
The number of transactions conducted by Niyogin Fintech also witnessed an exceptional YoY growth of 363%, escalating to 34 m transactions from 7 m in the same period last year. This surge highlights the increasing adoption of the company's services and solutions.
A crucial driver behind these impressive figures is Niyogin's proactive approach to forming new partnerships and strategically leveraging its existing marquee partners.
By expanding its network of partners, particularly among banks and other financial institutions, Niyogin has managed to extend its reach to a broader spectrum of small businesses.
This strategic move allows Niyogin to tap into new markets and customer segments, fueling its growth trajectory.
Positive long-term outlook
Moving forward, the company is confident that its business strategy supported by the recently raised capital will enable it to achieve its goal of becoming a leading player in the fintech industry.
These Fintech firms are on the cusp of a promising journey. Projections indicate a remarkable growth trajectory for the global fintech market, from US$ 123 bn (Rs 921 bn) in 2020 to an impressive US$ 309 bn by 2025, exhibiting a robust compound annual growth rate (CAGR) of 25.7%.
This underscores the abundance of opportunities awaiting innovative players within the fintech realm.
In today's rapidly evolving landscape, mobile devices are rapidly supplanting traditional methods for accessing financial services. This shift paves the way for fintech companies to craft pioneering mobile-centric offerings that cater to the evolving preferences of modern consumers.
By capitalising on this trend, fintech entities stand poised to ride a wave of innovation that could redefine the very landscape of financial service delivery.
The digital payments space is undergoing a profound transformation, especially in India.
The escalating popularity of digital payments is being met with innovative solutions developed by fintech firms. These solutions not only enhance convenience but also elevate security standards, surpassing conventional payment methods, and fostering a seamless, secure financial ecosystem.
How shares of Niyogin Fintech have performed recently
Over the last one year, the share price of Niyogin Fintech has gained 150%. In 2023 so far, the stock is trading higher by 136%.
Over the month, the stock has gained over 30%.
The company touched its 52-week high of Rs 86.9 on 9 August 2023 and its 52-week low of Rs 28.3 on 28 March 2023.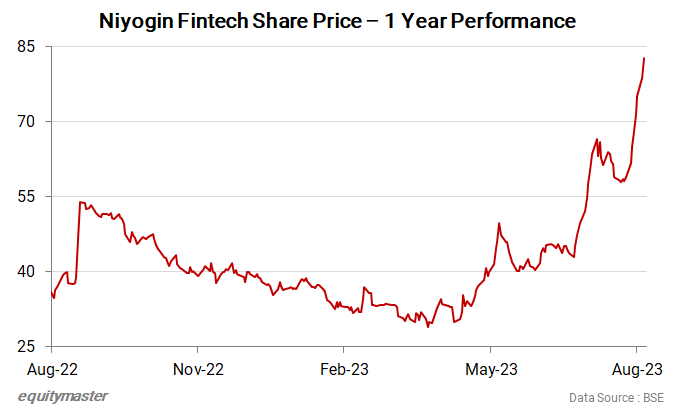 About Niyogin Fintech
Niyogin operates as a non-banking finance company in India. It is involved in loans, finance, and investment, as well as lending and allied activities to micro, small, and medium enterprises.
The company also operates on a hybrid model wherein it provides technology solutions across different segments to its partners, who in turn handle the physical leg of customer servicing for a revenue share.
In rural areas, the company helps retail stores to offer payments and financial transactions to customers in their vicinity.
The company generates its revenue in the form of interest income, processing fees, bounce charges, and other finance charges.
For more details, see the Niyogin Fintech company fact sheet and quarterly results.
For a sector overview, read our finance sector report.
You can also compare Safari Industries with its peers:
Niyogin Fintech vs Agarwal Holdings
Niyogin Fintech vs Bajaj Finserv
Disclaimer: This article is for information purposes only. It is not a stock recommendation and should not be treated as such. Learn more about our recommendation services here...
Investment in securities market are subject to market risks. Read all the related documents carefully before investing
Want to Grow Your Wealth With Safe Stocks?
If you want a simple, safe, and hassle-free approach to long term wealth building...
Without having to worry about negative news or every little downswing in the market...
And without having to worry whether your investments will actually "deliver"...
You must read our note on Blue Chip Stocks now.
Details of our SEBI Research Analyst registration are mentioned on our website - www.equitymaster.com
FAQs
Which are the best value investing stocks in India right now?
As per Equitymaster's Stock Screener, here is a list of the best value investing stocks in India right now...
These companies have been ranked as per their PE (Price to Earnings) ratio and PB (Price to Book Value) ratio. The lower the ratios, the more undervalued the stock is.
They also have low debt and high return on equity.
Note that, there are various other parameters you should take into account before investing in any company such as promoter holding etc. Sustained research must not be compromised despite the positive odds.
Can value investing make you rich?
Yes. However, note that value investing is not a get-rich-quick scheme, it's a buy-and-hold strategy.
Once you manage to find a fundamentally strong company that is priced lower than its actual value, you must buy and hold for a long term.
This will help you ride out the volatility in stock prices and avoid the pitfalls that come with trying to time the market.
How does Warren Buffet value stocks?