Why Adani Wilmar Share Price is Falling
Aug 10, 2023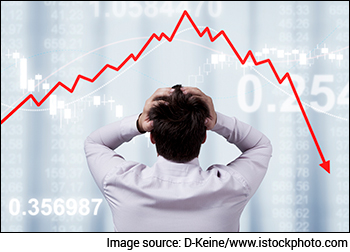 Investors in the stock market always consider stake sale by promoters of the company as a negatively. The share price would start falling amid such the news.
Investors do not like the idea of promoters leaving the company. They have more faith in the company that has higher promoter holding.
In recent days, the news of stake sale by the promoters of Adani Wilmar, the Adani group, has taken the stock on a roller coaster ride.
That's not all. Adani Wilmar's shares have been on a constant decline since the beginning of the year.
Let's find out why.
Tentative stake sale by promoters
The recent decline in Adani Wilmar comes after reports emerged that Adani group is considering selling a stake in Wilmar.
Shares of Adani Wilmar fell up to 5% on Wednesday i.e. 9 August 2023. This amid reports that the group is looking to sell a large part of its stake in the company to concentrate on its core business such as infrastructure, green energy, and airports.
Adani Commodities, an arm of Adani Enterprises, and Wilmar hold 43.97% each in the company.
Today, Adani group's flagship firm Adani Enterprises clarified that there is no such event that requires disclosure.
"We would like to clarify that as of now, there is no such event concerning the media report, which requires any disclosure from the company side in accordance with the Regulation 30 of SEBI Listing Regulations," billionaire Gautam Adani-led conglomerate said in a regulatory filing.
Poor quarterly performance
The other reason why shares have been on a constant decline is due to weak operational performance.
In the first quarter of FY24, Adani Wilmar's revenue fell 12% and came in at Rs 129.3 billion (bn).
The company reported a loss of Rs 790 million (m) as against profit of Rs 1,940 m in the corresponding period of previous year. Management attributed the loss to falling edible oil prices and high-cost inventory.
Edible oil prices have fallen more than 50% in less than a year, hit by lower consumer demand in developed economies, easing of supply in the Black Sea region, and strong production of oilseeds.
However, lower edible oil prices meant demand for the product surged, resulting in a 25% jump in volumes for the company. But the jump in volume did not offset the fall in price for edible oil.
Export ban
India, the world's second-largest wheat producer, banned wheat exports in May 2022 as a part of measure to control rising domestic prices.
The government is supplying some quantity of wheat only to a few countries via government-to-government trade arrangements. This ban hurts Adani Wilmar which exports wheat.
On 20 July 2023, the government of India announced that it would stop exporting non-basmati white rice, effective immediately. The move was to help lower rice prices and secure availability in India, according to the government's statement.
Such export bans disrupt the sales of the company and takes away the chance from the company to earn foreign exchange.
Adani-Hindenburg row
A major reason behind the company's underperformance in the first couple of months was the Hindenburg report.
US short-seller Hindenburg Research in January 2023 released a damning report alleging accounting fraud and stock price manipulation at Adani Group stocks, triggering a stock market rout that had erased about US$ 145 billion in the conglomerate's market value.
Shares of Adani Wilmar have fallen about 36% this year. Most of Adani companies have now recovered somewhat from the aftermath of Hindenburg allegations, but Adani Wilmar remains one of the few companies that has not shown any signs of recovery.
What next for Adani Wilmar?
Adani Wilmar continues to rank number one in terms of market share for edible oil, second in market share for wheat flour, and third in market share for rice.
The company has been putting in efforts to revive the premium brand of Kohinoor basmati rice. The company has signed various Bollywood stars for its targeted market ad campaigns.
The company is leveraging the existing setup of edible oil business to scale up food & FMCG. The company is planning for forward integration into value-added downstream products in oleochemicals & castor oil.
The company's value-added products are a forward integration of the existing products and leverages the existing distribution network
How Adani Wilmar shares have performed recently
The shares of Adani Wilmar plunged 5% in Wednesday's trading session. Today again, shares are marginally down.
The shares have declined 62% since January 2023.
Adani Wilmar touched a 52-week high of Rs 841.7 on 23 September 2022 and a 52-week low of Rs 327.25 on 28 February 2023.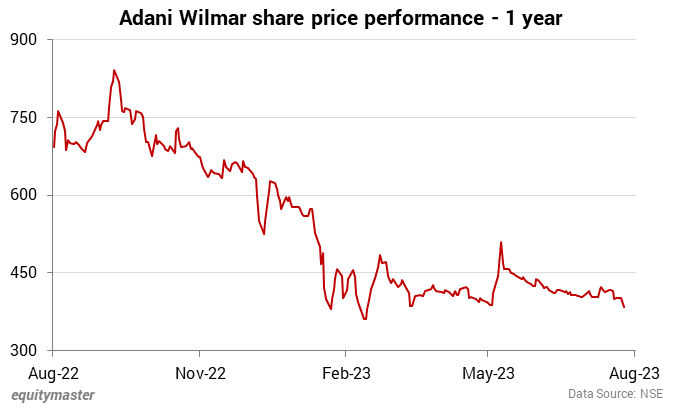 About Adani Wilmar
Adani Wilmar is a multinational food and beverage conglomerate based in India. It is a joint venture between Adani Enterprises and Wilmar International and India's largest processor of palm oil.
The company was founded in 1999 and has its headquarters in Ahmedabad, India. As of date the group has 22 plants located across 10 states in India. It exports its products to the Middle East, Africa, and South East Asia.
To know more, check out the Adani Wilmar's company factsheet and quarterly results.
Investment in securities market are subject to market risks. Read all the related documents carefully before investing
Want to Grow Your Wealth With Safe Stocks?
If you want a simple, safe, and hassle-free approach to long term wealth building...
Without having to worry about negative news or every little downswing in the market...
And without having to worry whether your investments will actually "deliver"...
You must read our note on Blue Chip Stocks now.
Details of our SEBI Research Analyst registration are mentioned on our website - www.equitymaster.com
Disclaimer: This article is for information purposes only. It is not a stock recommendation and should not be treated as such. Learn more about our recommendation services here...