Why Coal India Shares Were in Focus Today
Aug 11, 2021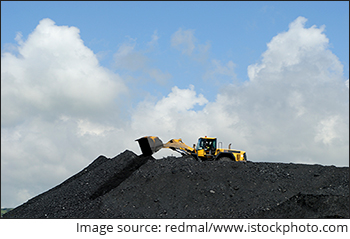 Coal India (CIL), the country's largest coal mining company, has reported a 52.8% year on year (YoY) growth in consolidated profit at Rs 31.7 bn in the quarter ended June 2021 driven by revenue and operating income.
The strong performance is on the back of a low base in the year-ago quarter, which was impacted by the lockdown. The company had posted a consolidated net profit of Rs 20.8 bn in the year-ago period.
However, on a sequential basis, the company's topline and bottomline was affected by the second wave of Covid-19 infections in the country. Coal India's topline fell 5% sequentially, while its consolidated net profit sank 31%.
The results missed analyst expectations.
--- Advertisement ---
Automobile Sector's Colossal Disruption Could Make You a Fortune

During any major disruption in a sector, fortunes are created.

And now, we are at the cusp of a major disruption that the automotive sector will experience.

It is the electric vehicles gold rush.

At Equitymaster, we have unearthed a hidden way to ride the 15x EV opportunity so that you could take home potentially life-changing gains in the long run.

You can get all details of the hidden way in our upcoming special online event.

YES, Register Me for FREE
------------------------------
Operational revenue increased during the period
Coal India reported a 37% YoY rise in consolidated revenue from operations to Rs 252.8 bn for the quarter, which was better than street's expectations.
At the operating level, earnings before interest, tax, depreciation, and amortisation (EBITDA) in June 2021 quarter grew by 58.7% to Rs 48.4 bn and margin expanded 270 basis points (bps) to 19.2% compared to the year-ago quarter.
The company also saw a sharp rise in expenses during the quarter led by raw material cost. Coal India's consolidated total expenses in the reported quarter jumped 31.3% YoY to Rs 216.3 bn.
The state-owned coal mining firm produced 124 million tonnes (MT) of raw coal in June quarter, marginally up by 2.5% compared to 121 MT of production in the same period last fiscal.
Sequentially, production was down by 39% from 203.4 MT during the January-March 2021 quarter.
Coal offtake during the quarter was up by 33% at 160.4 MT against 120.8 MT.
The average realisation per tonne was Rs 1,450.9 during April-June 2021 quarter.
Company's sales during the quarter
The country's largest miner sold around 127.5 MT of coal through FSA (Fuel Supply Agreement) route clocking net sales of Rs 177.7 bn at an average realisation of Rs 1,394.1 a tonne.
It sold around 30.2 MT of coal through e-auction route at an average realisation of Rs 1,569.1 a tonne.
On a standalone basis, Coal India registered a net loss of Rs 500 m for the quarter, compared with a net profit of Rs 120 m in the same period last year.
--- Advertisement ---
The Rebirth of India

India's leading research analyst, Tanushree Banerjee, will show our readers how an upcoming mega shift would drastically change the state of the Indian economy...

And how investing in three high-potential stocks at the heart of this rebirth...

...could potentially hand them 100%, 300%, 500%, even 1,000% or more in the long run.

Since you are one of our valued readers, we sincerely urge you to head over here for more details
------------------------------
The drop in profits is mainly on the back of suspension of mining operations at NEC (North Eastern Coalfields) in Assam.
In a statement, the functional director of Coal India vide its 229th meeting dated 5 June 2020 has ratified the decision to temporarily suspend the mining operation at NEC (in Tikak, Tipong, and Tirap Colliery) from 3 June 2020, till forestry and other statutory clearances are obtained and mines are made operational.
The management is reviewing the impact of the above temporary suspension. Decrease in production and offtake is mainly due to suspension of such mining operation.
Coal India's investment goals
Coal India accounts for over 80% of domestic coal output. State-owned CIL will pump in over Rs 1.2 tn on projects related to coal evacuation, exploration, and clean coal technologies by 2023-24 to achieve the 1 bn tonnes of fuel output target.
Out of the proposed spend of over Rs 1.2 tn, CIL has planned to invest Rs 327 bn on coal evacuation, Rs 251.2 bn on mine infrastructure, and Rs 294.6 bn on project development by 2023-24.
The state-owned company will also invest Rs 322 bn on diversification and clean coal technologies, Rs 15 bn on social infrastructure and Rs 18.9 bn on exploration works.
The investment of Rs 1.2 tn will be utilized to fund a total of 500 projects. The company is eyeing 1 bn tonnes of coal output by 2023-24.
Equitymaster on the Commodity Supercycle
Here's what Aditya Vora, Financial Writer at Equitymaster, wrote about the commodity supercycle in one of the editions of Profit Hunter:
Steel factories were also shut completely in many countries. After the reopening, it took time for these factories to ramp up production. Also, the issue of availability of iron ore and the rising prices persisted.

The result?

Commodity prices shot up beyond imagination.

However, this global supply and demand mismatch will normalise.

The similar logic can be applied to other commodities too. The rally is largely due to supply constraints. It's not due to a secular and structural global demand recovery.

I believe these prices are not sustainable. The current trend will put pressure on demand going forward.
You can read the entire article here: Commodity Supercycle: What Goes Up Fast Will Come Down Faster
Co-head of Research at Equitymaster, Rahul Shah also did a piece on 'Commodity Supercycle'.
Meanwhile, India's #1 trader, Vijay Bhambwani shares his views on the much hyped commodity supercycle, in a recent video.
In the video, Vijay talked about why are commodity prices rising and will this bull market continue?
You can watch the video here: Is the Commodity Supercycle Real?
Join Today: Equitymaster is on Telegram. Join FREE Today for Exclusive market Updates
How the stock markets reacted to Coal India
Shares of Coal India opened the day at Rs 142.5 on the BSE and Rs 142.9 on the NSE.
Its share price closed at Rs 143.9(up 1.2%)on the BSE and Rs 144(up 1.2%) on the NSE.
At its current price, it is trading at a P/E of 6.4.
The share touched its 52-week high of Rs 164.9 and 52-week low of Rs 109.5 on 11 June 2021 and 14 October 2020, respectively.
Over the last 30 days, the Coal India share price is down 2.8%. Over the last one year, the company's share price is up 10.4%.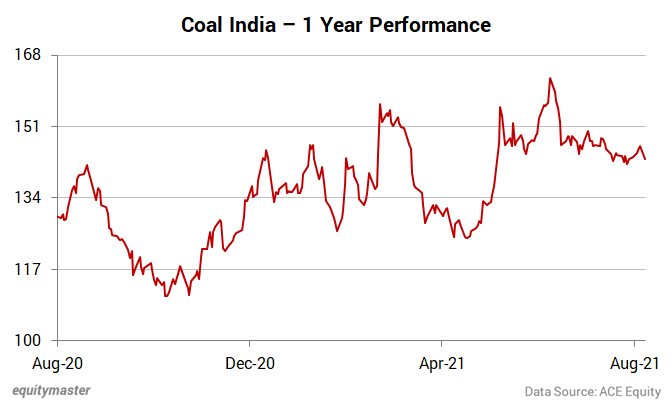 About Coal India
Coal India was incorporated in 1973 as Coal Mines Authority after the nationalisation of the coal sector.
It was reconstituted as a formal holding company with the present name in November 1975.
The company has eight wholly owned Indian subsidiaries: Bharat Coking Coal, Central Coalfields, Eastern Coalfields, Western Coalfields, Northern Coalfields, Mahanadi Coalfields, South Eastern Coalfields, and Coal Mines Planning and Development Institute.
It has a wholly owned subsidiary in Mozambique, Coal India Africana.
Coal India was conferred the Maharatna status by the Indian government in April 2011. The status provides operational and financial autonomy.
Additionally, seven of its nine wholly owned subsidiaries have been accorded the Miniratna status, leading to decentralisation of operations and decision-making.
In October 2010, the government divested 10% stake in Coal India for Rs 154 bn through an initial public offering (IPO).
Over the years, the government has divested stake through offer for sale (OFS), by way of placement of shares in Central Public Sector Exchange Traded Fund and buyback of shares through offer for sale.
For more details about the company, check out Coal India company fact sheet and quarterly results.
You can also compare Coal India with its peers.
To know what's moving the Indian stock markets today, check out the most recent share market updates here.
Disclaimer: This article is for information purposes only. It is not a stock recommendation and should not be treated as such. Learn more about our recommendation services here...