Why DreamFolks Services Share Price is Falling
Aug 11, 2023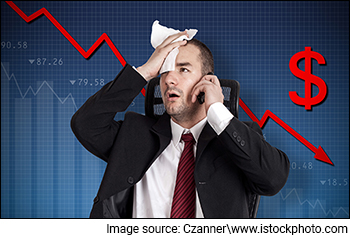 The share market's reaction to any unexpected news is usually driven by emotions rather than a thorough analysis.
Say for example a company reports poor performance compared to market's expectations. Sometimes, it results in the share price falling a bit, say 5% or 10% in 2-3 days. But sometimes, what also happens is the stock price dips as much as 20% for consecutive days.
One such company that fell prey to market's expectations is DreamFolks Services. The company recently reported its quarterly earnings and shares of the company have crashed ever since.
Let's find out what went bad and if the results were so bad that it warrented a sharp correction.
Q1 results below expectations
The recent fall in share price of DreamFolks Services comes after the company reported earnings for the quarter ended on 30 June 2023.
The airport service provider's revenue saw a growth of 66% as compared to the corresponding period of last year. The revenue of the company stood at Rs 2,663 million (m). The sharp rise in revenue is due to increased cards in circulation, changing travel trends and jump in air traffic.
Earnings before interest, taxes, depreciation, and amortisation (EBITDA) slipped to Rs 186.9 m in Q1 against Rs 194 m in June 2022 due to higher operational cost, including cost of services and employee cost.
EBITDA margins too fell to 7% in the June quarter against 12% in the June 2022 quarter. This was the key highlight that got investors worried.
The net profit of the company slipped to Rs 130 m as against Rs 134.4 m in June 2022 quarter. Net profit margins fell to 5% as against 8.4% in the June 2022. One-off abnormal increase in common area maintenance charges has led to increase in lounge cost which impacted the net profit margins.
What Next for DreamFolks Services?
As per the company's management, they operate in extremely dynamic and growing market. The gross margins would settle in the range of 11-13% for financial year 2024.
The company has adopted the following two strategies to expand its business:
Strategic partnership with plaza premium group



The company collaborated with Plaza Premium Group, to include over 340+ Plaza Premium Lounges in over 70+ major international airports into the DreamFolks global lounge network, offering an enhanced travel experience to its members worldwide starting 24 July 2023.

This collaboration will facilitate extensive coverage of Plaza Premium Lounges across 4 continents including key travel hubs such as Australia, Canada, the UK, Hong Kong, Florida, Brazil, Italy, Indonesia, Malaysia, Singapore, Dubai, Saudi Arabia, Jordan, and more.

With this new development, DreamFolks' global touchpoints will increase to an impressive 1,700+.

Lauch of new services - Visa facilitation and E-sim solutions



DreamFolks has joined hands with VFS Global to offer visa services.

The service offering includes access to premium lounges at VFS Visa centres across the country. This will provide end-to-end visa processing and visa at your doorstep (VAYD) services which will allow customers to conveniently submit their visa applications from the comfort of their homes or offices.

By partnering with top E-SIM solution providers like Matrix, the company is offering a service that allows customers to purchase international SIM cards at affordable rates for global destinations in a hassle-free manner.

With international E-SIMs, travellers can enjoy immediate connectivity without any delays.
Another factor that acts as a tailwind for the company is the growth in air and rail travel sectors.
The airport and airport service industry are showing signs of strong growth. With a complete market recovery, even beyond pre-Covid levels, air traffic around the globe is rapidly increasing alongside a growing preference for comfort and luxury.
Indian air travel market has multi-decade growth opportunity. There is increase in number of fleets, number of airports, number of lounges, and size of lounges.
The industry as whole is expected to witness huge growth with the support of government schemes and development of infrastructure.
The government of India has launched Udan 5.0 scheme to improve connectivity of tier 2 and 3 cities. 50 new airports, helipads have been announced which presents an opportunity for the company to grow its business.
The government has allocated budget of Rs 45 billion (bn) for the revival of airports and would provide an impetus to infrastructure development in tier-2 & tier-3 cities.
The ministry of railways has launched the Amrit Bharat station scheme in February 2023. The scheme will improve facilities beyond minimum essential and offer world-class amenities for passengers at stations to enhance overall travel experience.
The government schemes are expected to create a huge business opportunity for the company. It can expand market share in the growing market of air and rail travel in India.
How DreamFolks Services shares have performed recently
The share price of DreamFolks Services has declined over 26% in a week. The shares have declined 13% in the last one month.
DreamFolks Services touched a 52-week high of Rs 847 on 2 August 2023 and a 52-week low of Rs 348 on 27 December 2022.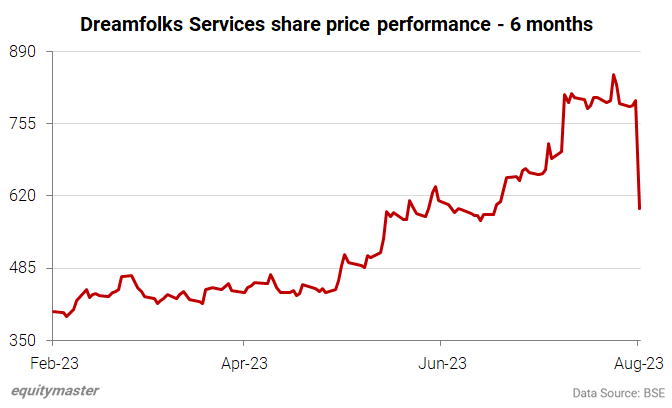 About DreamFolks Services
DreamFolks is an airport service aggregator platform facilitating an enhanced airport experience to passengers leveraging a technology driven platform.
They facilitate customers access to services like lounges, food & beverage, spas, meet & assist, airport transfer, transit hotels /hap room access, and other services.
Their asset-light business model integrates global card networks operating in India, credit card and debit card issuers and other corporate clients in India.
To know more, check out the DreamFolks Services company factsheet and quarterly results.
Investment in securities market are subject to market risks. Read all the related documents carefully before investing
Want to Grow Your Wealth With Safe Stocks?
If you want a simple, safe, and hassle-free approach to long term wealth building...
Without having to worry about negative news or every little downswing in the market...
And without having to worry whether your investments will actually "deliver"...
You must read our note on Blue Chip Stocks now.
Details of our SEBI Research Analyst registration are mentioned on our website - www.equitymaster.com
Disclaimer: This article is for information purposes only. It is not a stock recommendation and should not be treated as such. Learn more about our recommendation services here...