Top 5 Stocks to Benefit from this Upcoming Festive Season
Aug 12, 2023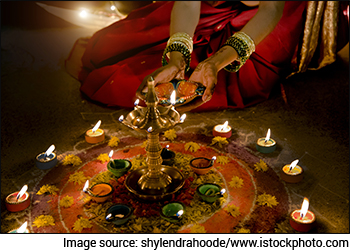 As the calendar inches closer to the much-awaited festive season, anticipation is in the air, accompanied by the allure of festivals such as Ganpati and Diwali.
These vibrant festivals not only bring families and communities together but also set the stage for a surge in economic activities.
Amid this jubilant atmosphere, a keen eye can discern a unique investment opportunity, the chance to uncover the top stocks that are strategically positioned to reap the rewards of this upcoming festive fervour.
Here are five companies that could soar as a result.
#1 Aditya Birla Fashion & Retail
The first stock on our list is Aditya Birla Fashion & Retail (ABFR).
The stock is the perfect beneficiary of the festive season as it is customary for people to buy new clothes.
The company emerged after the consolidation of the branded apparel businesses of the Aditya Birla Group comprising ABNL's Madura Fashion division and ABNL's subsidiaries Pantaloons Fashion and Retail (PFRL) and Madura Fashion & Lifestyle (MFL) in 2015.
It obtains 60% of its revenue from Madura Fashions, under which the company owns several brands such as Louis Philippe, Van Heusen, Allen Solly, and Peter England.
Its international Brands portfolio also comes under this division which includes The Collective and select brands such as Ted Baker, Ralph Lauren, and American Eagle.
The remaining 40% of its revenue come from Pantaloons, which the company acquired from the Future Retail Group in 2012. Pantaloons is one of the most trusted fashion retail brands in the country.
For the June 2023 quarter, the company reported an 11% YoY increase in revenue driven by a strong pick-up in new businesses and consistent performance from established businesses, despite challenging market conditions.
However, it posted a consolidated net loss of Rs 1.6 bn against a profit of Rs 944 m in the year ago period. The company anticipates a rebound in discretionary spend with the onset of the festive season, propelling its growth trajectory further in the second half.
With a positive outlook on the growth prospects of both the Indian economy and the fashion apparel sector, the management said it is determined to leverage its robust brand portfolio to drive consistent, sustainable growth.
#2 Khadim
The second stock on our list is Khadim.
New clothes are usually accompanied with new shoes and Khadim could benefit from the wave of economic activity that takes place before the festive season.
The company is the second largest footwear retailer in India. It has a large presence in East India and is one of the top three players in South India as well.
Its market share in the organized market stands at 5%, with around 10 brands and 9 sub-brands in every price bracket.
For the March 2023 quarter, the company reported a marginal increase in revenue. However, net profit for the year came in higher by 66% YoY.
Khadim plans to spend Rs 120-130 bn in capex for FY24. It plans to open around 100-120 stores in the next 2-3 years especially in the western and northern markets, through Exclusive Brand Outlets (EBOs) and Brand Outlets (BOs), in addition to COCO stores in strategic locations.
The company is also focussed on accelerating the pace of expansion on e-commerce platforms while building on its offline customer touchpoints.
Besides this, it actively pursuing a strategy of premiumisation, which includes the introduction of a premium-priced shoe range, the reframing of the value proposition, etc.
#3 Ethos Watches
The third stock on our list is Ethos Watches.
Watches are another item that people like to purchase during the festive season and Ethos is one of the pure watch retailers in India.
The company is India's largest luxury and premium watch retail player with a 13% market share of the total retail sales in the premium and luxury segment and 20% market share in the exclusive luxury segment.
It retails over 60 premium & luxury watch brands in India. Customers can choose from over 7,000 watches.
Ethos sells its products through stores categorised as Ethos Summit Stores, multi-brand stores, Ethos Boutiques, Airport Store, CPO luxury watch lounge, and mono-brand boutiques, via online channels.
For the June 2023 quarter, the company reported a 33% YoY increase in revenue with a 42% YoY jump in net profit.
During the quarter, Ethos opened its first boutique in Raipur. The company also opened multi-brand boutiques in Ahmedabad and Chennai, along with a Jacob & Co boutique in Mumbai.
Going forward, the company's increasing portfolio of exclusive brand sales augur well for further growth and profitability.
A consistent increase in the exclusive arrangements with the brands and growing share of revenues from the high luxury segment will also continue to support the company's bottom line.
#4 Hero MotoCorp
The fourth stock on our list is Hero MotoCorp.
The upcoming festive season is expected to give rise to demand for two-wheelers in rural areas. This could boost sales of the company which have otherwise been in a slump as the pandemic hit festive demand.
The company is the world's largest manufacturer of two wheelers, in terms of unit volumes sold by a single company.
It has some strong brands under its names such as Splendor, Passion, Glamour in the bike segment and Pleasure and Maestro in the scooter segment, and others, etc.
For the June 2023 quarter, the company reported a 4.5% YoY increase in revenue, while net profit came in higher by 32% YoY.
The company expects the momentum to build-up in the coming quarters on account of favorable economic indicators and positive consumer sentiment.
It's also building its presence in the electric vehicle (EV) space and is on track to cover 100 cities by December this year. Besides this, it is accelerating its presence in the premium space.
#5 Bajaj Finance
The last stock on our list is Bajaj Finance.
The company is the largest NBFC (non-banking financial company) in India. The lender has grown its business substantially and now boasts an AUM (assets under management) of over Rs 2 tn.
Bajaj Finance competes with banks and NBFCs for traditional retail (mainly personal /consumer loans and mortgages) and certain non-retail lending products.
During the festive season, the company runs zero down payment schemes where one does not have to pay anything at the time of the purchase.
It has recently partnered with Honda to offer finance solutions for its customers. The partnership will help Honda customers avail car finance schemes with low rate of interest and quick sanction of loans on the purchase of its cars.
The business is well-poised to grow over the long term. Bajaj Finance's long-term target is to continue growing its AUM at 25% while maintaining sturdy return ratios.
The company expects the growth to stem from existing verticals in tandem with new ones, such as microfinance, commercial vehicle loans and tractor loans.
For the June 2023 quarter, Bajaj Finance reported a 34% jump in its loan book. New loans stood at 99.4 lakh for the quarter, according to an exchange filing. Its deposit book also saw a 46% jump to Rs 500 bn.
Conclusion
The upcoming festive season presents a promising opportunity for investors to capitalise on the market's positive momentum.
These stocks span across diverse sectors, each uniquely positioned to tap into the increased consumer spending that characterizes the festive season.
However, it's important to note that while these stocks show strong potential, investing always carries inherent risks.
Therefore, investors should exercise prudence, conduct thorough research, and consider diversification when making investment decisions.
Investment in securities market are subject to market risks. Read all the related documents carefully before investing
Want to Grow Your Wealth With Safe Stocks?
If you want a simple, safe, and hassle-free approach to long term wealth building...
Without having to worry about negative news or every little downswing in the market...
And without having to worry whether your investments will actually "deliver"...
You must read our note on Blue Chip Stocks now.
Details of our SEBI Research Analyst registration are mentioned on our website - www.equitymaster.com
Disclaimer: This article is for information purposes only. It is not a stock recommendation and should not be treated as such. Learn more about our recommendation services here...