Is ONGC Share Price Poised for a Comeback?
Aug 13, 2023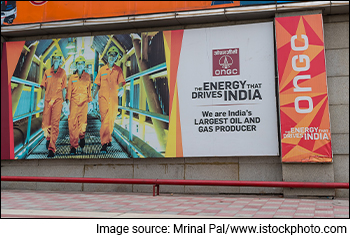 Global crude oil prices touched close to three-month highs with Brent closing at US$ 86.8 per barrel levels at the end of Friday trading session this week.
This was then followed by production cuts by leading suppliers Saudi Arabia and Russia along with a pick-up in Chinese demand.
ONGC, a leading Indian player in the production of crude oil, is expected to partially benefit from the current surge in international crude oil prices, given the windfall tax levied by the central government.
Windfall tax on crude oil was made effective from 15 July 2023 with media reports highlighting special additional excise duty (SAED) on crude oil was raised to Rs 1,600 per tonne.
Global oil prices had averaged US$ 76.5 per barrel in the June 2023 quarter vis-a-vis US$ 108.6 per barrel a year earlier.
Oil prices in the June 2023 quarter were weaker compared to a year earlier, given the gradual reopening of the Chinese economy from the Covid scare.
India imports nearly 85% of its annual crude oil requirements, point out analysts, and the war in Ukraine has made global oil prices volatile.
Investors on Dalal Street have been cautiously optimistic on the earnings growth potential of ONGC with the stock price that had hit a 52-week high of Rs 179.9 on 10 August 2023, and it ended Friday's trade at Rs 177.2.
ONGC's performance in June 2023 quarter
ONGC reported a near 34% YoY fall in its standalone net profit to Rs 100.2 bn in the June 2023 quarter along with its total income that declined 17.8% YoY to Rs 353.4 bn in the quarter under review.
Global oil prices weakened nearly 29.5% YoY in the first quarter of FY24 along with a 3.3% YoY fall in the company's total crude oil output to 5.3 million tonnes.
But is it a 'value' buy?
ONGC ended Friday's trade not too far from its 52-week high and yet it trades at reasonable valuations compared to its global peers.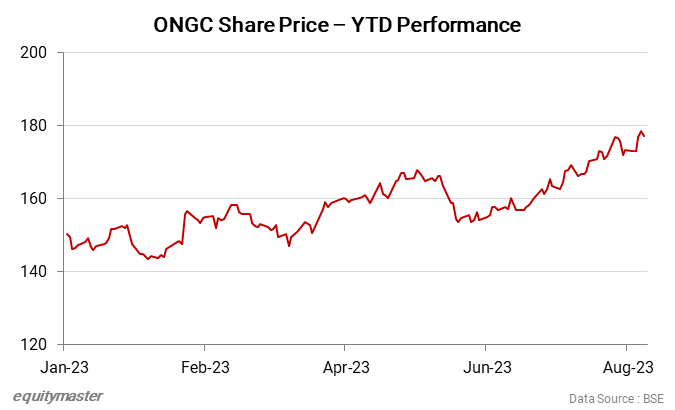 ONGC trades at barely 5.5 times estimated standalone FY24 earnings. Meanwhile, US-based Exxon Mobil trades with a forward PE of nearly 12.3 times while it is 7.7 times for Dutch-based Shell and British Petroleum trades at 6.9 times, according to data sourced from global financial websites.
ONGC had also declared a dividend of Rs 11.25 per share for the financial year ended March 2023 and it currently offers a dividend yield of 6.35% based on Friday's closing stock price.
The stock appears to have limited downside risk at a time when global interest rates are rising due to stubbornly high inflation levels, and the volatility in the broader equity markets.
All this data suggests that ONGC is poised for a comeback. Investors could consider taking advantage of high international oil prices.
Investment in securities market are subject to market risks. Read all the related documents carefully before investing
Want to Grow Your Wealth With Safe Stocks?
If you want a simple, safe, and hassle-free approach to long term wealth building...
Without having to worry about negative news or every little downswing in the market...
And without having to worry whether your investments will actually "deliver"...
You must read our note on Blue Chip Stocks now.
Details of our SEBI Research Analyst registration are mentioned on our website - www.equitymaster.com
Disclaimer: This article is for information purposes only. It is not a stock recommendation and should not be treated as such. Learn more about our recommendation services here...
Amriteshwar Mathur is a financial writer with over 20 years of experience. His partnership with Equitymaster involves writing on topics that are critical to understand if Indian investors are to realise their long term wealth building goals.