Amara Raja Batteries Dips 1% Even as Net Profit Doubles
Aug 16, 2021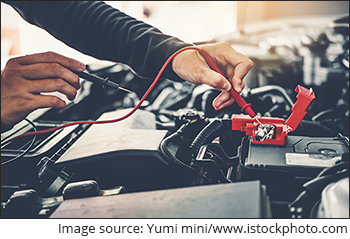 Shares of Amara Raja Batteries (ARBL) dipped over 1% today even as the company's net profit doubled to Rs 1.2 bn for the June 2021 quarter.
The company had posted a net profit of Rs 625 m in the same period last year.
The revenue of the company jumped 63.4% year on year (YoY) to Rs 18.9 bn compared to Rs 11.5 bn in the June 2020 quarter as aftermarket demand across product segments in both automotive and industrial segments remained strong.
The company said that the revenue of its automotive business grew on the back of strong growth in exports and OEMs. In the industrial business, both telecom and UPS applications registered strong YoY growth.
Due to the increase in revenue, the company's earnings before interest, taxes, depreciation and amortisation (EBITDA) increased by 64.3% YoY to Rs 2.5 bn from Rs 1.5 bn.
However, EBITDA margins remained flat as raw material, employee, and other expenses increased.
Key Financial Highlights (June 2021 vs June 2020)
| | Jun-21 | Jun-20 | YoY Change |
| --- | --- | --- | --- |
| Revenue (in m) | 18,862 | 11,512 | 63.8% |
| | | | |
| EBITDA (in m) | 2,500 | 1,522 | 64.2% |
| EBITDA Margin | 13.26% | 13.22% | 0.03% |
| | | | |
| Net Profit (in m) | 1,241 | 625 | 98.6% |
| Net Profit Margin | 6.58% | 5.43% | 1.15% |
Source: Financial Results
While the uncertainty due to the second wave of Covid-19 is creating unpredictability in the product off-take, the company is focused on ensuring product availability across all market segments by calibrating its manufacturing operations and supply chain dynamically.
--- Advertisement ---
Released: Complete Replay of Lazy Millionaire




We just released the complete Replay of Rahul Shah's Lazy Millionaire Summit.

Watch Now...
------------------------------
With respect to the outlook, Jayadev Galla, Vice Chairman, Managing Director and CEO, said,
Even as we prepare ourselves for the future opportunities in both the energy storage and e-mobility applications, we remain focused on maximising the value of the lead acid business by selective investments in expanding product portfolio and the geographies we serve.
Amara Raja Batteries plans US$ 1 bn capex over the next 5-7 years
Amara Raja Batteries plans to invest about US$ 1 bn over the next five to seven years in capex towards both organic and inorganic growth.
The investment will largely be used for a 10-12 GWh (gigawatt hours) lithium ion battery facility under the Advanced Chemistry Cell (ACC), PLI (Production Linked Incentives) scheme of the government.
The battery maker said it would focus more on new-age energy storage systems such as lithium-ion technology keeping in view market trends as the lead acid battery market growth rate is expected to taper off over a period of time.
In May 2021, the Government of India approved the PLI (Production Linked Incentives) scheme for manufacturing ACC (Advanced Chemistry Cell) batteries at an estimated outlay of Rs 181 bn.
Amara Raja has been making about Rs 4-5 bn investment on capex to sustaining its existing businesses every year.
--- Advertisement ---
2022's BIGGEST Investment Idea

We're proud to introduce you to our BIGGEST investment idea for 2022.

This investment idea is the result of countless hours of combined research by our team members.

You could learn how to tap into this 15x opportunity by watching the video of our special event.

Watch the #1 Investment Idea for 2022 by clicking the link below.

Watch Video Now
------------------------------
Jayadev Galla takes over as group chairman
After founding and nurturing the Amara Raja Group for over three decades, group chairman Ramachandra N. Galla finally called it a day and handed over the baton to his son Jayadev Galla.
The decision on his retirement was taken in June at the company's board meeting when Mr. Ramachandra chose not to seek reappointment and hand over the mantle to his son.
How the stock markets reacted to Amara Raja Batteries June 2021 results today
Shares of Amara Raja Batteries opened the day higher at Rs 740 on the BSE and Rs 742 on the NSE today and later fell over 1% after the company declared its results.
The share touched its 52-week high of Rs 1,025 and 52-week low of Rs 693 on 15 January 2021 and 13 July 2020, respectively.
Over the last 30 days, Amara Raja Batteries share price is down 1.1% and in the year to date, the scrip is down by 22.2%.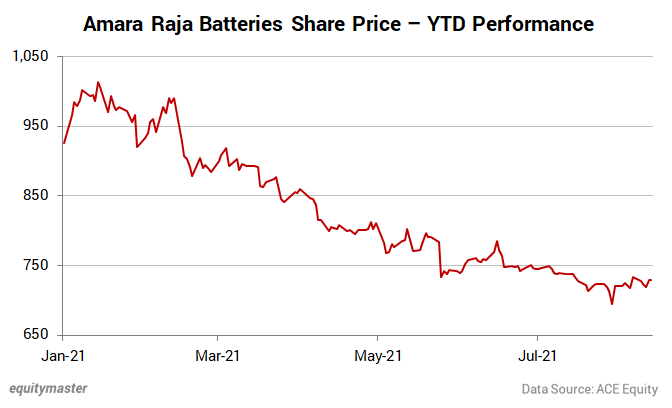 About Amara Raja Batteries
Amara Raja Batteries is one of the largest manufacturers of lead acid batteries for both industrial and automotive applications in the Indian storage battery industry.
It produces automotive batteries under the brands Amaron and Powerzone TM, which are distributed through a large pan-India sales and service retail network.
The Rebirth of India: A Once-in-a-generation Wealth Making Opportunity Get Details Now
The company's industrial battery brands comprise PowerStack, AmaronVolt, and Quanta.
In India, Amara Raja is the preferred supplier to major telecom service providers, telecom equipment manufacturers, the UPS sector (OEM & replacement), Indian railways and to the power, oil & gas, among other industry segments.
The company supplies automotive batteries under original equipment (OE) relationships to Ashok Leyland, Ford India, Honda, Hyundai, Mahindra & Mahindra, Maruti Suzuki, and Tata Motors.
For more details about the company, you can have a look at Amara Raja Batteries factsheet and quarterly results on our website.
You can also compare Amara Raja Batteries with its peers.
Amara Raja Batteries vs Bharat Forge
Amara Raja Batteries vs Motherson Sumi Systems
To know what's moving the Indian stock markets today, check out the most recent share market updates here.
Disclaimer: This article is for information purposes only. It is not a stock recommendation and should not be treated as such. Learn more about our recommendation services here...
Ayesha Shetty is a financial writer with the StockSelect team at Equitymaster. An engineer by qualification, she uses her analytical skills to decode the latest developments in financial markets. This reflects in her well-researched and insightful articles. When she is not busy separating financial fact from fiction, she can be found reading about new trends in technology and international politics.