Grasim Results Review: Net Profit Beats Estimates as Revenues Rise 182%
Aug 16, 2021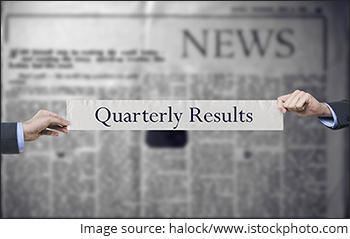 Textile firm Grasim on Friday reported a net profit of Rs 4.8 bn for the quarter ended June 2021. This compared with a net loss of Rs 2.8 bn in the year-ago quarter.
The bottomline figures for the flagship company of Aditya Birla Group, were largely above estimates as the street was expecting Grasim to report net profit of Rs 3.2 bn.
Revenues during the quarter jumped 182% year on year (YoY) to Rs 37.6 bn, which was below expectations.
The jump in revenues can be attributed to a depressed base in the year-ago quarter, which was impacted by the national lockdown.
On the operating front, Grasim's earnings before interest, taxes, depreciation, and amortisation (EBITDA) came in at Rs 7.4 bn in the first quarter of the current financial year. It had reported an EBITDA loss of Rs 2.3 bn in the year-ago period.
Grasim's total expenses saw a steep rise of 79.4% YoY to Rs 32.8 bn as cost of raw materials increased more than three times in the June quarter.
While the benefit of fixed cost saving continues, freight has emerged as a major challenge in international markets and overall raw material prices have gone up across businesses.
Here's a table comparing Grasim's results on key parameters.
Financial Snapshot
| (Rs bn) | Jun-21 | Jun-20 | Mar-21 |
| --- | --- | --- | --- |
| Revenue from operations | 37.6 | 13.4 | 43.9 |
| Cost of raw materials | 18.3 | 5.4 | 18.0 |
| Total expenses | 32.8 | 18.3 | 38.5 |
| EBITDA | 8.1 | -1.3 | 8.8 |
| Profit after tax | 4.8 | -2.8 | 4.8 |
Data Source: Investor Presentation
Lower demand leading to inventory accumulation
Due to the second wave, Grasim's demand was impacted in the textile industry that affected its viscose business.
India observed selective restrictions on the business activities during most of June 2021 quarter, which impacted the sale of textile products.
This, in turn, led to accumulation of inventory in the value chain. The inventory went from a low of 13 days in March 2021 to 24 days in June 2021.
However, Grasim's chemical business did well and stayed resilient from the impact of second wave.
The company highlighted that increase in soda ash prices in the domestic market was muted even as global surge continued during the June quarter.
The demand for chlorine value added products remained subdued in June quarter due to demand impact from MSME on account of second wave.
On its capex plan, Grasim said commissioning of VSF expansion of two lines at Vilayat, Gujarat is as per schedule.
Paint business and business commentary highlights
Grasim is making brisk progress in line with the plans of foraying into the paint business. Earlier this year in January, Grasim had informed to enter into the paint industry.
The company said land acquisition for setting up plants at different states is in process, and simultaneously project engineering plans are also progressing.
In its commentary, Grasim's management said domestic demand for fiber is witnessing a gradual uptick, with the easing of restrictions across states.
VSF expansion at Vilayat has progressed as per schedule and the first line of 300 TPD is expected to be commissioned in the September 2021 quarter.
Divestment of its fertiliser business is also expected to be completed in September quarter. The management has guided at an enterprise value of Rs 16 bn as against its earlier guidance of Rs 26.5 bn as it has received Rs 10 bn of government subsidies, due earlier.
Grasim's standalone gross debt stood at Rs 48.6 bn and net debt stood at Rs 18.2 bn versus Rs 9.1 bn in March 2021.
CCI heat
Recently, the Competition Commission of India (CCI) blamed the company for 'misusing' its dominant market position in Viscose Staple Fiber (VSF).
This heat from CCI comes at a time when the Directorate General of Trade Remedies (DGTR) has recommended the withdrawal of anti-dumping duty (ADD) on VSF imported from China and Indonesia, a move that may cut the product's prices in India and affect the revenue of Grasim.
Grasim is the sole producer of VSF in India.
According to experts, prices are expected to drop by Rs 5-6 per kg once anti-dumping duty is lifted, which will be a huge boost for spinners in India. VSF is the only product that invites an anti-dumping duty in the textile industry.
How the stock markets reacted to Grasim's earnings
Grasim Industries share price opened the day on a flat note at Rs 1,498 on the BSE.
It rose 1% to Rs 1,524.35 in early trade but erased gains as the session progressed and fell 0.5%.
Grasim shares have a 52-week high of Rs 1,614.35 touched earlier this month on 2 August.
They have a 52-week low of Rs 611 touched on 17 August 2020.
Over the past one year, Grasim shares have gained 137%. Since the start of this year, they are up 60%.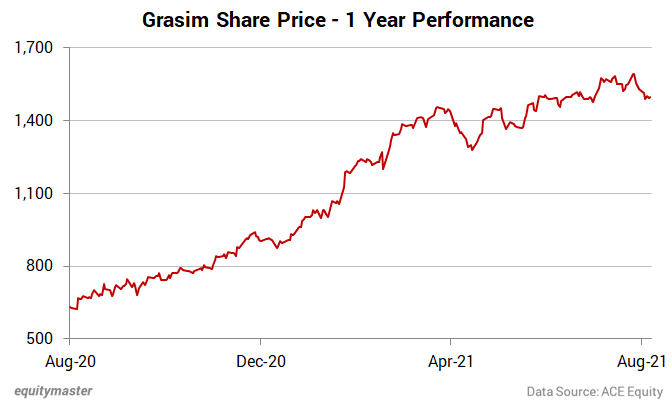 At the current price of Rs 1,491, the company commands a marketcap of Rs 981.5 bn.
Promoters held 42.1% stake in the company as of June 2021, while FIIs held 15.1% stake.
To know more, check out Grasim's latest shareholding pattern.
About Grasim
Grasim Industries is a flagship company of the Aditya Birla group. It commenced production in 1954 at Nagda (Madhya Pradesh) facility and its business has grown steadily over six decades.
The company's VSF division has four fibre plants, one pulp plant in India and four international joint ventures.
In 1972, Grasim's chemicals business was set up to manufacture caustic soda for the company's VSF unit.
As of March 2021, it had eight caustic soda manufacturing units across India with a total capacity of 1.14 m tonnes per annum dedicated for both captive and external sales.
To know more about the company, check out Grasim Industries company fact sheet and quarterly results.
For a sector overview, read our textiles sector report.
You can also compare Grasim with its peers.
To know what's moving the Indian stock markets today, check out the most recent share market updates here.
Disclaimer: This article is for information purposes only. It is not a stock recommendation and should not be treated as such. Learn more about our recommendation services here...