Bulk Deal Alert: Sunil Singhania Buys Fresh Stake in Multibagger Finance Stock
Aug 16, 2023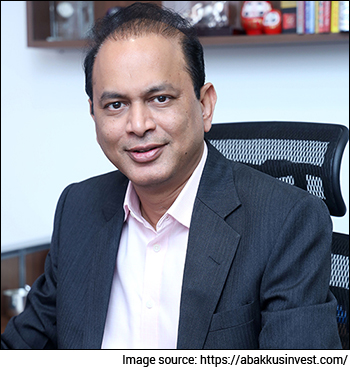 Sensex, on 20 July 2023, skyrocketed to an all-time high of 67,571, showcasing a bullish trend. However, within a month, a downturn of over 3% followed, revealing the market's wild swings.
This roller-coaster ride has left investors puzzled, struggling to identify stable investment options in this unpredictable landscape.
The rapid ups and downs have created a dilemma, leaving investors uncertain about where to start their investment journey.
That's where market gurus come in. These experts have spent years studying the market and have developed a proven track record of success. Some investors choose to mimic the portfolio of market gurus.
By doing this, investors hope to achieve the same returns that the gurus have achieved.
One of these widely tracked gurus is Sunil Singhania. The seasoned investor has recently made a fresh entry into a finance stock.
A word about Sunil Singhania
Sunil Singhania is founder of Abakkus Asset Manager, an investment management company.
Sunil Singhania has a track record of over two decades in equity markets, and he played a significant role in building Reliance-Nippon MF into one of India's largest asset management companies (AMCs).
To dwell deep into his portfolio, check out Sunil Singhania Portfolio: top 5 stocks.
Which stock did Sunil Singhania add and why?
The stock in question is none other than Ujjivan Financial Services.
According to the data available on exchanges, Sunil Singhania, through Abakkus Emerging Opportunity added around 1% stake in the company on 14 August 2023.
Ace investor bought 1.2 m shares, or 0.95% stake, in the company for Rs 569 million (m).
According to bulk deal data from the exchanges, the deal was executed at a weighted average price of Rs 495 a share.
While we do not know the exact reason why the investing guru decided to buy the counter, there are some explanations.
Reverse merger benefits
The reverse merger of Ujjivan Financial Services and Ujjivan Small Finance Bank is a process in which the smaller company, Ujjivan Small Finance Bank , will acquire the larger company, Ujjivan Financial Services.
This will result in a single entity, Ujjivan Small Finance Bank, which will be listed on the stock exchanges.
The reverse merger ratio is 116:10, which means that for every 10 shares of Ujjivan Financial Services held, shareholders will receive 116 shares of Ujjivan Small Finance Bank.
This allocation stands as a significant premium to the current market price of Ujjivan Financial Services shares.
Projected for completion by the close of the December 2023 quarter, the merger entails Ujjivan Financial Services inheriting the robust customer base and expansive branch network of Ujjivan Small Finance Bank.
This integration promises a widened market share and an amplified geographical footprint, propelling Ujjivan Financial Services to cater to an even larger clientele with an extended spectrum of financial products and services.
Further, Ujjivan Small Finance Bank is well-capitalised with a strong balance sheet, which will help Ujjivan Financial Services become more financially stable.
This will give the company the resources it needs to grow its business and expand its operations.
Anticipated gains from this merger encompass an amplified scale and reach, bolstered financial resilience, and an elevated brand image.
The promising outlook could be one of the reasons why the ace investor added this stock to his portfolio.
Strong sectoral outlook
According to the National Council of Applied Economic Research (NCAER), the Indian finance sector is expected to grow at a compound annual growth rate (CAGR) of 12.7% from 2022 to 2027.
This will create new opportunities for financial services companies to provide products and services to businesses and consumers.
Further, the government is committed to increasing financial inclusion in the country. This will lead to more people having access to financial services, which will boost the growth of the financial sector.
Additionally, the digital transformation in the finance sector will lead to more efficient and convenient financial services, which will attract new customers and boost the growth of the sector.
These positive tailwinds can be another reason that may have influenced Sunil Singhania's bullish stance on the stock.
How shares of Ujjivan Financial Services have performed recently
Ujjivan Financial Services rose around 181.4% in the past one year. over a month, the share price has gone up by 18%.
Ujjivan Financial Services share price touched its 52-week high price of Rs 526.9 on 14 August 2023. Its 52-week low was Rs 172.1 touched on 22 August 2022.
The company is currently trading at a PE (price to earnings) multiple of 7.9 times.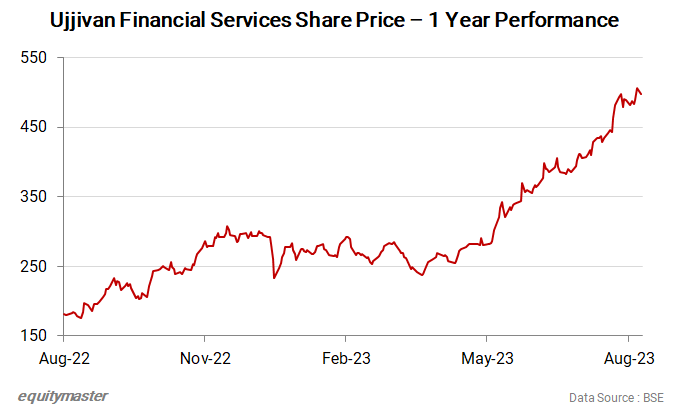 About Ujjivan Financial Services
Ujjivan Financial Services is an Indian financial services company that provides microfinance, small enterprise finance, and other financial services to underserved and unbanked customers in India.
The company was founded in 2005 and is headquartered in Bangalore, Karnataka.
The company is one of the largest microfinance institutions in India. As of March 2023, the company had a loan portfolio of over Rs 300 billion (bn) and over 10 million (m) customers.
For more details, see the Ujjivan Financial Services company fact sheet and quarterly results. For a sector overview, read our finance sector report.
And to know what's moving the Indian stock markets today, check out the most recent share market updates here.
Investment in securities market are subject to market risks. Read all the related documents carefully before investing
Safe Stocks to Ride India's Lithium Megatrend
Lithium is the new oil. It is the key component of electric batteries.
There is a huge demand for electric batteries coming from the EV industry, large data centres, telecom companies, railways, power grid companies, and many other places.
So, in the coming years and decades, we could possibly see a sharp rally in the stocks of electric battery making companies.
If you're an investor, then you simply cannot ignore this opportunity.
Details of our SEBI Research Analyst registration are mentioned on our website - www.equitymaster.com
Disclaimer: This article is for information purposes only. It is not a stock recommendation and should not be treated as such. Learn more about our recommendation services here...
FAQs
Which are the best value investing stocks in India right now?
As per Equitymaster's Stock Screener, here is a list of the best value investing stocks in India right now...
These companies have been ranked as per their PE (Price to Earnings) ratio and PB (Price to Book Value) ratio. The lower the ratios, the more undervalued the stock is.
They also have low debt and high return on equity.
Note that, there are various other parameters you should take into account before investing in any company such as promoter holding etc. Sustained research must not be compromised despite the positive odds.
Can value investing make you rich?
Yes. However, note that value investing is not a get-rich-quick scheme, it's a buy-and-hold strategy.
Once you manage to find a fundamentally strong company that is priced lower than its actual value, you must buy and hold for a long term.
This will help you ride out the volatility in stock prices and avoid the pitfalls that come with trying to time the market.
How does Warren Buffet value stocks?