5 Reasons Why Stocks Fall After Reporting Good Quarterly Results
Aug 17, 2022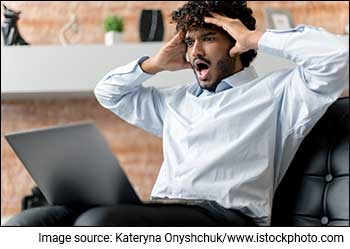 Cause and effect! Some cause and effect relationships are simple to explain.
For example, you just shove your sibling (cause), and you both get into the oh-so-friendly fight. You both don't stop till a flying chappal thrown by your mother comes your way (usual effect).
This kind of cause-and-effect relationship is simple. However, some indirect cause-and-effect relationships are difficult to explain.
For example, you just shove your sibling (cause), and he/she just smiles and acts as if it's okay (unusual effect). You will find this fishy right?
Deep down, you'll be wondering if your sibling hit his/her head somewhere. But later on, you come to know that he/she needed some money from you. Now it all makes sense to you.
Thus, indirect cause-and-effect relationships are a bit difficult to understand.
One such complex cause-and-effect relationship in the world of investing is the share price falling even after the company reporting good quarterly results.
But don't worry, Equitymaster is here to help you understand this particular complex relationship.
Read on to find out why share price of companies falls even after they post good quarterly results.
#1 Profit booking by investors
It is human tendency to get excited about a potentially good future. Like a student would be excited before the results if his test went well.
Investors in the share markets behave in a similar way. When they expect that the company will post good quarterly results, they start buying shares. Hence the share price rises.
Old investors see this as an opportunity to book profit. They get to exit from a good company at a good price. So, they start selling shares.
Slowly, more and more investors start booking profits. Thus, the share price falls even after it posts good results.
Profit booking can also be due to high valuations and various other reasons. But it's one of the reasons why a stock falls after reporting good results.
#2 Results fail to meet market expectations
This situation is similar to a movie's success at the box office. When a movie has talented actors, producers, and directors, people expect a lot more from it.
But when the movie is not up to expectations, people are disappointed even though it was overall good.
Take the recent example of the movie Laal Singh Chaddha. It's a remake of 1994 Hollywood classic Forrest Gump. The movie is star studded and people were expecting it to make a killing.
However, the box office numbers say otherwise.
Similarly, investors are disappointed when a company is unable to meet market expectations. For example, the market expected that a company will report a 20% increase in profits, but it only reported a 10% increase in profits.
In this situation, investors will be disappointed as operating margins will disappoint. Hence, they will sell shares as the company fell short of expectations.
Resultantly, the share price will fall even after the company posting good quarterly results.
#3 Concerns raised by management
Nobody knows a kid better than their parents. Similarly, nobody knows a company better than the ones managing it.
Quarterly results are not just a sneak peek into the financials of the company. They contain complete information about the company's performance in the past three months.
Hence, if the management mentions in the report that it could not achieve the quarterly targets, or the quarter ahead is filled with problems, investors get worried.
For example, some quarters are bad for agriculture and fertilizer stocks because of adverse weather conditions. In this situation, management will raise concerns about future profitability even though the last quarter was super profitable.
The logic is simple. When the company's management does not trust the company to do well in the future, why would anyone else trust the company?
#4 When "numbers" look good from the outside
Some of your friends would applaud your success and pat you on your back. But deep down, they might be jealous of your success. They know how to conceal their true feelings.
But you always know who's your real friend is and who is not, right?
Similarly, some quarterly results are also like that. On a superficial look at the financial statements, it may seem that the company's financial results are good because profits and revenues are increasing.
However, when a deep analysis of the financial statements is done, one can see that the company's financial position has deteriorated.
For example, a company may have posted good growth in profits and revenues, but the improvement in the financials is wiped off by the fact that the company lost a major client.
There are many more examples like these... a company reporting an extraordinary profit for the quarter, a low base in the previous year's quarter, and so on...
Hence, when bad news hidden in the deeper sections of good quarterly result comes out, investors become wary.
#5 External factors beyond the control of the company
The economy is dynamic and complex. It cannot be predicted or controlled by anyone. Along with this, the economy is massively influential.
Various external factors - a rise in inflation, rising interest rates, a pandemic, lockdown, bullish markets, market sentiments- all affect the company.
This list is long and inclusive. A rallying share price can suddenly start falling if the economy is under turbulence. Hence, even a minor adverse change in the economy can adversely affect the share price of the company.
For example, the company's financial performance may be outstanding but if the whole sector is facing headwinds of stricter government regulations, the share price will fall.
Hence, this factor is omnipresent. Investors change their behaviour with a change in external circumstances.
Final Words...
Well, that is quite a long list, and yet it is not an exhaustive list. There will be more reasons apart from these as to why stocks fall even after the company reports good results.
An investor should study all of the above points but not in isolation. They should be considered cumulatively.
It can be seen that a rise in profits, revenues, and margins is not an absolute sign of the better financial performance of the company.
Astute investors will have to carefully analyse the quarterly results, before making any investment decisions.
If an investor is looking for fundamentally strong stocks, they should pay special attention to these points.
Happy Investing.
Disclaimer: This article is for information purposes only. It is not a stock recommendation and should not be treated as such. Learn more about our recommendation services here...