What Led to the Massive Surge in the Stock of Jubilant FoodWorks?
Aug 18, 2021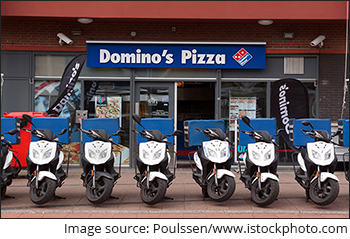 Shares of Jubilant FoodWorks (JFL) hit a new high of Rs 4,166.4, up 7% on the BSE today on strong growth prospects.
In the past one month, the stock of the quick-service restaurant (QSR) company has rallied 34% following a good set of numbers for the quarter ended June 2021.
In the process, the counter has managed to surpass its previous high of Rs 3,842 hit on 10 August 2021.
Key points contributing to the rally
Expectations of a strong recovery, an aggressive store-expansion rollout for the fiscal 2022 and plans to transition to a food tech company led to a rally in Jubilant FoodWorks, the India franchisee for Domino's.
Attractive financial prospects

For the June 2022 quarter, the company reported a consolidated net profit of Rs 690.6 m, aided by higher revenues despite the second wave of Covid-19 disrupting operations.

It had posted a consolidated net loss of Rs 744.7 m in the same quarter last fiscal.

EBITDA (earnings before interest, taxes, depreciation, and amortisation) margins remained unchanged at 24.1% in the first quarter of the year 2022, against 24.3% in the March 2021 quarter.

Its revenue from operations in the first quarter stood at Rs 8.9 bn compared to Rs 3.9 bn in the same period last year when operations were also disrupted by the outbreak of the pandemic.

With vaccinations well underway, the management believes the worst is behind them and is confident of delivering strong, sustained growth in the periods ahead.

The company's revenue growth was muted in fiscal 2020 due to the Covid- 19 situation across the country which has temporarily affected the normal operations (including dine-in) of the restaurants.

However, in the fiscal2021, JFL saw sales recovery reaching the pre-pandemic levels in the third quarter of the same year and registered healthy growth in March 2021 quarter.

--- Advertisement ---
Watch this Before Investing Your Money in EV Stocks

On Monday, we revealed this massive 15x opportunity in electric vehicles.

And also shared the details of 3 EV stocks to ride this mega opportunity.

Now, these are not typical EV stocks. Instead, these are what we call the backdoor EV stocks.

As per our research, the best way to ride the 15x EV wave is through these 3 stocks only.

You can get full details by watching this video...
------------------------------

Debt free company

The company's financial risk profile is supported by a debt-free status, a strong net worth, and high financial flexibility. It has been debt-free for the past three fiscals.

The net worth of the company was Rs 15 bn as of 31 March 2021, and is expected to increase further, backed by healthy accretion to reserves.

Jubilant FoodWorks's reach and expansion plans

JFL is India's largest food service company. Its Domino's Pizza franchise extends across a network of 1,380 restaurants in 298 cities.

Also, the company has the exclusive rights to develop and operate Domino's Pizza brand in India, Sri Lanka, Bangladesh, and Nepal.

However, store addition for Domino's was low (20 new stores) in quarter one of the year 2022 due to lockdowns.

But JFL's expansion plan is aggressive, with a target of 150-175 new stores in the financial year 2022.

Management is upbeat about digital and tech initiatives aimed at becoming a food tech powerhouse.

Covid-19 pandemic pushes Jubilant FoodWorks to diversify operations

Jubilant FoodWorks is betting on new categories at a time when rivals are keeping their attention firmly on their existing operations amid a raging pandemic.

In the past one-year, Jubilant FoodWorks, the master franchisee of Domino's Pizza and Dunkin' Donuts in India, has forayed into the biryani segment, expanded its Chinese food chain Hong's Kitchen and invested in Barbeque Nation.

According to an analyst, Pizza is just one segment within food services. There are many more cuisines and food choices that consumers have. Jubilant is tapping those segments to partake of overall growth.

Industry sources say Jubilant FoodWorks could look at getting into South Indian cuisine as well, a big food segment in India, in the future.

That apart, in March 2021, the company said it will also bring Popeyes, an international chicken fast-food brand, into India and neighbouring countries as part of development and franchisee agreement.

Chicken is one of the largest and fastest growing categories in India and is expected to grow rapidly in years to come.

Popeyes will be an exciting addition to the JFL portfolio and is expected to become one of the key drivers of growth in the coming years.
--- Advertisement ---
[Alert] Sell These 3 Stocks Immediately

These 3 stocks are ticking time bombs in your portfolio.

It is very likely that you could be owning these 3 overvalued...

fundamentally weak... ready to crash stocks... in your portfolio today.

Because many stock brokers have painted rosy pictures of these stocks. But the reality is starkly different.

If the market crashes, then these stocks could wipe out your wealth.

You should get rid of these stocks as soon as possible.

Click her for full details of these 3 landmines
------------------------------
Is Jubilant FoodWorks efficiently re-investing its profits?
Jubilant FoodWorks' three-year median payout ratio to shareholders is 24% (implying that it retains 76% of its income). So the management is reinvesting profits heavily to grow its business.
Besides, Jubilant FoodWorks has been paying dividends over a period of six years. This shows the company is committed to sharing profits with its shareholders.
Quick service restaurants show strong appetite for growth
According to a media report, the domestic food services industry, estimated to be Rs 4.2 tn in size, is expected to grow by 9% over the next five years.
Of this, the QSRs have been the fastest growing and will remain so for the foreseeable future.
QSRs are expected to grow at the rate of 19% over the next five years, driven by affordability, aspirational and well-known brands and benefits of scale and sourcing among other factors.
In the post-Covid world, where 30-40% of restaurants are expected to shut down permanently, QSRs are likely to emerge stronger and are well placed to gain share from unorganised players.
Instant Updates: Join Our Telegram Channel and Get Instant Updates
How the stock markets reacted to Jubilant FoodWorks
Shares of Jubilant FoodWorks opened the day at Rs 3,918 on the BSE and Rs 3,922 on the NSE.
Its share price closed at Rs 4,039.6 (up 3.4%) on the BSE and Rs 4,040.4 (up 3.9%) on the NSE.
At its current price, it is trading at a P/E of 146.7.
The share touched its 52-week high of Rs 4,166.4 and 52-week low of Rs 1,844 on 18 August 2021 and 18 August 2020, respectively.
Over the last 30 days, the Jubilant FoodWorks share price is up 34%. Over the last one year, the company's share price is up 115%.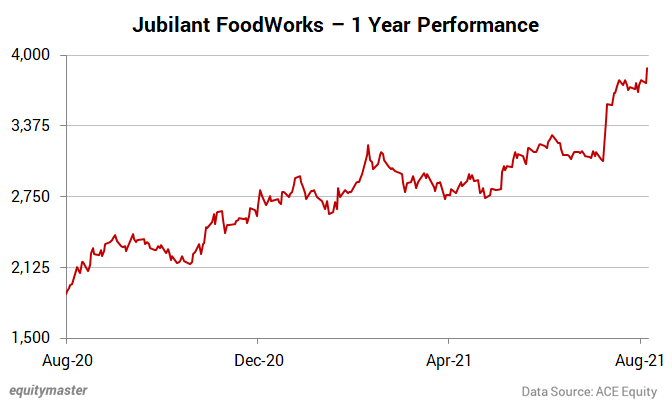 About Jubilant FoodWorks
Jubilant FoodWorks was incorporated on 16 March 1995 as Domino's Pizza India Private Limited and began operations in 1996.
It changed its name to Jubilant FoodWorks in 2009. The company opened India's first Domino's Pizza outlet in New Delhi in 1996. The company is a part of the Jubilant Bhartia Group, owned by Shyam Sunder Bhartia.
It has two strong international brands in its portfolio Domino's Pizza and Dunkin' Donuts addressing different food market segments.
The Indian food service company has the exclusive rights to develop and operate Domino's Pizza brand in India, Sri Lanka, Bangladesh, and Nepal.
It also has exclusive rights for developing and operating Dunkin' Donuts restaurants for India.
For more details about the company, you can have a look at Jubilant FoodWorks factsheet and quarterly results on our website.
To know what's moving the Indian stock markets today, check out the most recent share market updates here.
Disclaimer: This article is for information purposes only. It is not a stock recommendation and should not be treated as such. Learn more about our recommendation services here...