Understanding Aarti Industries' Demerger
Aug 20, 2021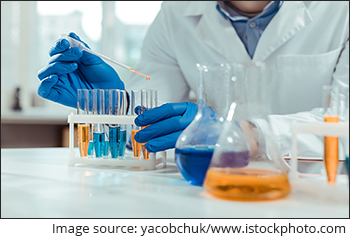 The board of specialty chemical company Aarti Industries approved the demerger of its pharma unit on 19 August 2021.
This put its stock in focus, which fell 3% to Rs 921.65 on the BSE today.
This demerger will carve out Aarti Pharmalabs, which will house Aarti Industries' pharma business along with specialty chemicals related to the pharma sector.
Aarti Pharmalabs (erstwhile Aarti Organics) is a wholly-owned subsidiary company of Aarti Industries.
So what effect will this demerger have to the existing shareholders?
Shareholding Effect
Shareholders of Aarti Industries will get one share of Aarti Pharmalabs for every four shares they hold.
While the share entitlement ratio is announced, the record date for the scheme is yet to be announced.
The public and promoter shareholding for both the companies would remain the same.
At present, promoters hold 44.9% in Aarti Industries while public shareholders hold 55.1% stake.
Aarti Pharmalabs will list on BSE and NSE post the demerger.
--- Advertisement ---
Watch this Before Investing Your Money in EV Stocks

On Monday, we revealed this massive 15x opportunity in electric vehicles.

And also shared the details of 3 EV stocks to ride this mega opportunity.

Now, these are not typical EV stocks. Instead, these are what we call the backdoor EV stocks.

As per our research, the best way to ride the 15x EV wave is through these 3 stocks only.

You can get full details by watching this video...
------------------------------
Separate and dedicated business segments
As a result of this demerger, Aarti Industries and Aarti Pharmalabs will achieve operational efficiencies by streamlining of the relevant businesses.
Now, the company will have two separate business segments where they could focus more - the speciality chemical and pharma.
The demerger will enable Aarti Pharmalabs to expand its presence in the fast moving pharma business in India and abroad.
The demerger rules out the risk or overlapping of one business over the other.
So, will the demerger unlock value for shareholders?
This is not the first time Aarti is demerging its unit. The company announced demerger of its home & personal care division into a separate entity in June 2018 and it was completed in June 2019.
Companies usually demerge their businesses to focus on one core business.
Another reason companies opt to demerge is because that unit can be a loss making one, and it erodes valuation of the company.
Demerger also unlocks value for existing shareholders. Shareholders receive shares in the demerged companies on the basis of their holdings in the parent company.
For example, If you hold 10 shares in XYZ Ltd, then based on the valuation you may receive 3 shares in the demerged entity for every share that you hold in the parent company.
In this way, shareholders benefit by holding shares in two entities and can participate separately as well as collectively in the growth of the demerged entities.
--- Advertisement ---
[Alert] Sell These 3 Stocks Immediately

These 3 stocks are ticking time bombs in your portfolio.

It is very likely that you could be owning these 3 overvalued...

fundamentally weak... ready to crash stocks... in your portfolio today.

Because many stock brokers have painted rosy pictures of these stocks. But the reality is starkly different.

If the market crashes, then these stocks could wipe out your wealth.

You should get rid of these stocks as soon as possible.

Click her for full details of these 3 landmines
------------------------------
Now, in case of Aarti Industries, market experts are saying that the share entitlement ratio is not very encouraging. Due to this, the stock saw a muted reaction to the demerger news and fell more.
For the most recent quarter, Aarti Industries' chemical segment contributed to 84% of sales while pharma contributed the rest.
Segmental pharma sales grew 24% in the June 2021 quarter YoY. During its earnings call, the management said that they are confident of margin recovery and estimate sales CAGR of 17% between 2021-2023.
Here's a look at Aarti Pharmalabs contribution to turnover for the recent quarter and fiscal 2021.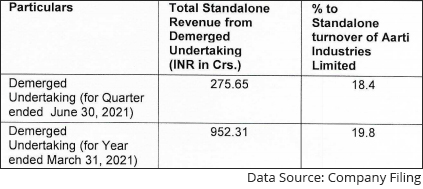 How the stock of Aarti Industries has performed recently
Today, Aarti Industries share price opened down by 0.5% at Rs 950 on the BSE against its previous close of Rs 957.
The stock fell as much as 3% to Rs 921.65 after the demerger news.
Aarti Industries has a 52-week high quote of Rs 987.20 touched earlier this month on 3 August. It has a 52-week low quote of Rs 483.63 touched on 16 October 2020.
Over the past one year, shares of the company have gained 88%.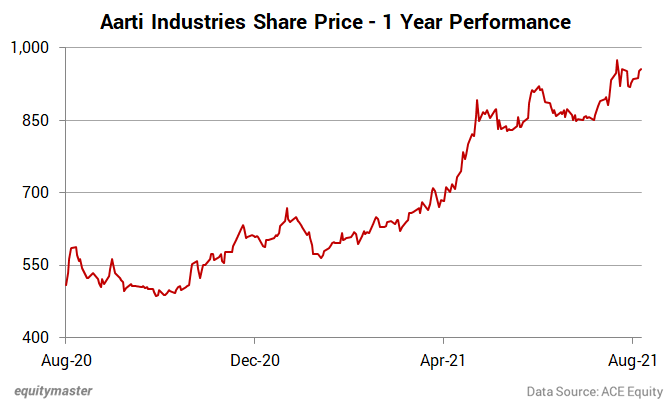 At the current price of Rs 934, the company commands a marketcap of Rs 338.6 bn.
Instant Updates: Join Our Telegram Channel and Get Instant Updates
About Aarti Industries
Aarti Industries, the flagship company of the Aarti group, manufactures organic and inorganic chemicals at its major facilities in Vapi, Jhagadia, Dahej and Kutch, in Gujarat.
It also manufactures active pharmaceutical ingredients (API) at its units in Tarapur and Dombivali in Maharashtra, and at Vapi.
The group has a strong market position in the NCB-based specialty chemicals segment.
Aarti Industries has carried out debt-funded capex of about Rs 42 bn during the five fiscals through 2021, including just over Rs 30 bn in the last three fiscals. The company also has a capex of Rs 45 bn planned over fiscals 2022 to 2024 in multiple value chains to increase market share.
To know more, check out Aarti Industries factsheet and quarterly results.
You can also compare Aarti Industries with its peers.
Aarti Industries vs Alkyl Amines
Aarti Industries vs Clariant Chemicals
Aarti Industries vs Pidilite Industries
To know what's moving the Indian stock markets today, check out the most recent share market updates here.
Disclaimer: This article is for information purposes only. It is not a stock recommendation and should not be treated as such. Learn more about our recommendation services here...