5 Stocks to Watch Out for Bonus Shares and Stock Splits in September 2022
Aug 22, 2022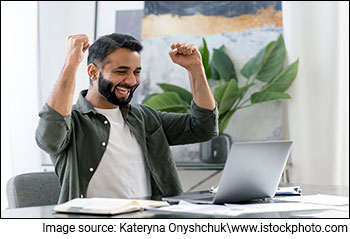 2022 may go down as a year of extreme volatility when even the bluest of bluechips weren't spared. Along with this, the year will also be known for a record number of bonus issues.
The numbers of companies announcing bonus shares to shareholders is on the rise. Last month, an article by The Economic Times reported that 73 companies have announced bonus issues in 2022, the second highest since 2010.
In 2010, more than 90 companies issued bonus shares. This year's figure of 73 has already gone up as more companies keep announcing bonus issues.
Bonus shares are new shares which a company gives to its shareholders.
Some people think bonus shares can be beneficial for share prices. The logic is that the increased marketability of the shares leads to increased demand. This, in turn, pushes the share price up.
Keeping that in mind, here are five companies which have announced bonus issues and or stock splits for the month of September 2022.
#1 Insecticides India
Insecticides India manufactures agrochemicals (technical and formulations) and biological and household products.
What's the USP of Insecticides India? Well, the company caters to the Indian market where it directly sells to the end consumer and also sells technicals and formulations to the companies who are in the business of formulation.
The company provides farmers with a range of products for their crop protection requirements. It also owns the prestigious "Tractor Brand" which has gained great popularity in the farming community.
The company also exports to 30 countries with more than 100 customers through registrations.
In its meeting last week, the company's board recommended issue of bonus shares in the ratio of 2:1. This will be the company's first bonus issue in its history. If you have two shares of India Pesticides as on record date, you will be eligible to get 1 additional bonus share.
The delivery of said bonus equity shares will be completed within two months from the date of approval, i.e. latest by 19 October 2022.
Along with bonus issue, the company also approved increase in authorised share capital from around Rs 250 m to Rs 350 m.
Insecticides India has been among the fastest growing stocks of 2022 as it has delivered multibagger gains.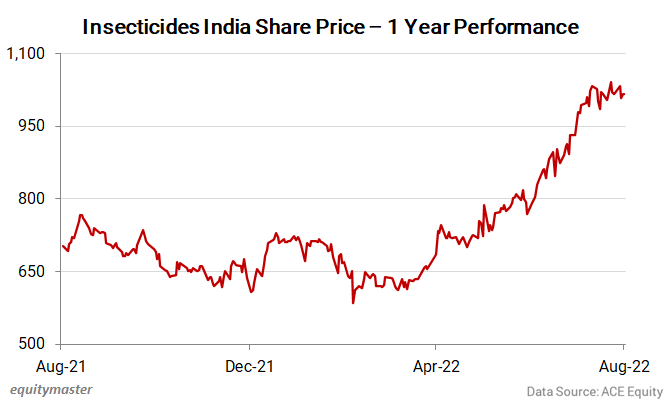 The gains can be attributed to a decent performance put up by the company and good growth prospects. This year, due to a normal monsoon, the entire agrochemicals industry remained buoyant. This resulted in good agricultural growth.
The company's management expects financial year 2022-23 to be better. It expects double digit growth in revenues driven by expansion of facilities, addition of new generation products and adding significant number of product registrations.
To know more, check out Insecticides India financial factsheet and its latest quarterly results.
#2 Bharat Gears
Next on our list, we have an auto ancillary stock which has seen quite a significant action in recent weeks.
Bharat Gears is India's largest gear manufacturer. It is a major global supplier of automotive gears and heat treatment furnaces. The company manufactures a wide range of gears for HCV, MCV, LCV, utility, and off-highway vehicles.
A strong dealer network covering almost the entire domestic geography gives Bharat Gears an edge.
When the company announced proposal for the bonus issue last week, its share price zoomed over 15%.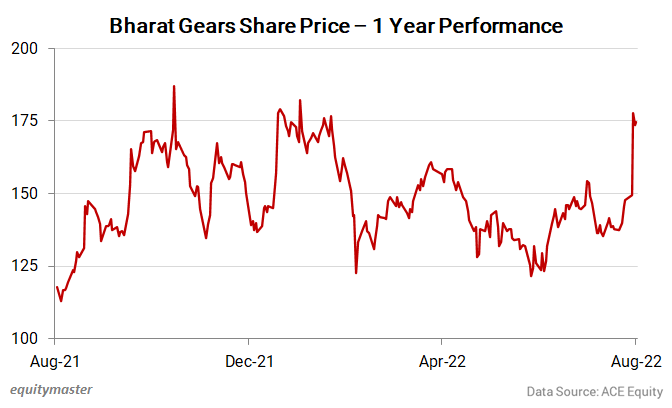 The approval for bonus issue and the ratio was set to be determined on 19 August but is now rescheduled to this week on 24 August.
To know more, check out Bharat Gears financial factsheet and its latest quarterly results.
#3 Escorp Asset Management
A little-known company from the asset management space has also made it to the list.
Escorp Asset Management operates in the financial services sector. It is a subsidiary of Aryaman Financial Services, the Aryaman Group's flagship brand.
The company's board has declared bonus shares in the ratio of 2:3. If you have 3 shares of Escorp Asset Management, you'll get additional 2 shares.
The company has fixed 3 September 2022 as the record date for the purpose of ascertaining the eligibility of shareholders for issuance of bonus shares. In the exchange filing, it also noted that equity shares being fractional shares will be ignored and no allotment will be made for those.
It should be noted that shares of the company have stopped trading on the exchanges since 2 August.
For financial year 2021-22, the company has reported out of the box numbers. Take a look at the table below.
Financial Snapshot
| (Rs m, standalone) | Mar-18 | Mar-19 | Mar-20 | Mar-21 | Mar-22 |
| --- | --- | --- | --- | --- | --- |
| Revenue | 2.9 | 2.5 | 1.4 | 1.5 | 62.3 |
| Operating Profit | 1.1 | -0.7 | 0.1 | 0.2 | 61.7 |
| Net Profit | 0.8 | -0.8 | 0.0 | 0.0 | 58.6 |
| NPM (%) | 27% | -31% | 2% | 2% | 94% |
| Total debt | 0.0 | 0.0 | 0.0 | 0.0 | 0.0 |
Data Source: Ace Equity
To know more, check out Escorp AMC's financial factsheet.
#4 Shubham Polyspin
Next on our list we have a textile company with a marketcap of Rs 3.3 bn.
Shubham Polyspin is primarily engaged in the business of manufacturing multifilament yarns.
It exports products to 20+ countries including the UK, USA, France, Italy, Bangladesh, and others. The focus now is on rooting its presence in countries like Belgium, Uganda, Zimbabwe, Africa, Poland, Italy, and developing and semi-developed nations.
2022's multibagger stock, most of the gains for Shubham Polyspin have come in the last three months, owing to the bonus news and capacity expansion.
The company had informed in a regulatory filing that it has installed another Twister Machine adding around 10% more capacity in May 2022.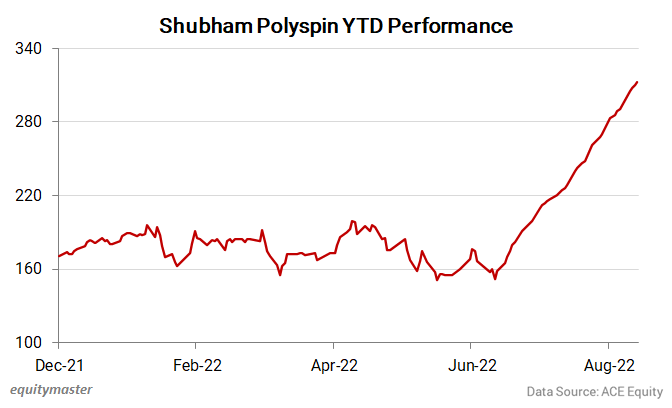 The company's management is actively exploring possibility of expansion of overall production capacity and aims to become the largest Twine yarn producer in India.
The company's board met earlier this month and recommended the issue of bonus shares in the ratio of 1:10. If you have 10 shares of the company, you will be allotted an additional share.
Along with bonus, the board also approved an increase in the authorised share capital from Rs 120 m to Rs 130 m.
This is not the first such instance where the company has issued bonus shares. Recently in October 2020, the company allotted 5.5 m shares as fully paid-up bonus shares to members of the company in the proportion of 1:1.
To know more, check out Shubham Polyspin's latest quarterly results.
#5 Maximus International
It appears there is some love affair between multibagger stocks and the companies which announce bonus issue or stock splits. All the stocks listed above have gained significantly recently and the last stock on our list is no exception.
Maximus International manufactures and distributes lubricants, lube base oils, and other petrochemical products used in industries such as automotive, metalworking, refrigeration, electrical, paint & ink industries.
The company is part of Optimus Finance, a Vadodara-based non-banking finance company (NBFC) registered with the Reserve Bank of India.
Recently, the company's board approved a stock split plan. The sub-division will be done in the ratio of 1:10. That means 1 share of face value of Rs 10 will be split into 10 shares with a face value of Rs 1 each.
The key rationale behind this corporate action is to enhance the liquidity in the capital market and widen shareholder base.
Shares of the company got a boost in recent days after it announced an expansion plan for East African operations over the next 2-3-years. The expansion would be undertaken through the green-field route.
The company aims to expand its topline by over 20% CAGR in the same period. It will also expand its manufacturing capacity from the present 20,000 kiloliters per annum to 60,000 kiloliters per annum over the next 2-3-years.
As far as financials are concerned, financial year 2021-22 turned out to be the best year in terms of revenue and net profits. Both, net profit and revenues saw a 32% rise compared to the previous year.
No wonder Mr Market has rewarded investors in the company with multibagger gains.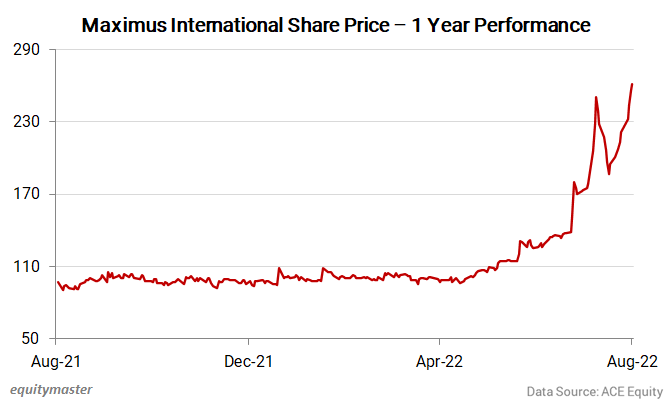 Final words
So there you go...a ready tracker for upcoming bonus shares and stock splits.
Please note, this is not a complete list of upcoming bonus shares and stock splits. For more information, check out:
List of companies which have declared bonus shares recently.
List of companies which have announced stock split recently.
When fundamental strong stocks announce bonus shares, it usually boosts the investor's faith in the company. Mainly because it signals the company is committed to its shareholders.
Issuing bonus shares and undergoing stock split can increase the liquidity of a stock, increasing retail participation. This in turn, could give a boost to the share price. However, there is little evidence for the same.
Moreover, much like dividend payments, bonus issues are discretionary. They are highly dependent on a company's earnings and management policy. And both these factors can change.
Bonus shares and stock splits may seem sweet and juicy, but the reality can be bitter. Sometimes companies that announce bonus shares are downsizing before our very eyes, so remember to look for a hidden agenda.
Disclaimer: This article is for information purposes only. It is not a stock recommendation and should not be treated as such. Learn more about our recommendation services here...