Chemplast Sanmar Makes Flat Debut as IPO Frenzy Fizzles Out
Aug 24, 2021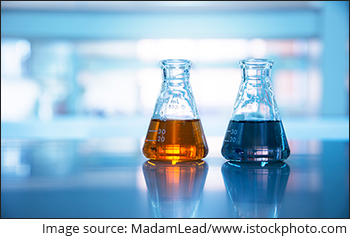 Shares of speciality chemical company Chemplast Sanmar made a muted debut today as the scrip got listed at Rs 525 on BSE, a 3% discount to its issue price of Rs 541.
On NSE, the scrip debuted at Rs 550, up 1.7%.
Post listing, the market capitalisation of the company stood at Rs 84 bn, according to BSE data.
This is the second time that the Chemplast Sanmar stock has gotten listed on the stock exchanges. The scrip had earlier been delisted from the bourses in June 2012.
That apart, Aptus Value Housing Finance also made its stock market debut today and witnessed a tepid listing as its shares started trading at Rs 333, down nearly 6% from issue price of Rs 353 per share.
Chennai-based Chemplast Sanmar's weak listing this time is much in line with poor listings of Aptus and Nuvoco Vistas this week as the broader market pain has sent midcap and smallcaps falling sharply in terms of valuations, making the debutants look expensive.
Chemplast Sanmar received poor response from investors
The initial public offering (IPO) of specialty chemical company had seen a tepid response from investors though the issue sailed through.
The offer was subscribed 2.17 times during 10-12 August as the retail portion was booked 2.29 times.
The portion set aside for qualified institutional buyers was subscribed 2.7 times and that for non-institutional investors saw a 1.03 times subscription.
The company raised Rs 13 bn through its fresh issue and the remaining Rs 25.5 bn through offer for sale (OFS).
Fund usage from the public issue
Chemplast said net proceeds from fresh issue will be utilised for early redemption of non-convertible debentures worth Rs 12.4 bn, whereas proceeds from offer for sale will go to the existing shareholders. It will also use the funds for general corporate purposes.
Company financials
The net worth of Chemplast Sanmar turned negative in the fiscal 2021, not based on operational or cash losses, but due to restructuring, primarily in Chemplast Cuddalore Vinyls Limited (CCVL).
The outstanding non-convertible debentures (NCDs) of Rs 12.4 bn were raised in December 2019 at 17.5% interest per annum directed towards investing in Sanmar Group International-SGIL (Rs 4.8 bn) and repayment of advances received from its promoter Sanmar Holdings limited (SHL) (Rs 6.7 bn), with the remaining amount directed towards servicing its debt.
The company has redeemed its investments from SGIL in the year 2021 and another Rs 9.8 bn investment in a joint venture (JV) with a group entity.
On the financial performance front, for the last three financial years, the company has posted net profits of Rs 1.2 bn, Rs 461.3 m, and Rs 4.1 bn in the financial year 2019, 2020, and 2021, respectively.
The company has done a revaluation of assets to show better valuations.
Key Parameters
| (Rs m) | FY18 | FY19 | FY20 | Dec-20 |
| --- | --- | --- | --- | --- |
| Revenues | 31,254.0 | 12,543.4 | 12,576.6 | 8,751.5 |
| Revenue Growth (%) | | -59.9% | 0.3% | |
| Expenses | 27,546.3 | 10,379.5 | 11,281.5 | 8,863.6 |
| Profit Before Tax (PBT) | 4,077.1 | 1,934.0 | 717.0 | 259.9 |
| Net Profit | 2,485.4 | 1,184.6 | 461.3 | 161.4 |
Data Source: Company's Red Herring Prospectus (RHP)
An overview on company's business
Chemplast is among the leading manufacturers for most of its products.
In speciality paste PVC resin, the company's installed capacity of 66,000 tonnes per annum and along with Finolex with 22,000 tonne capacity, addresses close to half of the domestic demand.
Supported by plant closures internationally and higher import duties, domestic market is expected to grow faster at 5-7% compound annual growth rate (CAGR) in the financial year 20-25.
It also plans on additional capacity of 35,000 tonnes in this segment at a cost of Rs 2.6 bn, operational by 2024.
The company generates revenue from PVC allied products such as caustic soda, hydrogen peroxide, and chloromethanes.
India's speciality chemical sector
Speciality chemicals account for 20% of the US$4 tn chemicals industry globally, and India's market is predicted to increase at a compound annual growth rate (CAGR) of 12% to US$64 bn by the year 2025.
China is the leading speciality chemicals exporter with an 18% market share in global exports. As nations look for alternatives away from China, India stands to benefit from lower labour costs and a large consumer base.
Also, the easing of lockdown restrictions around the world has improved the outlook for the sector.
Chemplast Sanmar GMP ahead of its listing
Investors solely invested in IPOs of Aptus Value Housing Finance and Chemplast Sanmar for listing gains were disappointed as grey market trends post- HYPERLINK "https://www.equitymaster.com/detail.asp?date=08/23/2021&story=4&utm_source=homepage&utm_medium=website&utm_campaign=view-on-news&utm_content=nuvoco-vistas-makes-a-lackluster-debut-stock-lists-at-17-discount-red-link" Nuvoco Vistas' weak listing suggested a poor listing for the two issues.
Shares of Chemplast Sanmar was available at Rs 25-30 discount to its issue price in the grey market. Market observers said that sentiment had gone from bad to worse.
They noted that even the CarTrade IPO, which was seen as a unique play with no listed peer, got listed at a discount last week despite enjoying a grey market premium of about Rs 200 earlier.
About Chemplast Sanmar
Incorporated in 1985, Chemplast Sanmar is a leading specialty chemical manufacturer in India.
The company is engaged in the manufacturing of specialty paste PVC resin, starting materials, and intermediates for agro-chemical, pharmaceuticals, agro-chemical, and fine chemical sectors.
It also produces other types of chemicals such as Caustic Soda, Chlorochemicals, Hydrogen Peroxide, Refrigerant gas, and Industrial Salt.
It has four manufacturing facilities, among which, 3 are situated at Mettur, Berigai, and Cuddalore in Tamil Nadu, and one is located in Puducherry at Karaikal.
To know what's moving the Indian stock markets today, check out the most recent share market updates here.
Disclaimer: This article is for information purposes only. It is not a stock recommendation and should not be treated as such. Learn more about our recommendation services here...