Infosys Becomes Fourth Company to Hit US$100 bn Marketcap. What's Fuelling the Rally?
Aug 24, 2021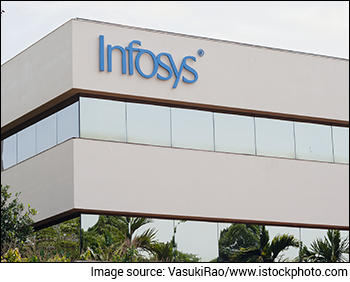 The country's second largest information technology (IT) company, Infosys hit a new record high of Rs 1,755.6 per share on the BSE, pushing the market capitalisation to US$100 bn.
It became the fourth Indian firm to touch the US$100 bn mark in terms of the market cap.
Reliance Industries, Tata Consultancy Services and HDFC Bank are the other three companies who are in the elite club with the market cap of US$140 bn, US$115 bn, and US$100.1 bn, respectively.
The company's shares have surged over 80% in the last one year, massively outperforming the Sensex which has advanced 40% in the same period.
What is driving the rally?
Lately, IT sector shares have been witnessing traction from market participants as rising demand for digitalisation and transformation to cloud computing in the wake of hybrid or work from home concept amid the pandemic has spurred business for IT companies.
--- Advertisement ---
Watch this Before Investing Your Money in EV Stocks

On Monday, we revealed this massive 15x opportunity in electric vehicles.

And also shared the details of 3 EV stocks to ride this mega opportunity.

Now, these are not typical EV stocks. Instead, these are what we call the backdoor EV stocks.

As per our research, the best way to ride the 15x EV wave is through these 3 stocks only.

You can get full details by watching this video...
------------------------------
Infosys reports fastest revenue growth in a decade
IT major Infosys delivered handsome set of numbers for the quarter ended June.
For the quarter ended June 2021, Infosys reported a consolidated net profit of Rs 52 bn, up 22.7% year on year (YoY).
The company's revenue grew 17.9% to Rs 278 bn YoY. Its US dollar revenue grew 4.7% sequentially to US$3.8 bn. In constant currency terms, it was up 4.8%.
The company reported a 6% sequential rise in consolidated revenue from operations for the quarter, while consolidated net profit grew nearly 2.5% in the same period.
The performance was the best in a decade in the first quarter of a financial year.
The management of the company also highlighted that cloud is becoming a strategic priority for all industries.
They believe Infosys, given its strong presence in cloud and digital transformation, will remain a major beneficiary of this tech-upcycle which is going to last for three-four years.
Company raises revenue guidance for the fiscal 2022
Infosys raised its revenue guidance for the financial year 2022 to 14-16% from the previous outlook of 12-14%.
The firm said its confidence stemmed from strong quarter one growth, good order wins, and robust deal pipeline which boosted its share.
--- Advertisement ---
[Alert] Sell These 3 Stocks Immediately

These 3 stocks are ticking time bombs in your portfolio.

It is very likely that you could be owning these 3 overvalued...

fundamentally weak... ready to crash stocks... in your portfolio today.

Because many stock brokers have painted rosy pictures of these stocks. But the reality is starkly different.

If the market crashes, then these stocks could wipe out your wealth.

You should get rid of these stocks as soon as possible.

Click her for full details of these 3 landmines
------------------------------
IT major witnessed huge order wins in June quarter
For the June quarter, the company won 22 large deals worth US$2.6 bn, out of which one deal each in communications, high-tech & life sciences segments, two were in manufacturing, four each in retail & energy, utilities, resources & services, and nine were in financial services.
As large deal flows remained strong in the quarter, the total contract value of Infosys increased to US$2.6 bn, compared to US$1.7 bn a year earlier.
Market share and total addressable market increased
It's interesting to note that over the last couple of years Infosys has become one of the fastest growing companies in India.
The Bengaluru-based IT major is witnessing broad-based traction in customer experience, cyber security, cloud computing.
Investments in cyber security and customer experience have helped it increase the total addressable market and target a bigger chunk of a client's IT budget.
The company's large deal wins have helped to gain market share in the IT industry.
Going forward, Infosys management expects double-digit growth for the coming quarters in the financial year 2022.
Equitymaster's view on investing in the IT sector right now
We reached out to Richa Agarwal, senior research analyst and editor of the smallcap stock recommendation service, Hidden Treasure, for her view on the IT sector.
Here's what she has to say about investing in companies in the IT sector.
After the pandemic, amid ample liquidity in the global markets and broad-based growth momentum, the IT sector and the stocks listed in it have had a dream run.

While picking stocks in the industry, one should be mindful of relative growth and valuation of companies in the sector.
IT sector is one of those few sectors, which remained unaffected by the Covid sell-off. In fact, IT stocks emerged bull's favourite during the Covid-19 pressure.
Instant Updates: Join Our Telegram Channel and Get Instant Updates
Infosys has emerged as a clear winner in accelerating adoption of IT megatrends and large cost-takeout projects catalysed by Covid-19.
It has also outperformed TCS on year on year (YoY) growth for 12 quarters in a row in June 2021.
How the stock markets reacted to Infosys
Shares of Infosys opened the day at Rs 1,748 on the BSE and Rs 1,750 on the NSE.
Its share price closed at Rs 1,720.8 (down 1.1%) on the BSE and Rs 1,720.9 (down 1%) on the NSE.
At its current price, it is trading at a P/E of 36.
The share touched its 52-week high of Rs 1,755.6 and 52-week low of Rs 912.6 on 24 August 2021 and 1 September 2020, respectively.
Over the last 30 days, the Infosys share price is up 11%. Over the last one year, the company's share price is up 80%.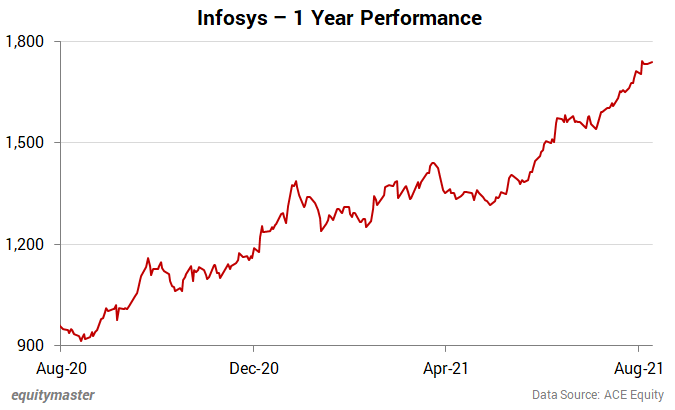 About Infosys
Infosys is a large Indian IT services company, offering a range of digital and traditional IT services.
From humble beginnings in 1981, the company now counts itself amongst the largest and most respected global software firms. It's known around the world for its visionary management, work ethics and corporate governance standards.
The company caters to industry verticals such as financial services, retail, communication, manufacturing, hi-tech, life sciences, energy, utilities, resources, and services.
Infosys has always had visionary management to guide the company through good times and bad.
Over time, Infosys' management has earned a reputation for being ahead of the curve in terms of human resource management policies and investor relations.
For more details about the company, you can have a look at Infosys company factsheet and quarterly results on our website.
You can also compare Infosys with its peers.
To know what's moving the Indian stock markets today, check out the most recent share market updates here.
Disclaimer: This article is for information purposes only. It is not a stock recommendation and should not be treated as such. Learn more about our recommendation services here...