Full Update on India's Top Green Hydrogen Stocks and how They're Faring in 2022
Aug 24, 2022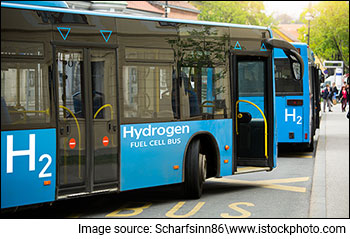 Hydrogen is the most abundant element in the universe. It's as clean as it comes and a top renewable energy source.
So, in order for the switch from fossil fuels to renewable energy sources, green hydrogen needs to be adopted by more people and companies in the future.
India is already one step ahead when it comes to green hydrogen.
The government's green hydrogen policy aimed at boosting production of green hydrogen and reducing the overall dependence on imported fossil fuels has resulted in huge commitment by big corporates.
Reliance has committed Rs 750 bn in renewable infrastructure segment.
Adani has proposed to put US$ 70 bn to help India become a net exporter of clean energy.
JSW group is collaborating with Australia-based Fortescue Future Industries to use green hydrogen technology to decarbonise its steel manufacturing operations?
Over the past couple of months, we have written about, how to invest in green hydrogen stocks and which companies are leading the race.
You can read our editorials here:
5 Indian Companies that are Leading the Green Hydrogen Revolution.
Green Hydrogen Alert! These 5 Companies are Leading the Race in India...
In today's article, we'll give a full update on India's top green hydrogen stocks and how they are faring in 2022.
Let's get started with engineering behemoth L&T.
#1 L&T
In financial year 2021-22, L&T studied the feasibility of venturing in green hydrogen business and made pilot investments.
L&T's 2021-22 annual report mentions the board approving their entry into the green energy business through green hydrogen & derivates and advanced chemistry cells batteries.
The annual report also says the company was planning to achieve water and carbon neutrality by 2035 and 2040, respectively.
Although the green hydrogen business is yet to be fully setup, the company has mentioned it should be done by the end of financial year 2022-23.
The company is looking to manufacture components such as electrolysers, storage batteries and fuel cells.
Around Rs 10 bn will be committed for electrolysers, while Rs 20 to 25 bn in battery technology. Rs 20 bn investment is planned in data centers with 90 MW capacity and Rs 30 to 40 bn in digital platforms like EdTech.
L&T's huge commitment towards green energy is proof it is leading the race in India. Last week, the conglomerate said it will invest up to US$ 2.5 bn over the next 3-4 years in the green energy value chain.
Coming to tie-ups and investments...
In January this year, L&T signed a pact with Norway-based HydrogenPro AS to set up a manufacturing unit in India. The aim is to tap opportunities in the green hydrogen space.
Skip forward to present, the green hydrogen plant has been set up at Hazira in Gujarat. The plant will produce 45 kg of green hydrogen daily. This will be used for captive consumption in L&T's Hazira manufacturing complex.
Another agreement L&T has is with IOC separately to manufacture and sell electrolysers used in the production of green hydrogen.
Apart from all these JVs and partnerships, L&T is currently in talks with refineries, steel and cement manufacturers to set up green hydrogen facilities for them.
With the traction in order book and higher margins in the new revenue segments, the company also sees its return on equity nearly double in the next 5 years.
Scope for Return Ratio Nearly Doubling in 5 Years

On top of all this, L&T intends to become a debt-free company in financial year 2022-23. It intends to exit loss making and asset heavy businesses and use the proceeds to pay off the loans.
The market has surely rewarded investors in L&T. Those who bought the dip in June 2022 this year, when the stock bottomed out, would be sitting on decent gains.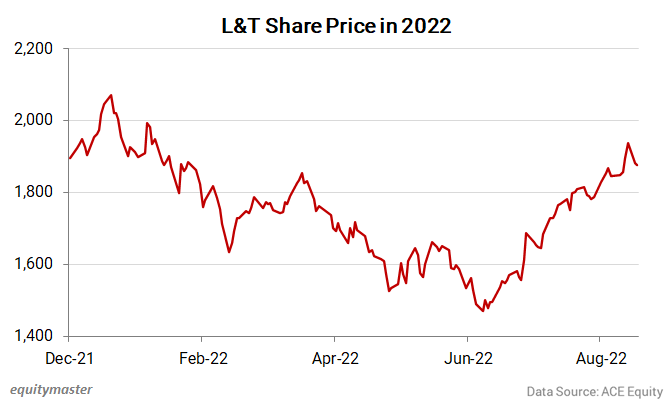 #2 Reliance Industries
Remember how Reliance brought in a disruption in the telecom industry when Reliance Jio entered the markets? It plans to do a similar thing with green hydrogen, more or less...
Here's what the company's latest annual report says:
Just as India has the world's most affordable wireless broadband today, we will have the world's most affordable Green Energy within this decade.

And these solutions will then be exported to other countries, helping them contain carbon emissions.
In January 2022, Mukesh Ambani announced its plans to invest Rs 750 bn in renewable infrastructure.
Over the next three years, it will set up four giga-factories across 5,000 acres in Jamnagar and establish global partnerships to achieve net carbon zero status by 2035.
In October 2021, Reliance partnered with Danish company Stiesdal A/S through its subsidiary Reliance New Energy Solar (RNESL) to develop and manufacture hydrogen electrolysers.
For this, a manufacturing unit is set up which will manufacture modular electrolysers for the production of green hydrogen for domestic use as well as for international sales.
While this will be expensive (the cost of green hydrogen is around US$ 3.6-5.8/kg), Mukesh Ambani plans to produce hydrogen at "under US$ 1 per 1 kg within a decade."
Reliance announced plans to bid for any production-linked incentives the government may offer to encourage the green hydrogen technology.
As the company aims to become the largest producer of blue hydrogen globally by using petroleum coke, it will be interesting to see how it funds these projects.
The company's stock price performance in 2022 has been a roller-coaster ride. Though the company got some momentum as Indian share market recovered between June and August 2022.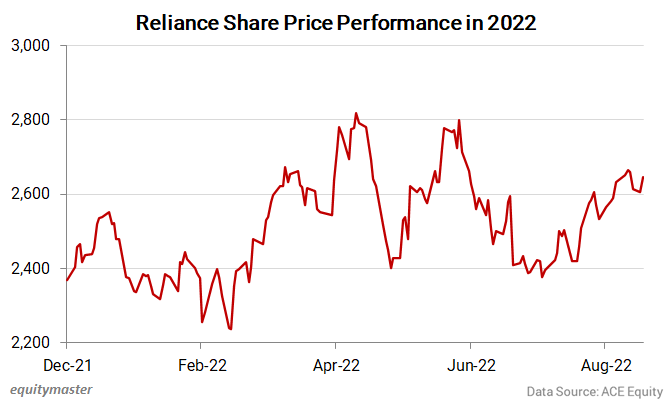 To know more about the company, check out Reliance 2021-22 annual report analysis.
#3 GAIL (India)
In line with government's 'National Hydrogen Energy Mission', GAIL is setting up a green hydrogen production unit with a capacity of 4.3 tonnes per day at Guna in Madhya Pradesh.
This unit will produce green hydrogen using polymer electrolyte membrane (PEM) technology based on water electrolysis. The setting up of this unit is expected to get done by November 2023.
Apart from this, the state-run PSU is also setting up a 10 MW PEM electrolyser for producing green hydrogen. It has also entered into MoU with Gujarat Alkalies and Chemicals. For this, it will set up a 500 KLPD bioethanol plant in Gujarat.
In January 2022, GAIL commenced India's first-of-its-kind project of mixing hydrogen into the natural gas system.
Hydrogen blended natural gas is being supplied to one of GAIL's joint venture company with HPCL - Avantika Gas (AGL), which is a city gas distribution (CGD) company operating in Indore.
To achieve all these requirements and more, GAIL's board has decided and approved to raise Rs 250 bn. So GAIL's debt metrics and funding will need to be tracked.
While the company has laid out big plans for green hydrogen, the stock performance may not reflect it for the time being as it remains in focus owing to volatility in crude oil prices.
Falling crude oil prices and surprise windfall tax are two main reasons why GAIL share price is falling this year.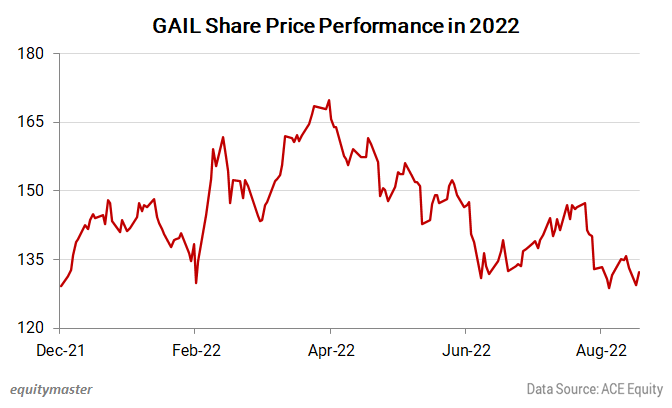 GAIL could reap long term benefits despite the downturn brought on by the windfall tax and crude prices, as it is one of the top renewable energy companies which has big investments in the renewable space.
#4 NTPC
With respect to green hydrogen, NTPC has these initiatives going on:
1) Filling charging station and 10 fuel charged electric vehicles (FCEVs) at Ladakh and Delhi.
In July 2021, the company's arm NTPC Renewable Energy called a domestic tender to set this green hydrogen fueling station in Leh, which is also India's first.
Initially, five hydrogen fuel cell buses will be tested.
2) Green hydrogen-based energy storage at its Simhadri facility, to deploy electrolyser and fuel cells.
This will also be India's first green hydrogen-based energy storage project.
The hydrogen will be produced using the advanced 240 KW solid oxide electrolyser by taking input power from the nearby floating solar project.
3) Green hydrogen blending in natural gas.
Here, NTPC's Kawas Gas blending project will blend hydrogen with piped natural gas (PNG) for domestic usage.
This is also first of its kind project in India, where 5% hydrogen of the total gas supply will be blended initially. It will gradually increase to 20%.
NTPC has been aggressively pushing the greening of its portfolio. The green hydrogen project is another step towards achieving a low carbon footprint.
For long, it has been promoting the usage of green hydrogen-based solutions in sectors like mobility, energy, chemical, fertiliser, steel etc.
The company has revised its target of achieving 60 GW renewables capacity by 2032, almost doubling the earlier target.
Mr. Market has rewarded NTPC. Shares of the company are presently trading near their yearly highs. There are other reasons too why NTPC is rising.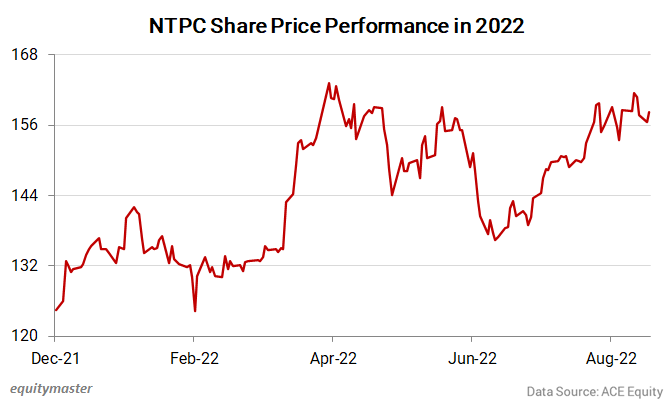 To know more, check out NTPC's 2021-22 annual report analysis.
#5 Indian Oil Corporation (IOC)
IOC is another PSU which has given a Hi-Five to green hydrogen. The company will be producing green hydrogen in stages at its Mathura and Panipat refineries.
As a first step, the company is implementing a 40 MW green hydrogen plant at Mathura refinery and a 16 MW plant at the Panipat one.
With this, the company plans to replace at least 10% of its current fossil-fuel-based hydrogen at its refineries.
IOC's 2021-22 annual report states that the company is targeting 5% of hydrogen produced by the company as green hydrogen by the year 2027-28. This will further extend to 10% by 2029-30.
The company is also exploring multiple hydrogen production pathways, including solar electrolysis, biomass gasification and bio-methanation.
Further, IOC also has an in-principal approval for investment of Rs 1 bn for setting up green-hydrogen fuel infrastructure at Kochi and Thiruvananthapuram.
The company has an agreement with L&T and ReNew Power to set up a JV company for developing the green hydrogen sector in India.
IOC share price may be falling now but it stands to enjoy the benefits from green hydrogen shift in the long run.
IOC share have been under pressure in 2022 owing to marketing margin concerns, and weak quarterly results.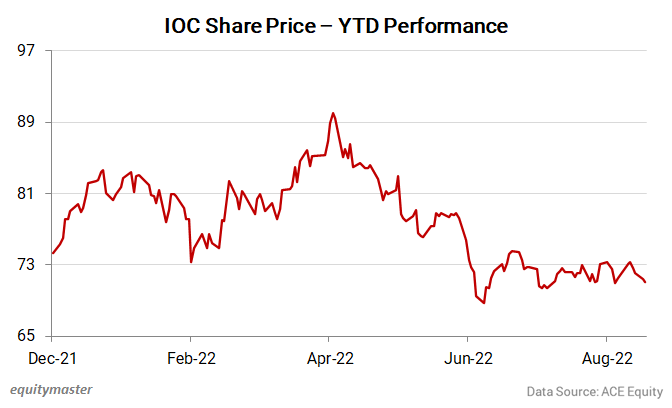 #6 Adani Group
Adani New Industries, a subsidiary of Adani Enterprises, plans to invest over US$50 bn over the next 10 years in green hydrogen and its associated ecosystem.
For starters, the company has plans to develop green hydrogen production capacity of 1 m tons per annum before 2030.
For the green hydrogen push, the Adani group has partnered with French energy giant TotalEnergies.
In Adani Enterprises' annual general meeting (AGM), Gautam Adani said that his group was working towards making green hydrogen the "fuel for future".
Note that Adani group has made the largest commitment when it comes to India's green energy push.
It has planned investments for electrolyser manufacturing, backward integrations for component manufacturing to secure the supply chain for the solar and wind generation businesses, and AI-based utility and industrial cloud platforms.
The mega investment will lay the foundation for Adani to become one of the largest green hydrogen producers in the world. It will make India the cheapest hydrogen producer in the world.
While all this sounds exciting, it should be noted that the group has a lot of debt.
In fact, a recent report by CreditSights, a Fitch Ratings' company, says that most of Adani group's expansion plans are debt funded across existing and new businesses.
Here's an excerpt:
In the worst-case scenario, overly ambitious debt-funded growth plans could eventually spiral into a massive debt trap, and possibly culminate into a distressed situation or default of one or more group companies.
Due to this reason, Adani group stocks are falling and have started to come down from their recent highs.
However, even after taking into consideration the recent fall, some Adani group stocks are still the fastest growing stocks of 2022.
Adani Group Stocks Performance in 2022
Source: Equitymaster
Given the group's capabilities in large-scale renewables infrastructure, it is well-positioned to become one of the largest producers of green hydrogen globally.
In conclusion...
As India moves towards this massive climate change, more companies are expected to follow suit and lay out their green hydrogen plans.
For instance, Oil and Natural Gas Corporation Limited (ONGC) recently signed a MoU with Greenko ZeroC to jointly pursue opportunities in green hydrogen, green ammonia and other derivatives of green hydrogen.
Hygenco India, a Haryana-based green hydrogen solutions provider, has signed an agreement with Jindal Stainless, to develop a green hydrogen plant. This plant will help bring down Jindal's annual carbon emissions.
So don't be surprised if there's more developments on companies tying up with domestic as well as global counterparts for India's green hydrogen push.
While policy and power market regulations released by the government are expected to boost green hydrogen development in the country, the truth is that the industry has a number of challenges to overcome.
So, view green hydrogen stocks with the same amount of caution as one would view other stocks. Do your due diligence.
A promising company must have a low debt-equity ratio, a strong track record of profitability, strong cash flows and a high ROE. It must also have solid backing of its promoters.
Before signing off, we recommend you watch the video below. Co-head of Research at Equitymaster, Tanushree Banerjee, has shared how green hydrogen can be a game changer and have a huge impact on electric vehicles (EVs).
Happy Investing!
Disclaimer: This article is for information purposes only. It is not a stock recommendation and should not be treated as such. Learn more about our recommendation services here...
Yash Vora is a financial writer with the Microcap Millionaires team at Equitymaster. He has followed the stock markets right from his early college days. So, Yash has a keen eye for the big market movers. His clear and crisp writeups offer sharp insights on market moving stocks, fund flows, economic data and IPOs. When not looking at stocks, Yash loves a game of table tennis or chess.