Linde India Shares Hits New High. Up 230%+ in One Year
Aug 26, 2021
After starting the day on a weak note, shares of Linde India bounced back and surged over 7% in intraday trade today on the back of heavy volumes.
The industrial gas maker has received a commendable response from the market participants during the last few trading sessions.
Linde India shares have delivered a return of more than 43% in the past week.
Linde India, formerly known as BOC India, is a member of Linde Plc. and one of the leading industrial gases company in India.
The stock has been gaining after Prime Minister Narendra Modi announced a National Hydrogen Mission.
India all set to become the new global hub of Green Hydrogen
On 15 August 2021, Indian Prime Minister Narendra Modi said in an Independence Day speech that the country is launching a new National Hydrogen Mission.
Mr. Modi said green hydrogen will play a crucial role in helping the nation to mitigate climate change.
In the Independence Day speech, he also added that,
Green Hydrogen is the future of the world. Today, I announce the setting up of the National Hydrogen Mission with the aim of becoming the new global hub of Green Hydrogen, and also its largest exporter.

This will not only help India to make new progress in the field of energy self-reliance but will also become a new inspiration for clean energy transition all over the world.
This particular mission was first proposed in this year's Union Budget in February.
Since then, many companies have come forward and queued up to announce projects based on this new venture.
However, Mr. Modi's speech did not define any production or capacity targets.
Why this news triggered the stock to surge?
Linde India supplies a variety of gases and mixtures as well as provides a range of related services.
This includes the construction and installation of plants, equipment, pipelines, and associated engineering services catering to the needs of a wide variety of industries.
The company generates income from two major divisions. The first one is industrial gases which accounts for around 80% of total operating revenue. On the other hand, project engineering division (PED) contributes around 13-14% to its revenue.
PED comprises the business of designing, supply, installation, and commissioning of tonnage air separation units (ASU) of medium to large size, and projects relating to setting up of nitrogen plants, pressure swing adsorption (PSA) plants, and gas distribution systems.
It also manufactures cryogenic vessels for in-house use as well as for sale to third party customers.
According to some media reports, these two segments of the company will help the country to become the new 'Global Hydrogen Hub'.
Company with good financials
The company has declared positive results for the last three consecutive quarters.
In the first half of the year 2021, the company has reported robust results, with its consolidated profit before tax up 131% year on year (YoY) at Rs 2 bn, against Rs 872 m in the same period last year.
Its consolidated revenue from operations grew 53.6% at Rs 9.6 bn on a YoY basis.
For the quarter ended June 2021, net profit of Linde India rose 266% to Rs 725 m, against Rs 198.1 m during the previous quarter ended June 2020.
Sales rose 109.2% to Rs 5.2 bn in the quarter one of the fiscal year 2022 against Rs 2.5 bn during the same period a year ago.
The company delivered strong operational performance on the back of stringent oxygen supply shortage in the country due to the second covid wave.
The Covid-19 pandemic has brought to the fore the urgency to ramp up the hospital infrastructure in the country as well as the supplies of medicines and oxygen, which bodes well for the company.
Recent acquisition by the company
Three weeks back, Linde India announced the company entered into a business transfer agreement with HPS Gases to acquire its packaged gases business and distribution assets.
As a part of this acquisition, the company will enter into other agreements with HPS Gases, viz. asset purchase agreement, non-compete agreement, and agreement for product supply and purchase.
In line with these agreements, Linde India will supply liquid products to HPS Gases and purchase gases in packaged and mini bulk from HPS Gases, under a long-term contract with them.
The acquisition has been done for an aggregate cash consideration of Rs 275 m.
This acquisition of the packaged gases business of HPS Gases will help expand Linde's presence in packaged gas and micro bulk market in Western India.
How the stock markets reacted to Linde India
Shares of Linde India opened the day at Rs 2,525.1 on the BSE and Rs 2,524 on the NSE.
Its share price closed at Rs 2,526.7 (down 1.4%) on the BSE and Rs 2,540.5 (down 0.9%) on the NSE.
At its current price, it is trading at a P/E of 46.4.
The share touched its 52-week high of Rs 2,748.9 and 52-week low of Rs 678.4 on 26 August 2021 and 9 September 2020, respectively.
Over the last 30 days, the Linde India share price is up 45%. Over the last one year, the company's share price is up 230%.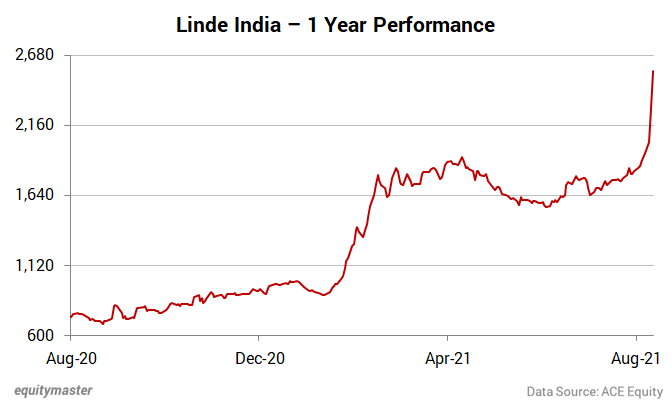 About Linde India
Linde India is a leading supplier of gases and related products and services in India.
The company is primarily engaged in manufacture of industrial and medical gases and construction of cryogenic and non-cryogenic air separation plants.
It was incorporated in January 1935 with the name Indian oxygen and acetylene company.
Linde India is a 75% subsidiary of The BOC Group, UK (wholly-owned subsidiary of Linde AG and part of the Linde group), and is one of the largest players in the domestic gases business.
The Linde group is the world's leading supplier of industrial, process, and specialty gases, with operations across 100 countries.
The company was converted into a public limited company in January 1958.
In February 2001, the company entered into a strategic alliance with Bharat Petroleum Corporation (BPCL) for distribution of liquefied petroleum gas (LPG).
For more details about the company, you can have a look at Linde India's factsheet and quarterly results on our website.
To know what's moving the Indian stock markets today, check out the most recent share market updates here.
Disclaimer: This article is for information purposes only. It is not a stock recommendation and should not be treated as such. Learn more about our recommendation services here...