Is Suzlon Energy the Best Wind Energy Stock Right Now?
Aug 28, 2023
Suzlon Energy, a notable player in the renewable energy sector, has garnered significant attention in 2023 due to its remarkable stock performance.
The stock's performance in 2023 has been nothing short of exceptional as it surged by over 120% within the current year and the company has positioned itself as a prominent contender.
For four consecutive months, the stock has recorded gains exceeding 20%, reflecting a sustained upward trajectory.
Notably, the stock has experienced a cumulative surge of more than 75% since we published the article on 8 June 2023, underscoring the stock's rapid appreciation.
Chart Analysis
A pivotal turning point in Suzlon's journey was the emergence of a bullish trend, as identified through technical analysis.
The breakout on charts, as reported on 8 June 2023, marked the initiation of this bullish phase.
Weekly Chart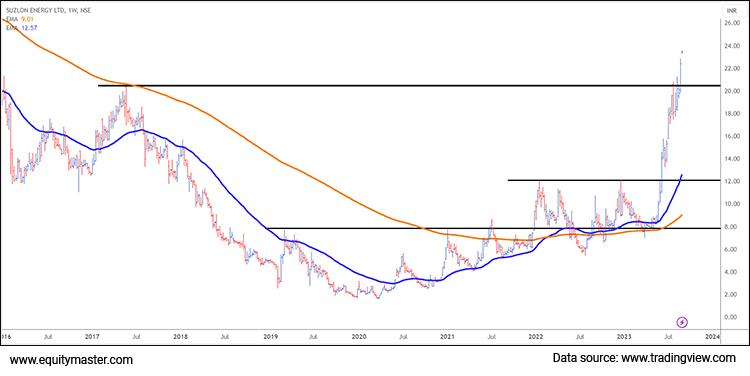 A significant indicator was the occurrence of a 'golden cross' on the weekly chart in February 2022-a first in the history of Suzlon's trading. This occurrence indicated a potential shift in momentum and sentiment in favour of the stock.
The Golden Cross moving average theory is a significant technical analysis tool used in financial markets. It occurs when a short-term moving average, typically the 50-period moving average, crosses above a long-term moving average, often the 200-period moving average.
This event is seen as a bullish signal, suggesting a potential shift in market sentiment from bearish to bullish.
The Golden Cross is considered to reflect a strengthening trend and is often interpreted as an indicator of upward price momentum.
Furthermore, an intriguing development was witnessed in June 2023 when the stocks successfully negated its lower high - lower low bearish structure. This signalled a potential reversal in the stock's fortunes.
Additionally, a breakthrough was observed as the stock surpassed its 2017 high of Rs 20.4.
This breakthrough not only marked a significant psychological level but also signified the stock price has the potential to reach upper levels.
What about the Long-term Outlook?
Against the backdrop of a bullish market environment, Suzlon's long-term prospects appear promising.
In the midst of a bullish trend in midcap and smallcap stocks, Suzlon's resurgence aligns well with the prevailing market sentiment.
Its successful reversal from a lower high - lower low structure and the breach of significant resistance levels indicate a strong foundation for the stock's potential future growth.
Conclusion
Suzlon's resurgence in 2023 has been marked by impressive stock performance, indicative of the company's revival and potential for further growth.
The breakout on charts, emergence of a bullish trend, and significant technical developments have all contributed to Suzlon's upward trajectory.
With its successful challenge of historical resistance levels and alignment with the broader bullish market sentiment, the stock price is positioned favourably for sustained growth on the long-term charts.
However, investors should remain cautious and conduct thorough research before making investment decisions, given the inherent risks associated with stock market investments.
Apart from the technical indicators, you should also check out its key fundamentals and how its placed for the near term.
For an easy explainer on Suzlon's fundamentals, check out my colleague Rahul Shah's editorial: Suzlon: A Trap or the Best Opportunity of the Year?
Investment in securities market are subject to market risks. Read all the related documents carefully before investing
Want to Grow Your Wealth With Safe Stocks?
If you want a simple, safe, and hassle-free approach to long term wealth building...
Without having to worry about negative news or every little downswing in the market...
And without having to worry whether your investments will actually "deliver"...
You must read our note on Blue Chip Stocks now.
Details of our SEBI Research Analyst registration are mentioned on our website - www.equitymaster.com
Disclaimer: This article is for information purposes only. It is not a stock recommendation and should not be treated as such. Learn more about our recommendation services here...
Brijesh Bhatia Research Analyst and expert chartist, is the editor of Alpha Wave Profits. Fully committed to his craft, Brijesh has mastered the art of making money by trading using technical analysis. Brijesh has an MBA from ICFAI and 16 years of experience in India's financial markets. He began his career on Dalal Street as commodities dealer and it wasn't long before he developed his own unique trading system. Brijesh worked on his trading system until it could be expected to deliver 5 units of return for every unit of risk.