Top Performing Penny Stocks of August 2023
Aug 28, 2023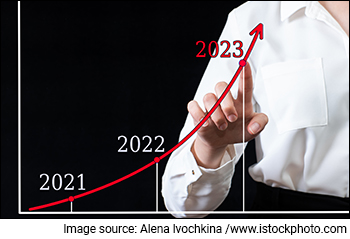 Despite all that's being said about penny stocks being volatile and highly illiquid, they can be irresistibly tempting.
They're not for the faint-hearted. They're volatile, unpredictable, and lack the transparency and regulatory oversight that bigger stocks enjoy.
That is why analysts advise to tread with caution.
This month, we've seen some big moves in select penny stocks surging primarily due to a liquidity-driven rally.
Such a scenario might give the illusion of a booming market, but it's essential to understand the underlying dynamics.
Let's look at the biggest penny stock gainers of August 2023. Some of these have delivered multibagger returns of up to 130% in a month!
#1 Crane Infrastructure
First on the list is Crane Infrastructure.
In August 2023, the real estate diversified company had its best month since listing, rallying over 130% in a month.
In fact, it recorded the sharpest move ever witnessed since it was listed in 2015.
Incorporated in 2008, Crane Infra rents its assets to outside parties.
The sudden rally in August 2023 comes on the back of the company reporting a multifold jump in revenue and net profit in the June 2023 quarter.
As per the company's exchange filing, its revenue increased by 860% to Rs 25.1 million (m) as compared to Rs 2.6 m in June 2022.
Net profit too shot up by 660% to Rs 8.4 m.
The company has reduced debt in the past five years while it has also maintained high operating and net profit margins consistently.
Its promoters currently hold around 48% stake in the company.
The company is all set to hold its annual general meeting (AGM) next month on 15 September 2023.
#2 JMJ Fintech
Next on the list is JMJ Fintech (erstwhile Meenakshi Enterprises).
The company is involved in the business of providing loans, investing and trading of shares, among other things.
In the month of August 2023, shares of the company witnessed a steep rally from Rs 13.7 to Rs 30.7 at present, translating into gains of around 125%.
Like the above stock, the rally here too was driven by a strong performance delivered by the NBFC in June 2023 quarter.
Its total revenue jumped over 1,000% to Rs 7.8 m compared to the previous year's quarter. While net profit came in at Rs 1.9 m, up 290% on a YoY basis.
The company is coming off a good year when compared on a yearly financial performance basis as its net sales zoomed over 5x to Rs 38.2 m in FY23.
Net profit during the same time surged 15 times to Rs 8.3 m.
As of June 2023, promoters of the company held around 23% stake.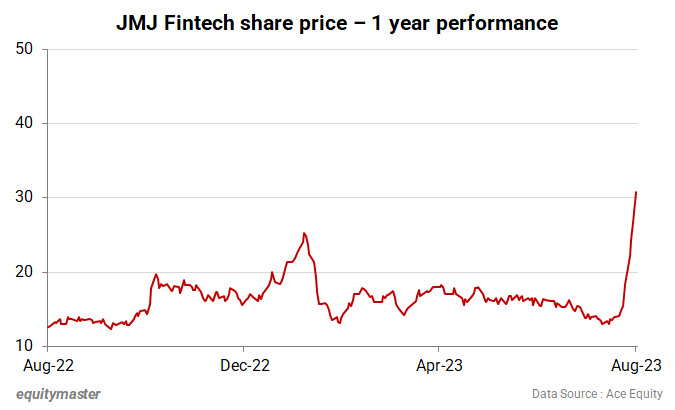 #3 Ajel
Next on the list is an IT company and a global software services company providing IT consulting, systems integration, financial services and outsourcing solutions to clients in key industry verticals.
Despite reporting a loss in its latest quarterly results, shares of the company have surged around 110% in the past one month... that's the kind of volatility penny stocks possess.
Ajel however, is coming off from a strong FY23 where it reported total revenues of Rs 81.4 m compared to Rs 41.5 m in FY22.
Net profit during the same time rose to Rs 7.9 m compared to Rs 0.8 m in FY22.
Promoters of the company have bought shares of Ajel in the open market for the past two quarters.
Total promoter holding now stands at 50.1%.
In the past one year, shares of the company have gained 123%.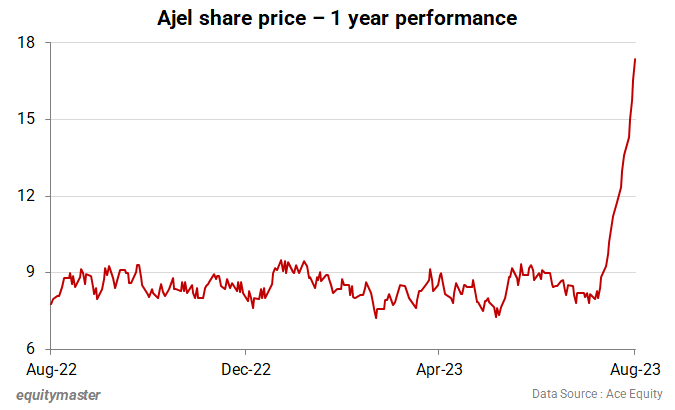 #4 Franklin Industries
Next on the list is Franklin Industries (erstwhile Murad Properties).
The company is engaged in the wholesale trading of agriculture commodities and jewelry. It also deals in shares, stocks, debenture stocks, bonds, negotiable instruments, mutual funds, etc.
In the month of August 2023, shares of the company rose from Rs 13.5 to Rs 27 registering gains of 100% in less than a month.
The primary reason why this could have happened is due to the company turning profitable in Q1 of FY24.
In the March 2023 quarter, Franklin Industries had posted a loss of Rs 3.4 m while reporting total revenues of Rs 82 m. In June 2023, the company was back to reporting a profit of Rs 6 m while revenues stood at Rs 72.7 m.
For FY23, the company's net profit rose multifold to Rs 2.1 m compared with Rs 0.1 m reported in FY22.
The company remains debt free as of June 2023.
In the past one year, shares of the company have gained 88%.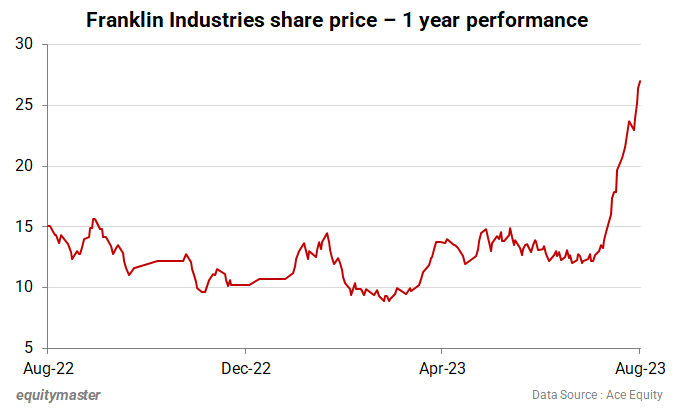 #5 Digispice Technologies
Last on the list is Digispice Technologies.
The smallcap company is primarily engaged in the IT business providing value added services, and mobile content services to the domestic and international telecom operators and the development and sale of telecom-related software.
Apart from this, the company is the corporate agent of IRCTC for booking railway tickets, air tickets, hotels and provides other travel needs through its platform.
In August 2023 so far, shares of the company have rallied 80% from Rs 21.5 to Rs 38.8 at present.
Despite reporting a massive loss for FY23 and even for the first quarter ended June 2023, shares of the company have seen a steep jump.
In recent sessions, however, shares have been locked in the 5% lower circuit band.
For FY23, the company posted a loss of Rs 220 m compared to a profit of Rs 70 m in FY22. Even in June 2023, the losses stood at almost the same level.
While declaring its latest results, the company informed exchanges that it has exited its digital technologies segment and is now focusing solely on the financial technology services segment, specifically in rural fintech.
The company's financials now only reflect the business of Spice Money and related costs, while the financials of the discontinued operations will continue to be reflected in the consolidated financials for the next few quarters.
Promoter holding stands at 73% as of June 2023.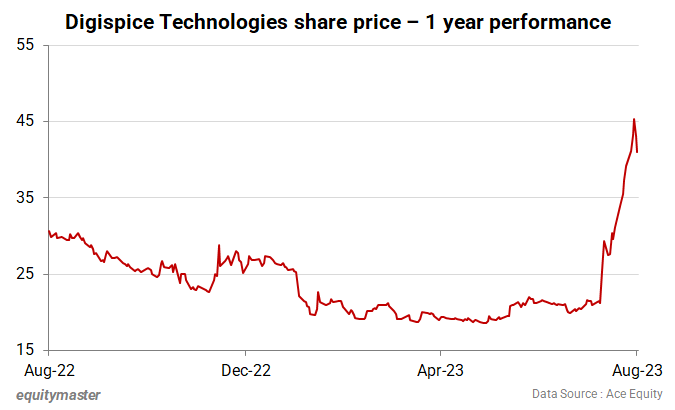 Which other penny stocks rallied the most in August 2023?
Apart from the above, here are other penny stocks that registered steep gains in August 2023.
Top Penny Stock Gainers of August 2023
Data Source: Ace Equity
Since you're interested in penny stocks, check out the below screens on Equitymaster's stock screener. We have a separate section specifically for penny stocks.
Conclusion
As we saw from the above examples, most of these penny stocks primarily shot up as they've seen a good quarter or because FY23 was their best ever year in terms of operational performance. They can't be considered as the high quality penny stocks available in the market at the moment.
Just as these stocks have skyrocketed, there's a genuine risk that these gains might not be sustainable in the long run.
So, what's the best course of action for those interested in these low-priced shares?
First, do your due diligence. Research, analyze, and understand the market.
A good way to select stocks is to look for these parameters:
Before you go, don't forget to check out the below video where Rahul Shah talks about a fundamentally strong penny stock that should be on your watchlist.
Rahul analyses penny stocks at Equitymaster amongst other things.
Investment in securities market are subject to market risks. Read all the related documents carefully before investing
Want to Grow Your Wealth With Safe Stocks?
If you want a simple, safe, and hassle-free approach to long term wealth building...
Without having to worry about negative news or every little downswing in the market...
And without having to worry whether your investments will actually "deliver"...
You must read our note on Blue Chip Stocks now.
Details of our SEBI Research Analyst registration are mentioned on our website - www.equitymaster.com
Disclaimer: This article is for information purposes only. It is not a stock recommendation and should not be treated as such. Learn more about our recommendation services here...