Aug 30, 2021 - Happy Birthday Warren Buffett! Here's to 80 Years of Compounding
Happy Birthday Warren Buffett! Here's to 80 Years of Compounding
Aug 30, 2021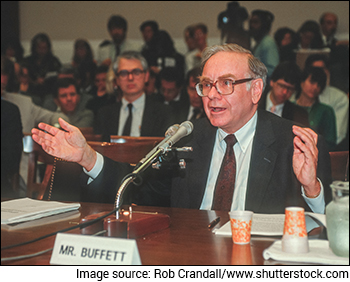 Legendary investor Warren Buffett, known for his sage wisdom, turns 91 today.
Aged 11 years old, Buffett bought his first stock in 1941, purchasing six shares of Cities Service - three for himself and three for his sister at a cost of US$38 per share.
Starting as early at the age of 11, Buffett still regrets for being late!
He filed his first taxes at the age of 13.
Often called as the 'Oracle of Omaha', Buffett runs Berkshire Hathaway which owns more than 60 companies including auto-insurer Geico, battery maker Duracell, and restaurant chain Dairy Queen.
After eight decades of compounding wealth and wisdom, Buffett is one of the most famous and successful stock market investors in the world.
From bailing out top companies during the financial crisis, to gifting billions of dollars to philanthropic organisations to inspiring countless investors and managers, Buffett has plenty to celebrate.
The billionaire investor has promised to donate over 99% of his wealth.
Buffett is already the oldest and longest-serving CEO of a S&P 500 company, and he does not plan to retire anytime soon. It was just a couple of months earlier this year that his successor was named.
At the annual Berkshire Hathaway shareholder meeting on 1 May, Charlie Munger suggested that Abel will be named Buffett's successor. A couple of days later, Buffett confirmed this in an interview.
As rich people are often known for their lavish spending, Buffett is not one of them. He is known for his simplicity. In fact, here's an interesting fact. He spends less than US$4 on his breakfast.
In his HBO documentary titled 'Becoming Warren Buffett', Buffett tells the director,
I tell my wife, as I shave in the morning, I say, either $2.61, $2.95 or $3.17. And she puts that amount in the little cup by me here [in the car].

When I'm not feeling quite so prosperous, I might go with the $2.61, which is two sausage patties, and then I put them together and pour myself a Coke.
Buffett once said that he consumes five cans of soda every day and also eats Dairy Queen ice cream plus See's Candies on a regular basis.
Let us now move on to the crux of this article: What is the secret to Buffett's success?
Capital allocation
One of the secrets to Buffett's success is how he structures his holdings, putting them together in a way that gives him enormous advantages.
A great example is his insurance business, which he uses as a float that partly finances his investments in publicly traded stocks.
The structure of the insurance business provides a steady source of financing and allows him to leverage his stock-picking ability.
Checklist
Everyone goes through some sort of checklist before making investments. For Buffett, this checklist included:
Companies which demonstrate consistent earning power.
Companies which earn good returns on equity while employing little or no debt.
Companies which have simple businesses. If there is lots of technology, Warren Buffett stays away from it. Case in point, Bitcoin.
Companies with strong moats. Buffett believes that one should ideally look at those businesses, which have consistent history of higher margins and superior return on capital.
Circle of competence
Do you think famous athletes would have been so famous if they had chosen any other profession for themselves?
Would Sachin Tendulkar or Virat Kohli have the reputation they have now if they became engineers instead of cricketers?
Buffett calls this sticking within your circle of competence.
This concept can be applied to stock picking by focusing on good quality businesses that one understands and not branch into sectors beyond competence.
Buying at right price
Much of Buffett's success stems from his insistence on buying at the right price. This is a difficult discipline and requires that he always be on the lookout for bargains.
Buffett believes in picking the best investment ideas and accumulating more of them. In that sense, he's not a fan of diversification.
Suppose you have 20 stocks in your portfolio. Not all of them will do well. But, if you've done your homework, most will perform.
Warren Buffett has bought over 500 stocks in his career and approximately 10 of them are what made him most of his money.
Your best ideas will post strong gains, offsetting the underperformers and ensuring great overall returns.
All these factors combined together have attributed to Buffett's knack for picking companies with sustainable competitive advantages.
Here are some of his favorite stock investments over the years.
Apple Inc
Bank of America
Coca-Cola
American Express
Kraft Heinz
Wells Fargo
JP Morgan Chase & Co
Moody's
Goldman Sachs
General Motors
Warren Buffett's top stocks have been dividend growers. For example, take Coca-Cola which Buffett began gathering in 1987 and it has grown dividends for nearly 60 years in a row.
Books recommended in this decade
There's so much more you can get out of reading than most people see.
Here's what Buffett told a group of MBA students in 2002.
Read 500 pages like this every day. That's how knowledge works. It builds up, like compound interest.

All of you can do it, but I guarantee not very many of you will do it.
Buffett has recommended a couple of books in several of his annual shareholder letters over the last decade. Here are a few of them:
Poor Charlie's Almanack: The Wit and Wisdom of Charles T. Munger
The Intelligent Investor
Mitek: A Global Success Story, 1981-2011
A Few Lessons for Investors and Managers From Warren Buffett
Tap Dancing to Work: Warren Buffett on Practically Everything
The Clash of the Cultures: Investment vs Speculation
Berkshire Hathaway Letters to Shareholders
Limping on Water
To end this piece on a high note...
We'll mention one of the most popular quote by Warren Buffett and also his most important saying.
'Rule no. 1: Never lose money. Rule no. 2: Never forget rule number 1'.
We wish a very happy birthday to the investing G.O.A.T. (greatest of all time).
Still going strong at the age of 91, we thank him for all the life lessons and years and years of sage wisdom.
We hope Warren Buffett has many more years of teachings within him.
Do check out our article on Warren Buffett quotes to motivate you in your stock market journey.
Happy Investing!
Here are Links to Some Very Insightful Equitymaster Articles and Videos on Warren Buffett
Disclaimer: This article is for information purposes only. It is not a stock recommendation and should not be treated as such. Learn more about our recommendation services here...
Yash Vora is a financial writer with the Microcap Millionaires team at Equitymaster. He has followed the stock markets right from his early college days. So, Yash has a keen eye for the big market movers. His clear and crisp writeups offer sharp insights on market moving stocks, fund flows, economic data and IPOs. When not looking at stocks, Yash loves a game of table tennis or chess.