4 Indian Companies in the Exploding Drone Market
Apr 24, 2023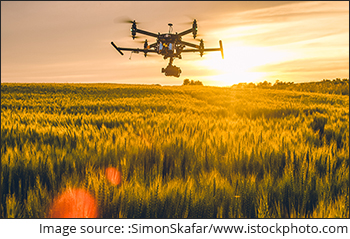 With increasing demand for drone technology in diverse sectors such as agriculture, logistics, and defense, it's no wonder that the Indian drone market has witnessed significant growth in recent years.
For quite some time now, we've been writing to you about the massive opportunity in drone manufacturing.
You can read our previous pieces on drones, here, here, and here.
In fact, Co-head of Research at Equitymaster Tanushree Banerjee spotted this opportunity early on. She discussed why it's a 4x growth opportunity in drone manufacturing by conservative estimates.
Although at a nascent stage, the industry has a wide scope and looks quite promising. We're not far away from when India becomes a global drone hub.
As the emerging drone industry is experiencing high growth, it is crucial to monitor the leading companies in this sector.
Choosing the right drone stock can potentially yield significant returns.
Keeping that in mind, let's take a look at the top drone stocks in India.
#1 Hindustan Aeronautics
First on the list is the most obvious name among the top defence stocks - Hindustan Aeronautics (HAL).
A state-owned aerospace and defence company headquartered in Bengaluru, the company is currently developing an artificial intelligence (AI)-driven advanced drone for strategic missions in high-altitude areas including along the frontiers with China.
HAL will conduct a maiden test-flying of the drone by the middle of next year and plans to produce 60 such platforms in the first phase of the project. The company is also working on two separate drone projects with the Defence Research and Development Organisation (DRDO).
In one of its concall, the company's management mentioned that they are developing a rotary drone of 200 kg class.
This apart, HAL is looking to produce the Israeli Heron TP drones in collaboration with its manufacturer.
All this shows the company's focus towards the drone segment, despite its focus on other high margin profit segments.
The company recorded its highest ever revenue of over Rs 240 bn for the financial year ended on 31 March 2022. The company is set to report low double-digit growth in topline as well as bottomline for 2023, going from its performance for the nine months ended December 2022.
Out of the total outlay of Rs 705 bn which government approved, the largest proposal approved was for 60 utility helicopters-marine being constructed by HAL, costing Rs 320 bn.
Shares of the company have been on a roll, delivering multibagger returns in the past one year.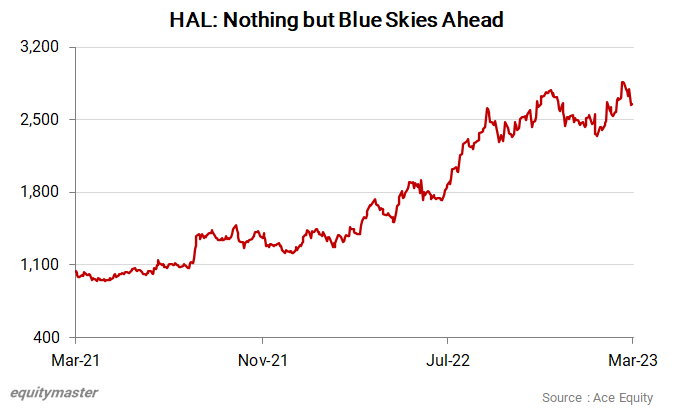 HAL is currently leading some of the most strategic projects in the aerospace and defence sector in India. With an order book of Rs 1 lakh crore and with several other projects on the anvil, the company is expected to perform well in the medium term.
#2 Zen Technologies
Zen Technologies is a drone tech company and a leading provider defence training solutions, headquartered in Hyderabad with offices in India and USA.
It has applied for over 90 patents and shipped more than 1,000 training systems around the world.
Drones have become a buzzword for the company as whenever it received a significant order, shares rallied big time.
Consider this. In September 2022, the company secured a Rs 1.6-billion (bn) order from the Indian Air Force (IAF) for the supply of counter unmanned aircraft systems (CUAS). This was the first major order for Zen technologies in the anti-drone space.
Shares of the company more than doubled in just a month's time back in September!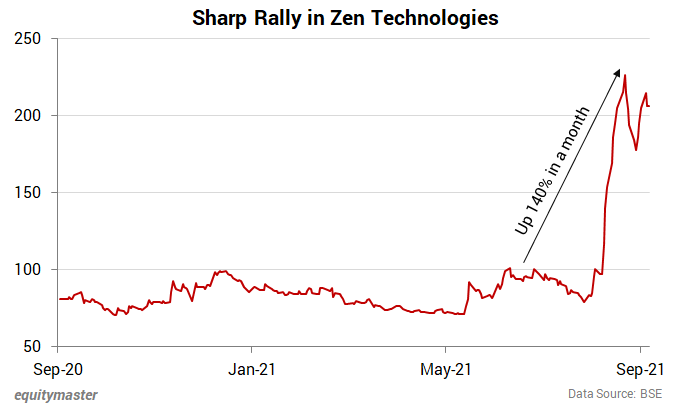 Now this time again, Zen Tech shares are buzzing on the back repeat large orders. Last month in March 2023, the company bagged orders worth Rs 1.3 bn from armed forces.
All this had to translate into stellar returns and robust earnings.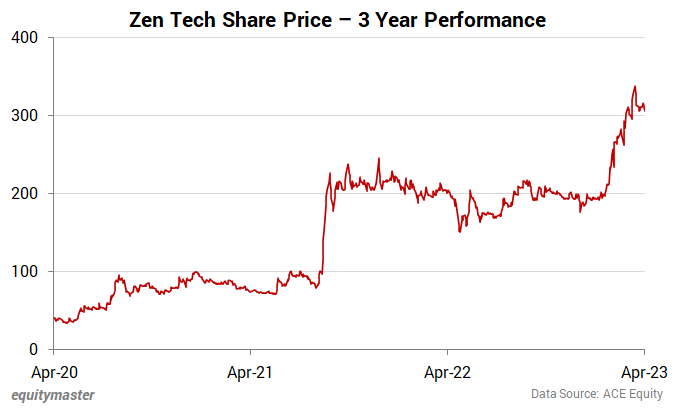 Zen Technologies recently posted its numbers for December 2022 quarter where profit after tax (PAT) came in at Rs 119.4 million against a loss of Rs 2.2 million in the year-ago quarter. Revenues surged threefold to Rs 524.8 million.
Going forward, the company's management said they expect order wins continuing on the back of aggressive participation in various defense events. As of December 2022, Zen Technologies had an order book of Rs 4 bn.
To know more, check out the company's financial factsheet and its latest quarterly results.
#3 RattanIndia Enterprises
Third on this list is a relatively small company compared to the other names. But interestingly, the company's foray into the drone segment (and EV segment) has to be the reason why the company came into limelight after all these years of existence.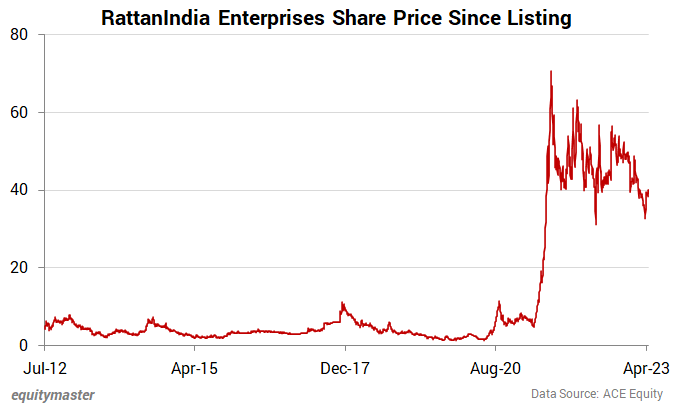 RattanIndia Enterprises initially made an investment in US-based Matternet, the world's most extensive urban drone logistics platform. At the time of investment, it announced the formation of an Indian subsidiary to kickstart the drone business in India.
RattanIndia Enterprises, with its wholly owned subsidiary NeoSky, now has a drone business in India. Neosky covers multiple segments and makes defence drones, consumer drones, etc. It develops a cutting-edge drone system, focusing on industry applications in India.
The company makes 'Defender' drones which is an anti-drone system. Defender is an AI-enabled system and an ideal solution for mitigating the risks that Indian armed forces face today.
In May 2022, RattanIndia through Neosky, acquired 60% stake in drone company Throttle Aerospace Systems. The acquisition was aimed at providing NeoSky full 360 degree drone solutions to customers.
Now, if you dig a little deeper and check the company's financials, you'll find that it had no sales to report until the second half of financial 2020-21. Moreover, at the end of September 2021, the company had Rs 150 m of net debt, up from none a year ago.
What got investors excited was its drone business. With the new 'Drone Rules, 2021' bringing India at par with international standards, the drone manufacturing sector is expected to achieve turnover of Rs 150 bn in the next three years.
Despite being devoid of revenues and profits, the company's foray into new age tech has helped keep it insulated from negative sentiment.
Going forward, the company is expecting to make the most of the benefits offered by Indian government through the production linked incentive (PLI) scheme for drones.
In February 2023, shares of the company registered one of their best days, rallying over 10% after the company launched two new drones with a carrying capacity of up to 20 kgs.
To know more, check out the company's financial factsheet and its latest quarterly results.
#4 Paras Defence & Space Tech
Last on this list is Paras Defence & Space Techologies.
Through its subsidiary Paras Aerospace, Paras Defence primarily focuses on drone related aerospace technology development.
It launched this subsidiary back in 2019. Paras Defence via its subsidiary, has tied up with a few UAV manufacturers in Israel, Latvia, & Italy.
Israel has been producing drones since 1980 for various applications and has a strong expertise. So this partnership helps the company access state of the art solutions.
In fiscal 2021, Paras Defence entered into a partnership with High Lander, which provides end-to-end solutions for the management of autonomous drone fleets.
In September 2022, the company entered into an exclusive teaming agreement with ELDIS Pardubice of Czech Republic to provide turnkey anti-drone systems for civilian airports in India.
Already a beneficiary of the PLI scheme, Paras Aerospace has been shortlisted by MoCA in the category of drone component manufacturers among others. The company is eligible to receive incentives from the MoCA as per the terms and conditions stipulated under the PLI scheme for drones.
What makes the company a top contender in this list is its diversified profile of products and decent financial position.
The company's products are used in diverse sectors like heavy engineering, defense & space optics, and defense electronics.
Recently, it informed exchanges that one of its subsidiaries has received a certificate from DGCA for its Agri Drone called "Paras-Agricopter".
The company added orders worth Rs 2.7 bn in 2022 and currently has a healthy order book, providing near term revenue visibility.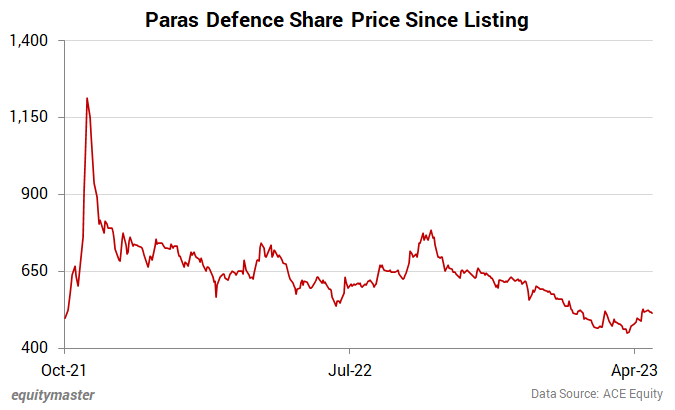 Snapshot of top drone stocks from Equitymaster's Indian stock screener
Here's a quick view of the above companies based on their financials.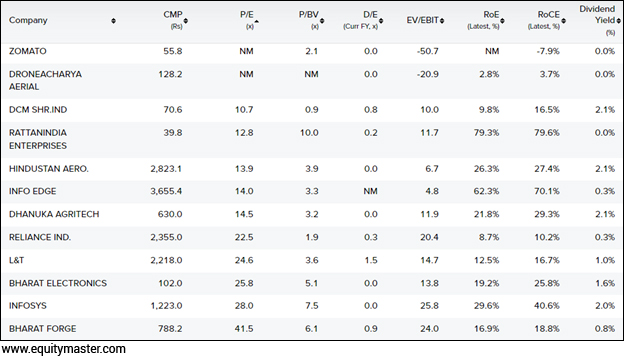 Please note that these parameters can be changed according to your selection criteria.
This will help you identify and eliminate stocks not meeting your requirements and emphasise those stocks well inside the metrics.
Happy Investing!
Also check out the below list of top drone stocks, which we highlighted in early 2022.
4 Indian Companies in the Exploding Drone Market (as of 2022)
Back in 2018, Zomato CEO Deepinder Goyal headlined the front pages of financial dailies.
The founder of one of India's largest food delivery company - Zomato used the opportunity to unveil delivery via drones, a radical new concept that holds the promise of more rapid delivery.
At some point in the future, Goyal said, with the help of a drone startup TechEagle, they will build something which will certainly play a significant role in the future of primary and secondary logistics in the food supply chain.
Since then, companies from different industries have followed suit. They've understood the multiple use cases of drones and want a piece of the pie.
Take the mining sector, for instance. These companies are spending heavily to equip themselves with drones for regular business operations.
Then there's oil exploration companies like Indian Oil Corporation (IOC), which plan to use drones to monitor pipelines for safe operations.
There's agriculture companies like Dhanuka Agritech making large investments to promote the use of drone technology in the agriculture sector to boost crop production.
Logistics companies can't rule out drones as they help deliver essentials including vaccines from one place to another in a short span.
Drones also help telecom companies maintain telecom towers and survey potential new tower locations.
These were just a few examples. Other companies have also deployed drones.
There was a time when there was little or no movement in the drone space. Everyone knew that the technology existed, but regulations made it difficult to move forward.
That, however, changed when the Indian government started taking various steps and gave drones a different set of wings to fly.
In August 2021, the foundation was led when New Drone rules 2021 were announced.
Then came the production-linked incentive (PLI) scheme for making drones which further improved sentiment.
Most recently, the government released the list of companies selected to be the beneficiaries of the PLI scheme. Among listed stocks, Infosys (via IdeaForge Technology), Adani group (via Adani's JV with Israeli firm Elbit) and Paras Defence (via subsidiary Paras Aerospace) are the ones likely to benefit.
The hype surrounding drones is so big that India's biggest corporates have taken a plunge into this exciting new trend. Adani, Reliance, Vedanta and the likes...
The companies involved in this space directly or indirectly are still very few. Recently we wrote about the top 4 that have powered up and looking to ride the coming drone revolution.
Continue reading...
Drones are officially known as Unmanned Aircraft Systems (UAS) and are beneficial for different sectors depending on their needs.
These sectors include transportation, agriculture, law enforcement, surveillance, and most important of all - defence.
Take for example Zomato and Swiggy. Both these online food aggregators are discussing food delivery via drones.
Companies involved in the drone industry in India have sighed a huge relief after the government announced new drone rules last month on 26 August.
The liberalised policy depends on self-regulation and non-intrusive monitoring rather than enforced regulation.
The new rules replaced the Unmanned Aircraft System Rules 2021 the Ministry of Civil Aviation had notified five months ago.
So what are these new rules?
Well, the new drone rules aim to ease the process of using drones in India for various purposes, including non-commercial use.
Under the new rules, you will not need any security clearance to operate and fly tiny drones. In addition, the government is carving out drone corridors to facilitate delivery of cargo deliveries.
There would be no government intrusion for drone use in India. With this, the government is hoping to trigger growth of drone usage in multiple industries.
Earlier, the Indian government had mandated a series of approvals including unique authorisation number, a unique prototype identification number, etc.
Now with these new rules, none of the approvals are required.
The centre has also increased the payload of drones from 300 kilograms to 500 kilograms.
Apart from the above, there were many more rules notified by the government. You can read them here.
So, which companies will benefit from the new rules?
Here are few Indian companies which are chasing the exploding drone market.
#1 Info Edge (India)
Info Edge (India) has made investments in Bengaluru-based Skylark Drones.
In July 2021, Skylark Drones raised US$3 m (about Rs 220 m) in its pre-Series A funding round co-led by Info Edge Ventures and Indian Angel Network (IAN) fund.
Swiggy has partnered with Skylark to test out its drone delivery system.
Founded in 2014, Skylark Drones provides work-site intelligence to enable accurate business decision-making using drone data.
The company has offices in the US and India, and it claims to be helping 100 enterprise clients, who have processed over 1 m images and 20,000 autonomous flights via its platform.
#2 DCM Shriram Industries
In August 2021, DCM Shriram Industries announced an arrangement with Zyrone Dynamics, a Turkish UAV and drone manufacturer.
Under this arrangement, 30% of the firm's shares were bought by DCM Shriram Industries for US$1 m, giving it a total valuation of US$3.5 m.
DCM was looking to invest in Zyrone for a long time but due to the pandemic conditions, the negotiation period stretched to 18 months.
Under the partnership, Zyrone will be providing DCM Shriram Industries with technological support and both parties will support each other in marketing the products in India and around the globe.
Zyrone Dynamics specialises in manufacturing small rotary-wing drones. Zyrone Dynamics has been promoting small drones that it calls 'variable volume' UAVs.
#3 Zen Technologies
Zen Technologies is a leading provider defence training solutions, headquartered in Hyderabad with offices in India and USA.
The company designs, develops and manufactures state-of-the-art combat training solutions for the training of defence and security forces worldwide.
The company manufactures land based military training simulators, driving simulators, live range equipment, and anti-drone systems.
Heavy lift logistics drones (HLLDs) from Zen Technologies offer advanced capabilities to fulfil the role of providing reliable logistics support in challenging environments and even in combat situations.
Its share price has spiked significantly after the government notified new rules.
This was after the company informed exchanges that its order book witnessed a significant surge to Rs 4 bn as on 1 September 2021, as against an order book of Rs 1.9 bn on 30 June 2021.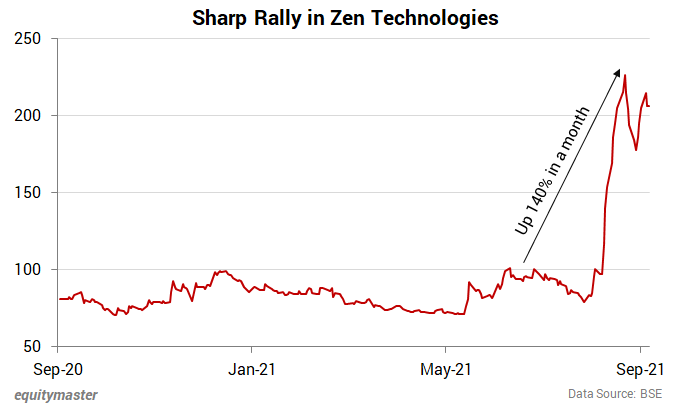 Multibagger returns in less than a month, all thanks to the company bagging multiple orders for defence technology and manufacturing.
The company is almost debt free.
In its latest annual report, the company said India is targeting to export military equipment worth US$5 bn in the next five years. With this, Zen Tech's exports will accelerate.
The company is also focusing on large export opportunities within the Middle East, CIS, and Africa. It's dedicating a core team to pursue business opportunities in the USA and other friendly countries.
Update: As of March 2022, Zen Technologies' total order book stands at Rs 4.8 bn, including Rs 3.1 bn in the domestic market and Rs 1.7 bn in export orders.
#4 RattanIndia Enterprises
In August 2021, RattanIndia Enterprises made a strategic investment in US-based Matternet, the world's most extensive urban drone logistics platform.
It also announced the formation of an Indian subsidiary NeoSky to kickstart the drone business in India.
For this, the company invested an initial amount of Rs 1 bn. NeoSky will design, manufacture and sell micro drones across India.
Ever since the news came out, shares of the company have been on a roll. After languishing near the same level for around three years, RattanIndia shares spiked and spiked hard.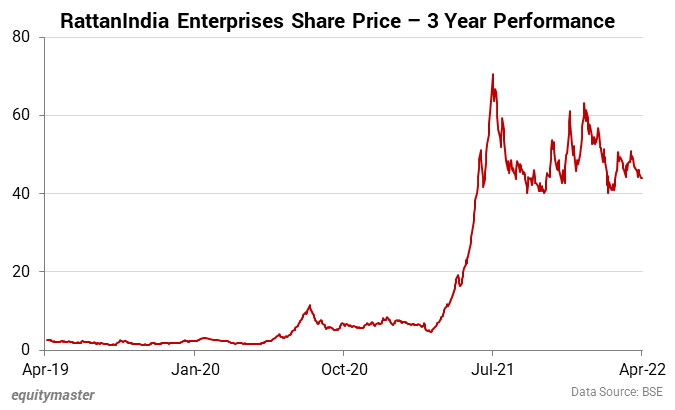 Update: The company is yet to start the rollout of drones and other products and expects to commence by the first quarter of 2023.
RattanIndia Enterprises is the flagship company of RattanIndia group for its new age growth businesses.
Apart from drones, the company has also forayed into electric mobility space through Revolt Motors to democratise clean commute using next-gen mobility solutions.
It also has investment in fintech business (via Bankse) and online retail (via Cocoblu).
The company has committed around Rs 30 bn for investment in four businesses and it appears Mr Market has already factored this in its share price.
Startups involved in drone technology
India is focusing more on being self-reliant. Defence Minister Rajnath Singh, while addressing the audience at an industry event, revealed that the government is aiming to bring down defence imports by at least US$2 bn by next year.
India has more than 190 defence tech startups building innovative tech solutions to empower and support the country's defence efforts.
Here are a few of them involved in drone technology.
EyeROV - Founded in 2016 by Johns T Mathai, and Kannappa Palaniappan P, EyeROV is currently developing India's first commercial underwater drone for remote inspection of offshore assets.
Vinveli - Iowa and Chennai-based Vinveli is building indigenous drones for special forces under the Ministry of Home Affairs.
ideaForge - This drone startup claims to have over 90% of the market share in the security and surveillance segment.
The company is involved in manufacturing drones for defence, homeland security, and industrial applications.
A Multi-Billion Dollar Industry
The drone industry in India is expected to gain momentum. India is estimated to develop a multibillion-dollar drone industry in this decade.
According to global market intelligence and advisory firm, the global drone market, which is currently dominated by US, China, and Israel, will touch US$28.47 bn this year and India will comprise about 4.25% of that.
The foundation of growth has been led by the new Drone Rules 2021. With rising number of drone training institutes, India will not be far behind.
Along with the electric vehicle (EV) revolution, the drone revolution is happening side by side.
Co-head of Research at Equitymaster, Tanushree Banerjee keeps a close watch on stocks from this space.
Infact, as per Tanushree, India's drone revolution is a 4x profit opportunity. She has identified a little known drone company with immense potential.
Back in July 2021, she also recorded a video about India's best drone stocks.
Disclaimer: This article is for information purposes only. It is not a stock recommendation and should not be treated as such. Learn more about our recommendation services here...
Yash Vora is a financial writer with the Microcap Millionaires team at Equitymaster. He has followed the stock markets right from his early college days. So, Yash has a keen eye for the big market movers. His clear and crisp writeups offer sharp insights on market moving stocks, fund flows, economic data and IPOs. When not looking at stocks, Yash loves a game of table tennis or chess.