As the Rupee Takes a Record Plunge, These Pharma Stocks Gain the Most
Sep 5, 2018
The Indian rupee, which has been depreciating over the past few months, touched its all-time low of Rs 71.98 against the US dollar today. While this is expected to impact the economy, some solace can be found when one looks at the exporting sectors like pharma.
Most pharma companies generate their revenues through exports. Hence, a depreciating rupee is a positive development for them.
If the rupee continues to trade near its current levels, pharma companies are likely to get a push in their revenues and earnings. This especially bodes well at the times when pharma companies are seeing significant challenges in growing their US revenue due to higher competition.
Pharma Companies' US revenues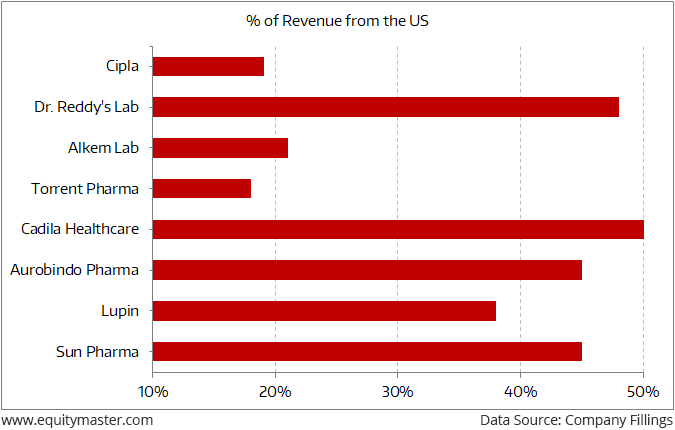 Pharma Stocks Back in Vogue?
The rupee's recent weakness has pushed up the BSE healthcare index, which was (26% down) at the bottom of the market for the past three years. However, the index has been the top performer in the past month and is up 11%.
The sector was underperforming amid pricing policy in the US generics market, patent protection, and regulatory overdrive, among other reasons.
--- Advertisement ---


SPECIAL REPORT: 3 Stocks To Grow Your Wealth

Our new special report titled, "3 Stocks To Grow Your Wealth", is available for instant download now.

And it contains details of 3 high-potential small caps you could consider investing in right now.

To find out how you could claim your copy of the report, and that too for virtually FREE, just click here…
------------------------------
However, in the past three months, the BSE healthcare index has gained as much as 23%. In comparison, BSE Sensex is up about 9% during the same period.
Among the individual stocks, Sun Pharmaceutical Industries, Dr Reddy's Laboratories, Aurobindo Pharma, and Glenmark Pharma outperformed the index by gaining in the range of 14% to 19%, while Divi's Laboratories and Lupin were up 13% and 10%, respectively.
Beating the Benchmark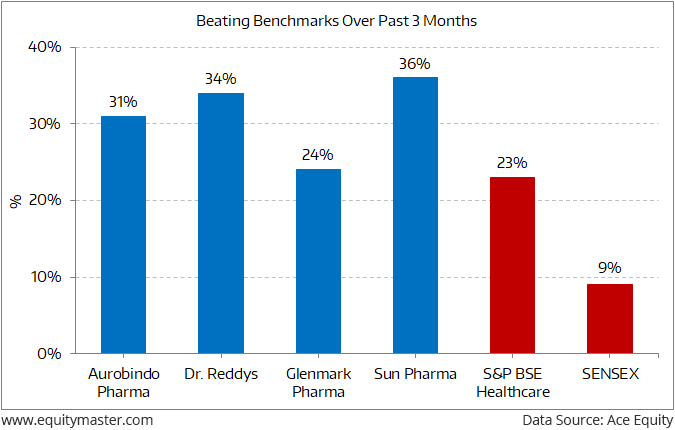 Meanwhile, Merck, Novartis India, Pfizer, JB Chemicals & Pharmaceuticals, Anuh Pharma, Shilpa Medicare, and Apollo Hospital Enterprises have rallied more than 23% during the month.
In fact, many pharma stocks also hit their 52-week highs recently.
Sun Pharmaceutical Industries, Dr Reddys Laboratories, Glenmark Pharmaceuticals, Torrent Pharmaceuticals, Abbott India, Merck, Sanofi India, and GlaxoSmithKline Pharmaceuticals were among 11 stocks that hit their respective 52-week highs.
Meanwhile, Sun Pharma has been the star performer. The stock hit a fresh 52-week high of Rs 669 this week. In past three months, the stock rallied 36%.
In addition to the rupee depreciation, there is also purely news driven triggers as well. We have seen Sun Pharma's Halol plant getting approval. The Halol plant had been under USFDA scanner since September 2014 and the quality cloud over it was lifted only last month. The resolution of the issue paved the way for Sun Pharma to resume selling to the US market from this facility, which accounts for 35-40% of the revenue for the company.
One plant of Alembic Pharma also received approval.
Further, Dr Reddy's Lab on August 23 had received an Establishment Inspection Report (EIR) from the US health regulator for its Srikakulam facility in Andhra Pradesh. USFDA releases a copy of the EIR to the establishment that was the subject of an FDA or FDA-contracted inspection when the agency determines the inspection to be closed.
This clearly tells us that pharma story is not just about depreciating rupee. The stocks have rallied in the past three weeks on hopes of facility clearances, lower pricing erosion in the future, and benefits of specialty businesses like over-the-counter medicines.
Is This 2013 All Over Again?
This scenario seems to be a repeat of 2013 when there was a sharp depreciation in the rupee due to monetary tapering by the US Federal Reserve. IT and healthcare stocks were the top performers that year.
Depreciating Rupee & Sectoral Performance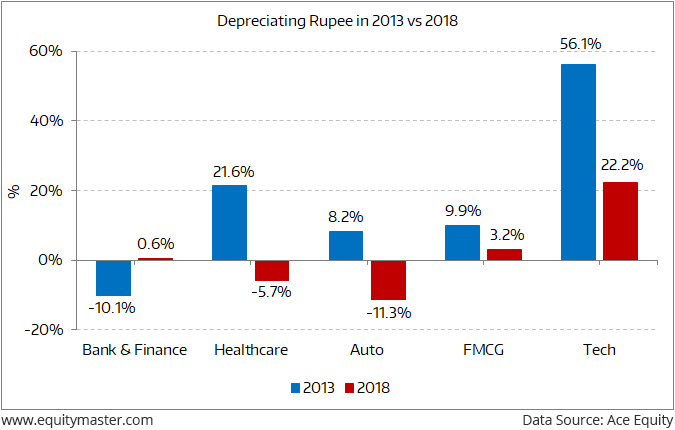 Domestic market-focused sectors such as financials, consumer goods, automobiles, energy, consumer durables, metals, capital goods, and realty either ended in the red or grossly underperformed the benchmark index that year.
The BSE healthcare index has been an outperformer in the past few months, but it is still in negative on a year-to-date basis.
No doubt that valuations have corrected both in absolute terms and relative to the frontline indices. The pharma story is still stock specific as there's not much improvement in the macro picture except for the rupee depreciation.
Note that, MNC pharma companies as well as companies like Eris Lifesciences, FDC, etc. have most of their business in the domestic markets and hence they many not benefit from the rupee depreciation.
As far as exporters are concerned, for better results in the long-term, only currency depreciation in isolation cannot do wonders for them.
So, What Lies Ahead for Pharma Stocks?
One thing is certain, people's perceptions of pharma stocks are changing.
Stocks are rallying. Mutual funds are launching healthcare funds.
But, is this enough to merit a positive outlook on the whole sector? Our Research Analyst, Girish Shetty does not think so.
Here's an excerpt of what he wrote in an edition of The 5 Minute WrapUp:
"For one, the healthcare index is diverse. Some companies supply to developed countries. Others are focused on the Indian market.

Even their business models are completely different. In such a situation, taking a bet on the index seems more like a reaction the price rather than the fundamentals.

But does that matter to the AMC's coming out with these funds? I guess not.

Gullible investors get excited and fall into these traps. Once reality sinks in, it's too late to react.

This cycle of chasing momentum plays out almost every time. The fear of missing out (FOMO) is too strong for retail investors.

Does that mean I would keep away from pharma stocks?

Certainly not. We had the same view even when everyone was running away from the pharma sector."
In fact, our team at Equitymaster has recently shortlisted one stock for ValuePro.
Pharma stocks also form a good chunk of StockSelect recommendations. Our research team was positive on these stocks when the negativity around the sector was at its peak.
Meanwhile, market participants will keenly observe how the rupee moves going forward.
While a fresh fall may be bad for the sentiment of the overall market, select IT, pharma, and export oriented stocks seems to be taking advantage of it. These macro factors may have a strong bearing on the movement of the stock markets in the short to medium term.
We will keep you posted on these developments.
Warm regards,
Rini Mehta
Rini Mehta is a keen follower of the stock markets and economy. At Equitymaster, she covers daily stock market moves and broader market trends across Indian and global markets.