Modi's Rs 576 Billion e-Bus Scheme Could Trigger a Surge in these Electric Bus Stocks
Sep 7, 2023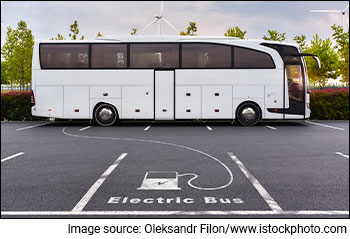 Electric buses, hailed as the vanguard of sustainable urban transportation, have emerged as a transformative force in the modern transit landscape.
Unlike their fossil-fuelled counterparts, they rely on advanced battery or fuel cell technologies to power their propulsion systems, offering a cleaner and more environmentally friendly alternative.
This innovation addresses the pressing need to combat air pollution, reduce greenhouse gas emissions, and mitigate the impact of transportation on climate change.
With increasing awareness of the environmental challenges posed by traditional combustion-engine buses, cities around the world are embracing electrification as a pivotal strategy in their efforts to revolutionize public transportation.
The benefits are multifold, extending beyond the realm of pollution reduction to include quieter operation, improved energy efficiency, and reduced operational costs in the long run.
India too has embraced the need for electric buses.
The cabinet recently approved a bus scheme called PM-e-Bus-Sewa under which 10,000 e-buses will be rolled out on public-private partnership model.
The scheme was earlier announced by the Finance Minister, Nirmala Sitharaman, in her 2021-22 budget speech, on 1 February 2021.
It's expected to have an estimated cost of Rs 576 bn for 10,000 buses. The central government would chip in with a support of Rs 200 bn, spread over 10 years.
Under the model announced today, the government will pay the bus operator a fixed sum per km of operation. When the scheme was mooted two years back, a government subsidy of Rs 21 per km of run, for 12 years, was envisaged.
Read on to find out which companies could stand to benefit from it.
#1 JBM Auto
The first stock on our list is JBM Auto.
The company manufactures and sells sheet metal components, tools, dies & moulds, and buses including sale of spare parts, accessories and maintenance contract for buses.
In FY21, the company forayed into the e-bus segment, developing a new range of electric buses. It launched Project Topaz, an integrated EV Bus manufacturing facility with a capacity of 10,000 buses, and Project Everest for some novelty products in 12 m and 13.8 m segments.
JBM Auto's subsidiary, JBM Ecolife Mobility Private Limited, recently received an infusion of funds from its promoter, Nishant Arya.
This development has transformed the subsidiary's ownership structure, further emphasizing its critical role in the company's future growth plans. JBM Ecolife manufactures 100% electric, zero emission buses.
Earlier this year, JBM Auto, the flagship company of the JBM group had expressed its intention to secure additional funds for the bus business. Moreover, it set ambitious targets for the subsidiary, aiming for a threefold growth in bus revenue in FY24.
This growth projection is accompanied by an impressive tenfold increase in sales volume.
The company plans to deploy 5,000 electric buses across the country by the end of the financial year 2024. To fulfil its target, it is planning to invest Rs 5 bn in capacity building and improving technology.
Currently the production capacity is 3,000 buses, which is not sufficient to address the growing demand.
The management also hinted that a part of this deployment will be done with Convergence Energy Services' latest tender. Recently the company participated in the state-owned CESL along with other electric bus OEMs for a new tender of 4,675 electric buses.
As per a Reuters report, JBM Auto will supply 1,781 electric buses in three states. The AutoExpo 2023 marks the company's entry in the long-range electric luxury coach segment with its fully electric 12-meter Galaxy coach.
For the June 2023 quarter, the company reported a 9.4% YoY increase in revenue. Net profit also rose 15% YoY. Shares of the company have been on a roll this year, rising over 170% on the back of the rising demand for e-buses.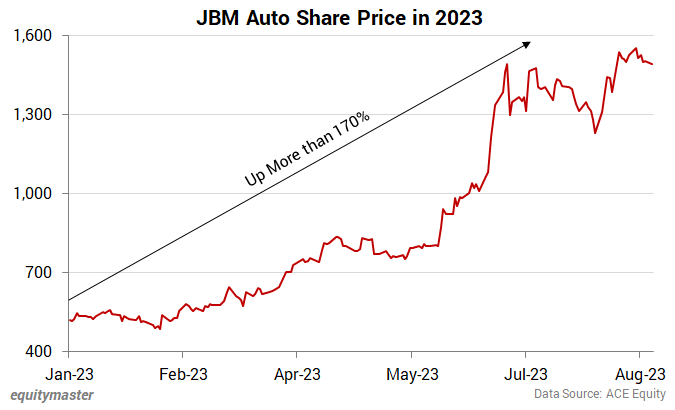 #2 Ashok Leyland
The second stock on our list is Ashok Leyland.
Ashok Leyland's core competence lies in making intermediate commercial vehicles, light commercial vehicles (LCV), and medium & heavy commercial vehicles (M&HCV).
The company's EV push is being done through UK-based Switch Mobility, a next-generation electric bus and LCV company. Switch Mobility is a subsidiary of the Hinduja group.
Switch Mobility's strategy is to use India as a manufacturing hub to make use of its existing facilities in the country, in addition to its facility in Leeds, UK. In the year ended March 31, Switch delivered 400 buses in India. This includes electric double-decker buses.
For FY24, the company has planned five models. first of the five models planned for FY24 will be an electric bus meant for the European markets. It is expected to go on sale in January. This will be followed by two new low bus platforms for India - a 9-metre and a 12-metre bus.
Ashok Leyland could pump in Rs 12 bn into the unit over the next 12 months in two tranches to bolster its expansion plan.
Executive Chairman Dheeraj Hinduja has made it clear that the company will focus on its stronghold which is buses and light vehicles in the EV space. It will not venture into e-cars.
The company is also looking at all options for the manufacture of batteries for its electric vehicles.
For the June 2023 quarter, Ashok Leyland reported a 14.4% YoY increase in revenue on account of MHCV (medium and heavy commercial vehicle) sales. Net profit rose multifold to Rs 5.8 bn.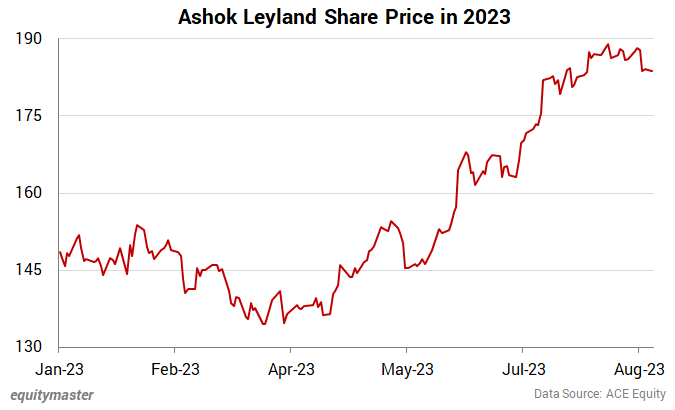 #3 Olectra Greentech
The third stock on our list is Olectra Greentech.
The company is a pioneer in electric bus manufacturing and is a market leader in the nascent yet growing electric bus market. It has a market share of 35-40%.
It is a part of Megha Engineering and Infrastructures and has developed its buses with technical support from China's largest electric vehicle maker, BYD.
Olectra Greentech seeks to stay as a dominant player in the Indian electric bus market. The company is confident of garnering one-fourth of the share in total e-bus deliveries over the next two years.
About 40,000-50,000 electric buses are likely to be delivered over the next two years, and Olectra seeks to deliver one-fourth of these e-buses. The total order book of the company is 8,344 units.
This includes the recent e-bus order (described as one of the largest e-bus orders), bagged by the Consortium of Olectra Green Tech Ltd and its associate firm Evey Trans Private Ltd from Maharashtra State Road Transport Corporation (MSRTC) to supply, operate, and maintenance of 5,150 electric buses on gross cost contract basis.
With an approximate value of Rs 100 billion (bn), this order surpasses Olectra Greentech's market capitalisation.
The deal follows a gross cost contract model based on an OPEX (Operating Expense) approach and spans 12 years, as stated by Olectra Greentech.
Under the contract, Olectra Greentech will supply the buses to Evey, who will then facilitate the delivery over 24 months. Additionally, Olectra Greentech will provide maintenance services throughout the entire duration of the contract.
Meanwhile, the company has received the battery compliance certification for all the models now. Following some fire incidents involving electric two-wheelers, the Indian government introduced new safety norms, batteries in particular.
So, Olectra had to take up some tests due to which e-bus deliveries were deferred. The company is now confident of making up for the time lost and accelerating deliveries.
For the June 2023 quarter, the company reported a 23.1% YoY decline in revenue. Net profit, however, rose 8% YoY.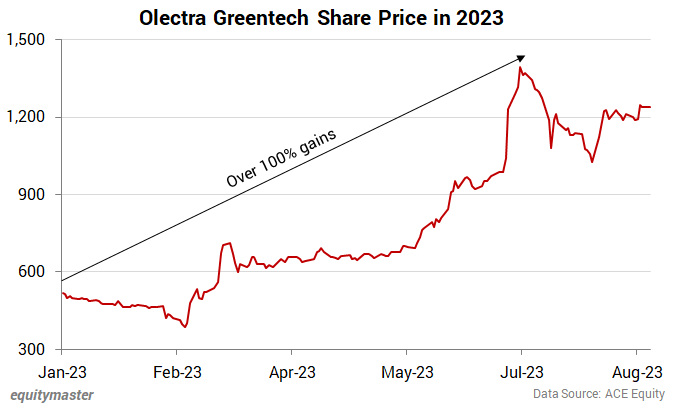 #4 Automobile Corporation of Goa
The fourth stock on our list is Automobile Corporation of Goa (ACGL).
The company manufactures sheet metal components, assemblies and bus coaches at its factories. It is a supplier of pressings and assemblies to Tata Motors. Tata Motors controls 47% stake in the company.
ACGL is a part of Tata Motors electric bus and hybrid bus programme. A large portion of what the company does comes from Tata Motors bus business, and it makes buses to suit the company's domestic and international bus requirement.
ACGL is now getting ready for mass production of electric buses for the ever-growing electric vehicle segment. The company has a capacity of around 9,000 vehicles per year and current capacity utilisation is 70%.
With electric buses having a significantly large penetration in State Transport Undertakings which is showing an increasing trend, ACGL is gearing up for upgrading its manufacturing facility and engineering capability for the manufacturing of future models of buses including electric buses.
Its line-up includes new models of EV buses and a prototype of an electric powered double decker bus. For the June 2023 quarter, the company reported a 6.6% YoY increase in revenue. Net profit rose 25% YoY.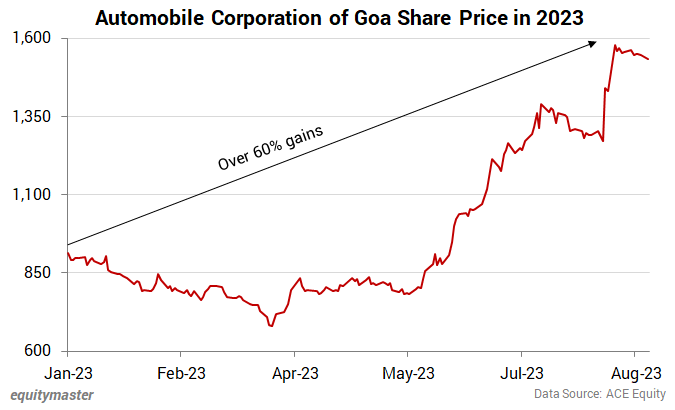 Why you should invest in EV stocks
Investing in electric vehicle (EV) stocks presents a compelling opportunity for investors.
The global shift toward clean energy and sustainable transportation is driving exponential growth in the EV sector. This trend is bolstered by government incentives and heightened environmental awareness, ensuring a promising future for EV companies.
EV stocks not only align with ethical and environmental values but also offer significant growth potential as technology continues to advance.
As established automakers and innovative startups compete for market share, investing in this sector provides exposure to cutting-edge technologies and disruptive innovations.
While risks exist, the long-term prospects and global demand for EVs make them an appealing addition to a diversified investment portfolio.
Investment in securities market are subject to market risks. Read all the related documents carefully before investing
Want to Grow Your Wealth With Safe Stocks?
If you want a simple, safe, and hassle-free approach to long term wealth building...
Without having to worry about negative news or every little downswing in the market...
And without having to worry whether your investments will actually "deliver"...
You must read our note on Blue Chip Stocks now.
Details of our SEBI Research Analyst registration are mentioned on our website - www.equitymaster.com
Disclaimer: This article is for information purposes only. It is not a stock recommendation and should not be treated as such. Learn more about our recommendation services here...
Ayesha Shetty is a financial writer with the StockSelect team at Equitymaster. An engineer by qualification, she uses her analytical skills to decode the latest developments in financial markets. This reflects in her well-researched and insightful articles. When she is not busy separating financial fact from fiction, she can be found reading about new trends in technology and international politics.