Do Metal Stocks Really Track Metal Prices?
Sep 11, 2021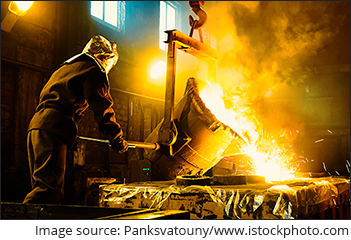 Base metal prices have rallied since March 2020 when the outbreak of Covid-19 pandemic was about to take a toll on Indian share markets.
What are the reasons behind this rally? The quick recovery in China, which is a big user of metals.
Other factors contributing to the rally include increase in transportation cost of bulk materials, quarantine curbs and a rebound in fuel prices added to the cost.
There's also the debate about commodity supercycle.
Soaring metal prices have sparked a debate on whether the world is entering a commodity cycle or a 'supercycle', an extended phase of abnormally high prices that lasts at least a decade.
But what above metal stocks linked to those base metals? How have they performed and do they really track metal prices?
Let's take a look at a few base metals and the performance of key companies in that sector.
Let's start with Aluminium.
#1 Aluminium
Back in March 2020, aluminium futures on multi commodity exchange (MCX) were trading at approximately Rs 125 per kg when the markets bottomed out.
This year in May, it hit Rs 206-208. That was a huge rally. Then there was a precipitous fall to Rs 184 in June 2021.
Currently, aluminum prices are trading at Rs 224 per kg, their 52-week high levels.
On a year-on-year (YoY) basis, aluminum prices are up 54.6%.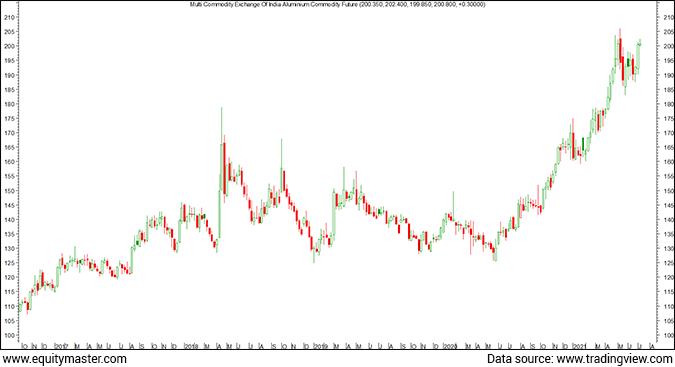 Now, the two stocks which impact by aluminum prices directly are Hindalco and NALCO.
Back in March 2020, Hindalco's share price was trading at around Rs 150 at the start of the month. It crashed to below Rs 100 and traded as low as Rs 88 as lockdown was announced.
Between May 2020 to August 2020, aluminium prices rose 20%. During the same period, Hindalco shares rose over 40% and then rallied some more.
Aluminium prices then started to climb again staring October 2020 from Rs 140 to Rs 170 in December 2020. During the same period, Hindalco shares rose 38% from Rs 170 to Rs 240.
Coming to recent developments, aluminium prices have risen from Rs 190 to Rs 224 in the past three months. During the same period, Hindalco rose 20%.
This clearly tells us that as aluminium prices rise, stocks related to the commodity also rise.
But though aluminium prices support Hindalco, there are cost pressures in India. Hindalco hedges part of its aluminum price exposure.
Since March 2020 lows, Hindalco shares have rallied a whopping 422%.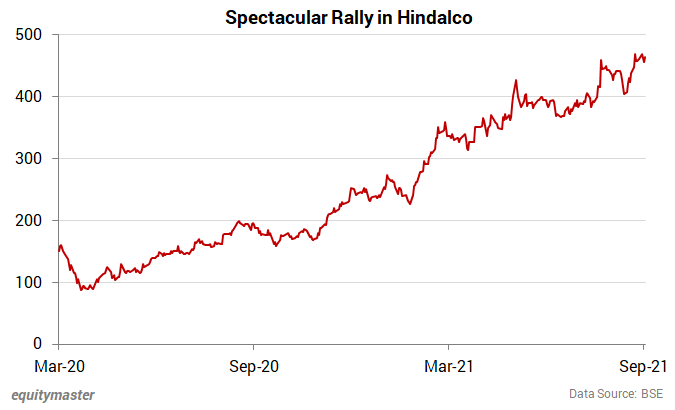 The same is the case for NALCO. Have a look at the chart below.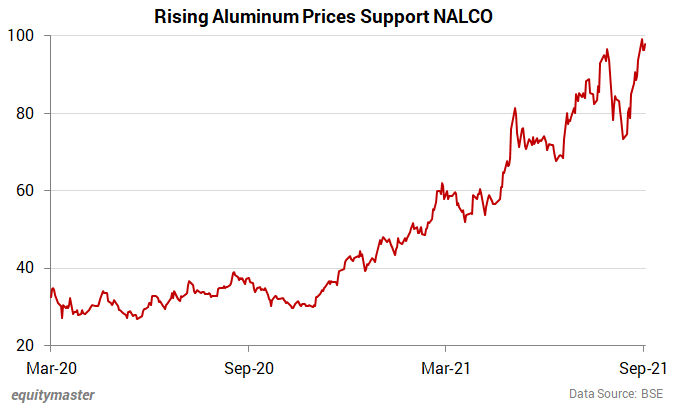 As aluminium prices rose from Rs 204 to Rs 224 between 20 August 2021 and 9 September 2021, NALCO's share price has gained 33%.
NALCO is a pure play and has the highest leverage to aluminium prices. An increase in price of alumina, a raw material used to produce aluminium, also supports the company as it also sells alumina.
The company doubles it earnings on every US$400 a tonne increase in aluminium price.
#2 Copper
Copper happens to be the most critical commodity in terms of base metals to watch. It's known as 'Dr Copper' by commodity traders for the simple reason that without it, nothing is possible.
Whether it's construction, electronics, automobiles or anything at all, you can't do much without copper. So, it's a proxy play of industrial activity, both global and national.
Copper rose from approximately Rs 330 per kilo odd levels in March 2020. It went all the way up Rs 820 per kilo, somewhere around May 2021.
After that, it fell sharply to Rs 690 odd levels in June 2021. Currently, copper is trading at Rs 717.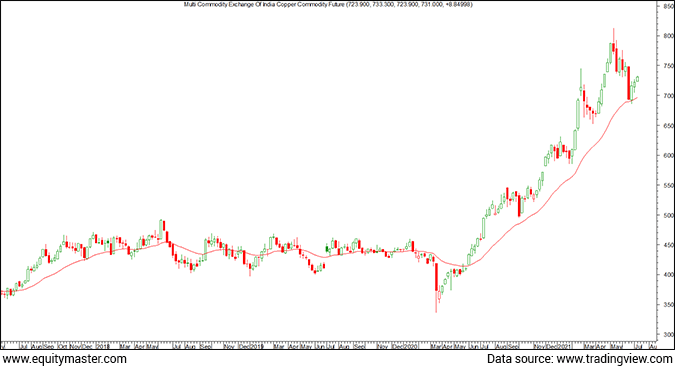 The stock that directly gets impacted by copper is Hindustan Copper. It's the most significant copper manufacturing, copper producing company in India.
Back in March 2021, copper prices were on an upswing in international markets on the back of resumption of industrial activity after lockdowns were eased.
They surged to multi-year peaks back then. As copper prices have fallen lately, it's affect is reflected in Hindustan Copper's shares.
Copper prices have been on downtrend as the metal's August imports by top consumer China fell to their lowest since June 2019. This was because high prices and sluggish economic growth hit demand.
London copper prices have roughly traded within US$9,000-US$10,000 a tonne since hitting a record high of US$10,747.50 per tonne in May 2020.
The fall is attributed to slipping Chinese demand and fears of monetary policy tightening.
#3 Steel
Coming to steel, flat steel is typically used in automobiles and domestic appliances while long steel is typically used in construction and railways.
Steel prices have been coming off their highs from June levels when hot rolled coil (HRC) - a benchmark for flat steel touched Rs 71,000 a tonne. HRC prices are currently at around Rs 67,000 per tonne.
In the last week of August, amid a marginal fall in domestic and international iron ore prices and slower demand, steel prices fell.
But that did not affect big steelmakers Tata Steel, SAIL, and JSW Steel as they expected rates to firm up soon on increased demand.
A steep fall in the prices of iron ore, a key raw material for steel production, also helped. On top of that, prices could increase in the coming month as festive sales kick-in.
Although market experts suggest that sharp jump in prices of iron ore, a major raw material, may spoil the party. Under such conditions, steel companies with captive iron ore mines stand to gain the most.
As global steel prices continue to rise, Tata Steel stands to benefit. This is reflected in its share price as they have risen over 250% in the past year.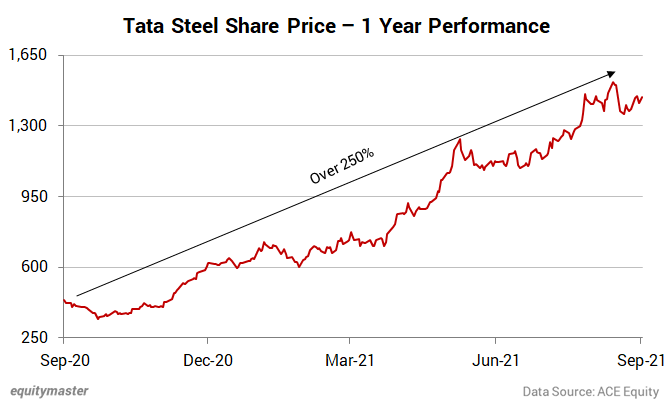 The sharp rally in steel companies shows how much they are dependent on steel prices.
Despite demand being impacted as a result of local lockdowns, domestic steel prices continue to trade at historical highs and this has supported steel stocks.
#4 Zinc
Coming to Zinc, it was trading at Rs 125 per kg in March of 2020. This year in June, it went to Rs 245. That's a rise of almost 100% in 15 months.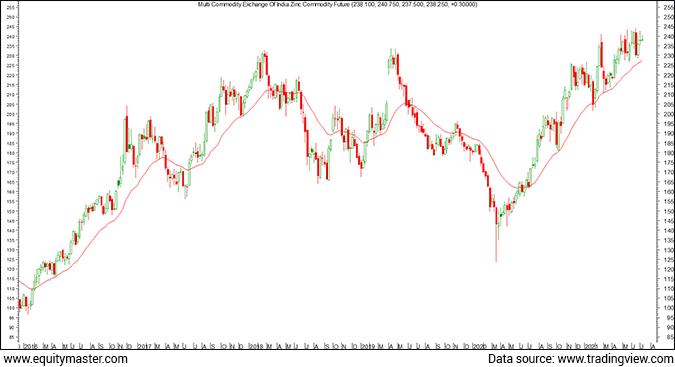 The stock that is directly affected by Zinc prices is Hindustan Zinc.
If compared for the same period, Hindustan Zinc shares have risen 170%, supported by rising zinc prices.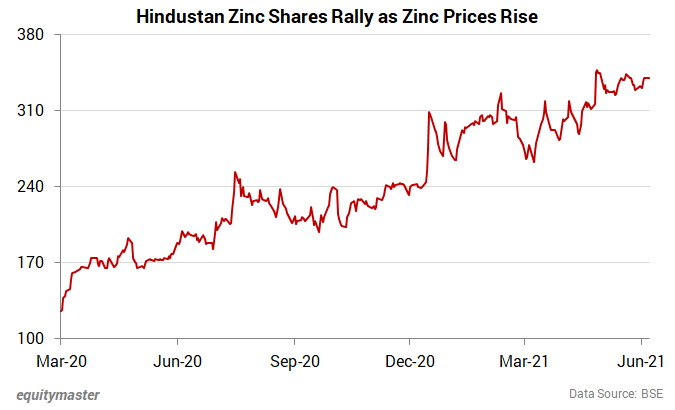 This chart clearly shows the impact of rising zinc prices in Hindustan Zinc's shares.
Hindustan Zinc shares will stay in focus as the company's management remains confident on zinc prices staying firm with the global demand environment remaining strong.
What next for metals?
As you can see from the above charts, base metal prices and metal stocks have been on fire since March 2020.
With strong demand led by post covid recovery, Indian companies bagging deals from global behemoths, and MNCs looking to set up capacities in India, the outlook for metals looks rosier than ever before.
In fact, senior Research Analyst at Equitymaster, Brijesh Bhatia, had called the metal sector as sector of the year at the start of 2021.
Brijesh is yet bullish on the sector. Back in June, he recorded a video on how you can make profits in metal stocks.
Even India's #1 trader Vijay Bhambwani thinks green metals are the future as ESG trend plays out in the world.
How metal stocks perform in the coming months remains to be seen. Meanwhile, stay tuned for more updates from this space.
Disclaimer: This article is for information purposes only. It is not a stock recommendation and should not be treated as such. Learn more about our recommendation services here...