Ami Organics Stock Makes Impressive Debut on Bourses. Lists at 49% Premium
Sep 14, 2021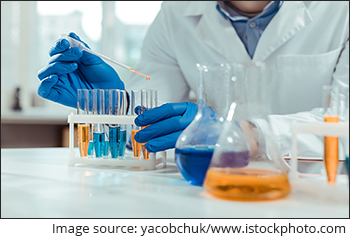 Shares of Ami Organics made a stunning debut on the stock market. It got listed at Rs 910 per share on the NSE, which is 49% above its issue price of Rs 610.
On the BSE, Ami Organics share opened at Rs 902, up 47.9%.
Post listing, the market capitalisation of the company stood at Rs 32.9 bn, according to BSE data.
Ami Organics is a manufacturer of specialty chemicals. It manufactures different types of advanced pharmaceutical intermediates and active pharmaceutical ingredients (API).
Over the last few months, several specialty chemicals companies debuted on the stock exchanges, receiving a mixed response.
While Clean Science and Technology and Tatva Chintan Pharma received a good response, the market was not so excited about Chemplast Sanmar and Anupam Rasayan.
Apart from that, Vijaya Diagnostic Centre also made its stock market debut today and witnessed a tepid listing. The counter got listed at 2% premium to the issue price of Rs 531 per share.
--- Advertisement ---
No crash, correction, or pandemic can STOP This...

At last, it's happening...

Right here in India...three hidden mega-trends are converging for the first time ever to trigger an economic boom of unparalleled proportions.

A boom so powerful - no crash, no correction, and no pandemic can STOP India from becoming the next economic superpower...

And those who take advantage of this mega shift could potentially generate massive wealth for themselves and their families in the long run.

We are talking about potential 1,000% gains...and perhaps even more over the long term.

But trust me, people who pass this opportunity will regret their decision in the years and decades to come...

So, if you want to save yourself from potential downsides of this mega shift...

...and instead, leverage on it for potential windfall gains...

Join us on 24th September at my special event...

Put your email in the box below and get your free ticket right away.
------------------------------
Ami Organics received strong response from investors
Ami Organics shares were in very high demand during the three-day share sale via initial public offering (IPO) which ended on 3 September 2021. The IPO was subscribed 64.54 times.
The company mopped up Rs 5.7 bn through its public offer that comprised a fresh issue of Rs 2 bn and an offer for sale (OFS) of Rs 3.7 bn by shareholders.
Non-institutional investors showed very high interest in the Ami Organics IPO as the portion reserved for them was subscribed 155 times the highest among the three groups of investors.
The portion set aside for the qualified institutional buyers (QIB) was subscribed 87 times, while the portion set aside for the retail individual investors was subscribed 13 times.
Usage of funds from the public issue
The fresh issue proceeds and the pre-IPO placement money will be utilised to repay debt of Rs 1.4 bn and working capital requirements (Rs 900 m).
The total debt of the company as of 31 March 2021 was about Rs 2.2 bn.
Company with good financials
The company has shown consistent financial performance with sales growth at compound annual growth rate (CAGR) of 19.5% and restated profit after tax growth at CAGR of 52.3% between the financial year 2019-21.
For the same period, earnings before interest, taxes, depreciation, and amortization (EBITDA) grew at 22.2% CAGR, while EBITDA margins expanded from 17.6% to 23.5%.
For the fiscal year 2021, the company reported a revenue of Rs 3.4 bn versus Rs 2.4 bn a year ago.
Ami Organics earned more than half of its revenue from overseas markets with exports contributing 51.5% to its revenues in the fiscal 2021.
--- Advertisement ---
INSIDER SECRET: An Astonishingly Easy Way to Pile Up Potentially 40-60% Gains in Just 1 Year

India's most well-connected trader with over 35 years of experience just confessed...

"This Lucrative Market Segment Could Leapfrog Over Nifty in The Next 12-16 Months"

... thanks to a massive and irreversible mega-trend fueling its growth!

In fact, he and his partner have already identified 2 spectacular stocks from this segment... which are ready to rake in potentially 40-60% gains in just 1 year... and make you big, fat profits!

The best part of them all...

Their Details Are Packed in This Special Report (Discover How to Claim it for Free)
------------------------------
Its profit before tax for the year stood at Rs 717.3 m compared to Rs 347.5 m recorded in the same period last year.
Net profit for the period stood at Rs 539.9 m against Rs 274.7 m last year.
Key Parameters
| (Rs m) | FY19 | FY20 | FY21 |
| --- | --- | --- | --- |
| Revenues | 2,385.1 | 2,396.4 | 3,406.1 |
| Revenue Growth (%) | | 0.5% | 42% |
| Expenses | 2,037.9 | 2,077.3 | 2,702.6 |
| Profit Before Tax (PBT) | 351.1 | 347.5 | 717.3 |
| Net Profit | 233.0 | 274.7 | 540.0 |
Data Source: Company's RHP
Recent acquisition by the company and its product portfolio
Recently, Ami Organics has completed the acquisition of two additional manufacturing plants operated by Gujarat Organics (GOL) in line with its inorganic growth strategy of foraying further into the specialty chemicals sector.
Specifically, subsequent to the acquisition, it has acquired the preservatives (parabens and parabens formulations which have end usage in cosmetics, animal food, and personal care industries) and specialty chemicals business of GOL (with end usage in inter alia the cosmetics, dyes, and agrochemicals industries).
Nareshkumar Patel, Chairman and Managing Director of Ami Organics said,
Rs 1.4 bn will be used for debt repayment, which was taken largely to fund the recent acquisition of two additional manufacturing facilities.
He said the company has developed and commercialised over 450 pharma Intermediates (88% revenue share in FY21) for APIs across 17 key therapeutic areas since inception.
Also, it is one of the major manufacturers of PIs like Dolutegravir, Trazodone, Entacapone, Nintedanib and Rivaroxaban of which first two contributed 44% of financial year 2021 revenues.
The focus on R&D and continuous process improvement has positioned them as a preferred supplier to their customers. Ami Organics serves 150 customers across India and 25 countries.
Some of its domestic customers include Laurus Labs, Cadila Healthcare, and Cipla and some of its key export customers include Organike, Fermion Oy, Fabbrica Italiana Sintetici, Medichem, and Midas Pharma.
REVEALED: 3 "Super Smallcaps" You Didn't Know About
Ami Organics grey market premium ahead of listing
Ahead of listing, Ami Organics shares were trading strong in the primary market. The shares were seen quoting at a premium of Rs 178, over the IPO price, in the grey market.
The grey market is an unofficial platform, wherein trading starts after the announcement of the IPO price band till the listing of the shares.
About Ami Organics
Incorporated in 2004, Ami Organics is one of the leading research and development driven manufacturers of specialty chemicals.
The company manufactures different types of advanced pharmaceutical intermediates and active pharmaceutical ingredients (API) for new chemical entities (NCEs), and material for agrochemicals and fine chemicals.
The firm has developed and commercialised over 450 pharma intermediates for APIs across 17 key therapeutic areas since inception and NCE, with a strong focus on research and development (R&D) across select high-growth, high margin therapeutic areas.
These include anti-retroviral, anti-inflammatory, anti-psychotic, anti-cancer, anti-Parkinson, anti-depressant, and anticoagulant, for use across the global pharmaceutical market.
The specialty chemicals maker has presence across many different states in India. Along with the domestic market, the firm said it supplies pharma intermediates used for manufacturing of APIs and NCEs to various multi-national pharmaceutical companies.
These cater to the large and fast-growing markets of Europe, China, Japan, Israel, UK, Latin America, and the US.
To know what's moving the Indian stock markets today, check out the most recent share market updates here.
Disclaimer: This article is for information purposes only. It is not a stock recommendation and should not be treated as such. Learn more about our recommendation services here...