Sep 14, 2023 - Why ITI Share Price is Rising
Why ITI Share Price is Rising
Sep 14, 2023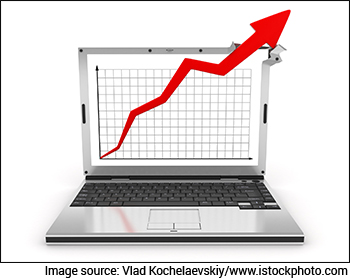 Benchmark indices have been on a winning streak of late. The Sensex has demonstrated remarkable strength by extending its winning streak for the ninth consecutive session.
Moreover, the Nifty index has achieved a significant milestone, breaching the coveted 20,000 mark for the first time on Wednesday this week.
This surge comes due to a positive response to favourable macroeconomic data, which has driven heightened investor interest in sectors like banking, energy, and telecom.
In this positive market sentiment, the share price of public sector company ITI Limited has witnessed an impressive 30% rally in just two days, resulting in an addition of over Rs 40 bn in its market capitalisation.
What's more, ITI's shares have reached a level not seen in over three years, underscoring the substantial momentum in the company's stock value.
What is driving the rally?
New Laptop Venture
The surge in ITI's share price can be attributed to the company's significant achievement in developing its own branded Laptop and Micro PC line, known as 'SMAASH.'
This new product line has not only successfully penetrated the market but has also outperformed well-established multinational competitors in various tenders.
ITI's strategic partnership with Intel Corporation for the design and manufacturing of these flagship products has undoubtedly boosted investor confidence.
This collaboration is underscored by the signing of a Memorandum of Understanding (MOU), signaling a promising future for the company's technological advancements.
Furthermore, the deployment of over twelve thousand SMAASH PCs across different customer sites highlights the market demand and acceptance for these products.
The inclusion of solar solutions for SMAASH PCs has also contributed to their popularity, as they utilise DC input.
The introduction of SMAASH laptops, catering to a range of configurations, including i3, i5, i7, and a student-focused Celeron model, further reinforces ITI's market presence and growth potential.
Positive Long Term Outlook
ITI has recently secured two significant tenders from KITE (Kerala Infrastructure and Technology for Education), resulting in the supply of approximately 9,000 laptops to government schools in Kerala. This achievement aligns with the company's broader strategy for sustained growth.
As of 30 June 2023, ITI boasts a substantial order book valued at Rs 114.6 bn. The company has set ambitious targets for the fiscal year 2024, with a projected turnover of Rs 26.5 bn.
To realise these goals, ITI is emphasising expanding its manufacturing capabilities and taking on turnkey projects as a system integrator (SI) to enhance value addition.
Further, ITI is currently engaged in the execution of a defence order related to Phase IV of the Army Static Switched Communication Network (ASCON) project.
This multifaceted project encompasses civil infrastructure works, the establishment of an optical fiber network, and equipment installation, including IP MPLS routers, microwave radio, and satellite terminals.
Demonstrating its commitment to national development, ITI has received a purchase order from BSNL for a 4G Mobile Network spanning 23,633 sites in the West Zone of the BSNL network.
Beyond its role as a system integrator for this project, ITI plans to manufacture 4G RAN equipment, catering to the requirements of various operators, encompassing both 4G and 5G technologies.
This underscores the government's emphasis on 'Make in India' and 'Atmanirbharta,' promoting self-reliance in manufacturing and presenting a significant opportunity for import substitution while fostering innovative indigenous solutions within the Telecom market.
How Shares of ITI Have Performed Recently
ITI share price is up 97% in 2023 so far. In the past one year, it has increased by 85%.
ITI touched its 52-week high of Rs 204.7 on 14 September 2023. Its 52-week low was Rs 86.6 touched on 28 March 2023.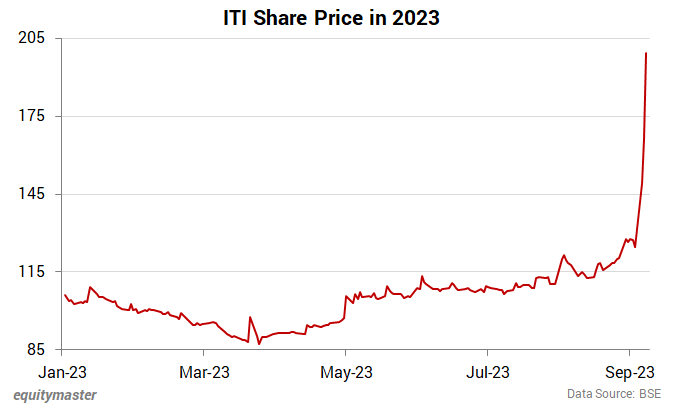 About ITI
ITI is a government of India undertaking.
The company offers a complete range of telecom products and total solutions covering the whole spectrum of switching transmission access and subscriber premises equipment.
It is the leading provider of electronic manufacturing i.e., defence electronics products & systems.
They manufacture mobile infrastructure equipment based on global systems for mobile (GSM) technology and code division multiple access (CDMA) technologies.
For more details, see the ITI company fact sheet and quarterly results. For a sector overview, read our telecom sector report.
You can also compare ITI with its peers:
Investment in securities market are subject to market risks. Read all the related documents carefully before investing
Want to Grow Your Wealth With Safe Stocks?
If you want a simple, safe, and hassle-free approach to long term wealth building...
Without having to worry about negative news or every little downswing in the market...
And without having to worry whether your investments will actually "deliver"...
You must read our note on Blue Chip Stocks now.
Details of our SEBI Research Analyst registration are mentioned on our website - www.equitymaster.com
Disclaimer: This article is for information purposes only. It is not a stock recommendation and should not be treated as such. Learn more about our recommendation services here...