Sep 15, 2022 - An Option Strategy Nifty Traders Shouldn't Miss Out On
An Option Strategy Nifty Traders Shouldn't Miss Out On
Sep 15, 2022
Following a stellar performance by the bulls yesterday, the Nifty 50 index managed to close above the 18,000-mark.
After a gap-up opening, bulls are losing ground after the first hour of the day. The Nifty has sliped over 200 points from the day's high.
Nifty 50 Technical Chart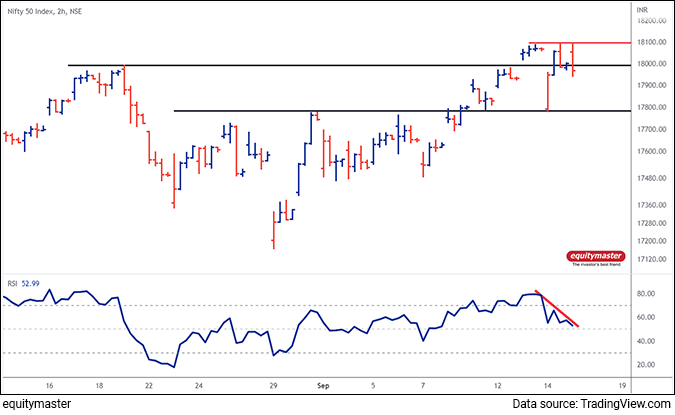 The multiple highs in the range of 18,080-18,100 marks a key resistance area for bulls.
The divergence of the Relative Strength Index (RSI) on the short-term chart signals a pause in the momentum. The index may trade in the range of 17,700-18,100 for a few days.
The momentum may accelerate only on an either side breakout. The stock-specific action can continue to offer better opportunities.
Options traders can look for strangle short strategy for next week or monthly expiry.
The medium-term trend continues to be bullish as discussed in the Daily Pre-Market Video. You can watch it here: Why Bank Nifty is going up.
Many traders are also wondering why the Bank Nifty index is going up.
I'm not a fundamentalist nor an economist to find the reason for Bank Nifty going up. I follow my charts.
Bank Nifty has been the leader over the last few weeks and is holding up the Nifty 50.
If you are following my Fast Profits Daily videos, you might not have the feeling of missing out on such opportunity. In this video, I had highlighted how the Bank Nifty can lead Nifty to an all-time high.
Heavyweight sectors like IT and pharma are losing their charm after their outperformance in 2020.
I believe, the best banking stocks will continue to rally higher and hold up the Nifty 50.
Nifty Bank Technical Chart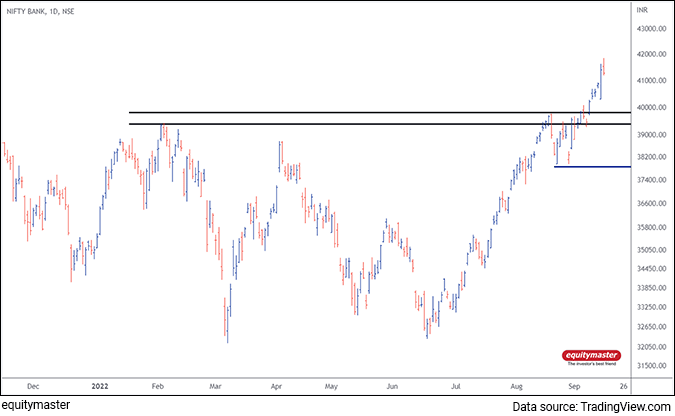 Additionally, India is outperforming against the global markets as we witnessed in yesterday's session.
If you're interested in being part of my charting journey as I share how to create wealth from the profitable trade setups, join my telegram channel - Fast Profits Daily. You'll get access to the best trading ideas in the stock market.
To know more about how the Nifty and Bank Nifty index are performing, please see the NSE Nifty Live Chart and NSE Bank Nifty long term chart.
Disclaimer: This article is for information purposes only. It is not a stock recommendation and should not be treated as such. Learn more about our recommendation services here...
Brijesh Bhatia Research Analyst and expert chartist, is the editor of Alpha Wave Profits. Fully committed to his craft, Brijesh has mastered the art of making money by trading using technical analysis. Brijesh has an MBA from ICFAI and 16 years of experience in India's financial markets. He began his career on Dalal Street as commodities dealer and it wasn't long before he developed his own unique trading system. Brijesh worked on his trading system until it could be expected to deliver 5 units of return for every unit of risk.