Ashish Kacholia Portfolio Stock Zooms 69% in 3 Days. What Next?
Sep 15, 2023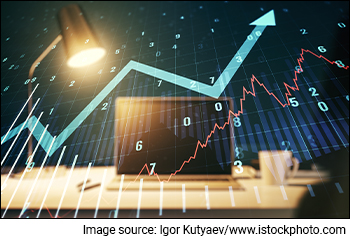 Indian markets have faced strong volatility in 2023 year-to-date (YTD) on the back of major macro headwinds like inflation, rate hikes, and recession fears.
Also, stock-specific news like fraud allegations on Adani Group weakened investor sentiment and led to strong foreign investor outflows. However, post-March, the markets witnessed a healthy recovery, hitting multiple new highs through June, July, and September.
With benchmark indices hitting high, many stocks have given over 50% return in the past three months.
Finding hidden gems in the market at an early stage is tough, needing years of research, market expertise, and a dash of luck.
Many struggle to master this art, but certain seasoned market veterans have honed their skills in this area over the years.
One of them is Ashish Kacholia.
Today, we shine a spotlight on one particular stock from Ashish Kacholia's portfolio that has surged by an astounding 50% in a mere one-month timeframe: NIIT.
Ashish Kacholia's holding in NIIT
Ashish Kacholia is known for identifying the best multibagger stocks. He is known as the 'Big Whale' of the Indian stock market.
Over the years, he has picked the best multibagger stocks by looking at the fastest-growing companies from the midcap and smallcap space.
According to the data on the exchanges, Ashish Kacholia holds a 2.23% stake or 3 million shares in NIIT.
Kacholia entered NIIT in the June 2018 quarter by adding 4.2 m shares or a 2.57% stake in the company.
NIIT (formerly known as the National Institute of Information Technology) is an Indian multinational information technology (IT) and educational services company.
In the three trading days, the stock of the education company has zoomed 68.6% from a level of Rs 82.43 touched on 8 September 2023.
Here's why the shares of Ashish Kacholia's education stock have been on a roll.
#1 Xsel Learning Platform Implementation
The recent surge in NIIT's share price can be attributed to the successful implementation of its cutting-edge Xsel Learning platform in partnership with CENTURY 21 Heritage Group.
This innovative platform represents a groundbreaking leap in real estate education and technology. By offering this digital learning solution, Xsel is reshaping how organisations nurture and advance their talent.
Xsel offers a range of tools and resources to improve skills and performance, leveraging NIIT MTS' expertise in transformative learning. Its immersive and interactive modules empower learners to acquire new competencies, upskill, and reskill.
This integration is poised to significantly bolster the organisation's capabilities and amplify its influence on the continuous learning journey of its agents, which has undoubtedly contributed to the positive sentiment surrounding NIIT's stock price.
NIIT Group has set an ambitious target of achieving revenues of Rs 12 bn by FY27-28.
What Next?
India stands at the cusp of multifaceted growth opportunities. Going forward, NIIT is looking to expand into new areas that have the potential for growth in the future. Notably, the role of AI is particularly intriguing and central to our endeavours.
The strategy involves diversification, with a focus on emerging sectors for talent acquisition.
Fields such as advanced manufacturing, design, engineering R&D, and supply chain management are under consideration as promising domains for large-scale talent recruitment in India.
These sectors occupy a prominent position in India's quest for substantial talent resources. The company is committed to taking a leadership role here.
This diversification strategy holds significant potential as a transformative game-changer.
How shares of NIIT have performed recently
NIIT share price is down 59% in 2023 so far. In the past one year, it has eroded 60%.
NIIT touched its 52-week high of Rs 154.8 on 14 September 2023. Its 52-week low was Rs 61.6 touched on 28 September 2023.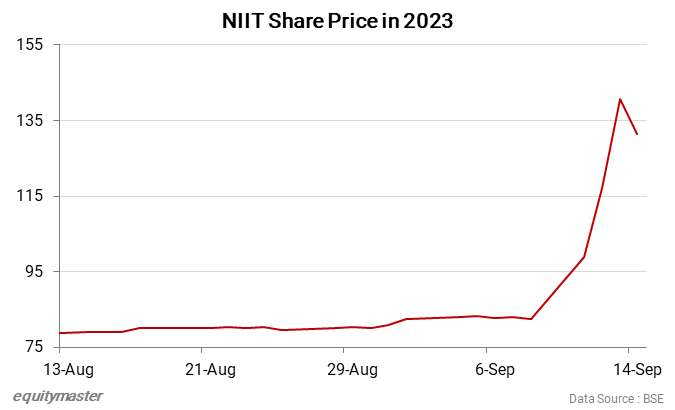 About NIIT
NIIT is a multinational skills and talent development corporation.
The company was set up in 1981 to help the nascent IT industry overcome its human resource challenges. NIIT offers training and development to individuals, enterprises, and institutions.
NIIT has a presence in over 30 countries and has trained over 40 million people.
The company is a leading provider of training and development solutions in India and is also a major player in the global market.
For more details, see the NIIT company fact sheet and quarterly results.
You can also compare NIIT with its peers:
Investment in securities market are subject to market risks. Read all the related documents carefully before investing
Want to Grow Your Wealth With Safe Stocks?
If you want a simple, safe, and hassle-free approach to long term wealth building...
Without having to worry about negative news or every little downswing in the market...
And without having to worry whether your investments will actually "deliver"...
You must read our note on Blue Chip Stocks now.
Details of our SEBI Research Analyst registration are mentioned on our website - www.equitymaster.com
Disclaimer: This article is for information purposes only. It is not a stock recommendation and should not be treated as such. Learn more about our recommendation services here...