What Sparked an 8% Rally in ITC Shares Today?
Sep 16, 2021
Meme favourite stock and the darling of retail investors - ITC rallied 8% in early trade today.
Between March and June quarter this year, ITC saw the highest amount of buying by retail investors wherein a total of 134.8 m shares were bought. Cleary, this shows the confidence retail investors have in the FMCG company.
This sudden rally in one of the most underperforming stock raised many eyebrows as ITC is not known for making this big a movement.
On most of the days, ITC trades in a narrow range. For example, ITC shares have traded rangebound between Rs 200-240 for the last 10 months.
This sudden rally also led to people posting several memes on social media platforms WhatsApp, Twitter, and Facebook.
So what sparked a sudden rally in ITC shares?
Expected rally
At this point, there's no definite reason behind this surprise rally. As ITC has been an underperformer in the recent bull market, it was on expected lines that the stock could move upward.
The stock of the company has remained stubbornly around Rs 200-240 even as Nifty moved from 9,800 to more than 17,500.
Have a look at the table below which shows Nifty's journey from 8,000 to 17,000 and where ITC shares were trading at that time.
| Date | Nifty | ITC |
| --- | --- | --- |
| Sep-14 | 8,000 | 234 |
| Mar-17 | 9,000 | 267 |
| Jul-17 | 10,000 | 291 |
| Jan-18 | 11,000 | 276 |
| Jun-19 | 12,000 | 279 |
| Nov-20 | 13,000 | 195 |
| Jan-21 | 14,000 | 214 |
| Feb-21 | 15,000 | 233 |
| Aug-21 | 16,000 | 210 |
| Aug-21 | 17,000 | 211 |
Data Source: Ace Equity
High volumes of around 6 m shares as compared to an average of 1.3 m shares have been traded daily in the past two weeks. Today on the National Stock Exchange (NSE), a total of 89.2 m shares were traded within first two hours.
Also, there's nothing wrong with the company's fundamentals. As the unlock activity plays out, there will be a spike in ITC's topline.
The rally could also be specific to developments in the cigarette industry as most of the tobacco manufacturers are trading 5-10% higher. These stocks include Godfrey Phillips, VST Industries, NTC Industries, Golden Tobacco, and Raghunath Tobacco.
There might be another reason behind today's rally. There are speculations that the company might demerger some of its units.
As ITC is involved in too many verticals, there have been suggestions that various units of the company should be demerged. Especially those that consume a lot of cash like its hotel business.
ITC's capital allocation in the past does not have a good record and as management corrects this mistake, the markets have high expectations.
In the latest annual general meeting (AGM), the company's chairman and managing director Sanjiv Puri told shareholders that digital and sustainability, the two defining trends of the new normal are going to be ITC's focus in the years ahead.
Investors have high expectation of restructuring of ITC that might be announced next month.
There are also demands of share buyback and more proactive management actions.
Analysts bullish and for good reason
On top of the above reasons, there's also bullishness shown by brokerage houses.
They believe the company's cigarettes business will fully recover with the aggressive vaccination drive & reduction in Covid-19 cases.
They are also banking on cooling down of commodity prices that would improve ITC's margin.
Last week, global research firm CLSA said ITC's FMCG business is firmly on the path for a profitable scale-up and expects to deliver a decent CAGR in the coming years.
Here what the firm mentioned in a note.
During the pandemic, ITC has so far acquired Sunrise. The acquisition has provided synergy opportunities through the sourcing and supply chain capabilities of ITC's agribusiness and strong distribution network.

Besides augmenting ITC's product portfolio, the acquisition is also aligned with the company's aspiration to significantly scale up its spices business.
Equitymaster on ITC
Last month, co-head of Research at Equitymaster, Rahul Shah wrote an editorial on why this is the best time in years to buy ITC.
Here's an excerpt:
I have a strong feeling that unless something goes drastically wrong with the fundamentals, the stock may have reached a nadir.

Put differently, the stock may not fall much from the current levels. On the contrary, this could perhaps be the best time in a long time to buy the stock.

Why?

My optimism stems from the low interest rates on offer across a spectrum of asset classes.

Take fixed deposits for example. I recently renewed my FD with a leading private sector bank at an interest rate of just 5% per annum.

Well, this is exactly the dividend yield that ITC is currently trading at.
You can read the entire piece here: This Could be the Best Time in Years to Buy ITC
Stock performance
ITC share price opened the day on a flat note at Rs 216.40 against its previous close of Rs 216.
It saw a sudden spike in early trade and rose over 7% to touch a high of Rs 233.30. The stock is currently trading at its highest level since February 2021.
ITC shares have a 52-week high quote of Rs 239.15 touched on 9 February 2021 and a 52-week low of Rs 163.40 touched on 29 October last year.
Over the past one year, shares of the company have gained 29%.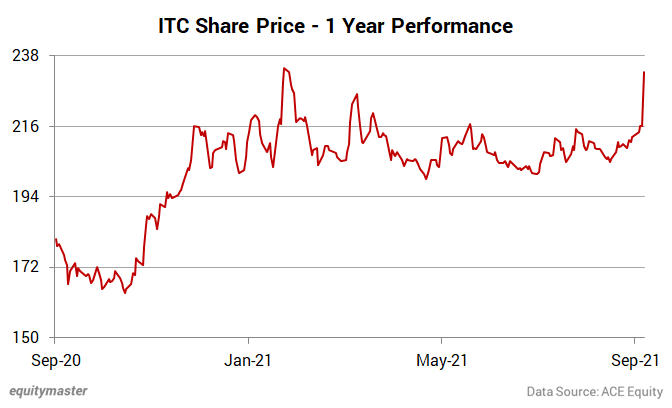 The company has been a consistent dividend payer over the years. At the current price of Rs 230, ITC gives a dividend yield of 4.66%.
ITC also features among the top 10 listed companies with the highest retail holding in value terms. At the end of the June quarter, the cumulative value of retail holding in the company was pegged at Rs 313.9 bn.
To know more, check out ITC's latest shareholding pattern.
About ITC
Established in 1910, ITC is India's biggest cigarettes & second largest fast moving consumer goods (FMCG) company with 78% market share in cigarettes and presence in staples, biscuits, noodles, snacks, chocolate, dairy, and personal care products.
The company is also present in paperboard, printing & packaging business with revenue of Rs 45.5 bn and agri-business with Rs 80 bn as of fiscal 2021.
The company completed 100 years in 2010 and it employs over 36,500 people at more than 60 locations across India and is part of the Forbes 2000 list.
To know more, check out ITC company fact sheet and quarterly results.
For a sector overview, read our FMCG sector report.
You can also compare ITC with its peers:
To know what's moving the Indian stock markets today, check out the most recent share market updates here.
Disclaimer: This article is for information purposes only. It is not a stock recommendation and should not be treated as such. Learn more about our recommendation services here...