Saudi Drone Attacks - What Next?
Sep 17, 2019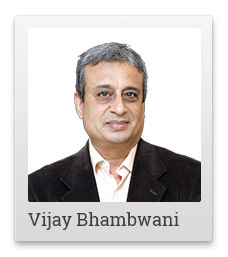 It was an unforgettable Saturday for oil traders last week.
Not since 30 December 2006 when Saddam Hussein was hanged, did oil traders feel this nervous.
Houthi rebels allegedly sent ten explosive drones to hit the Hijra Khurais and Abqaiq oil installations and caused heavy damage.
While I have been advocating higher oil prices in my articles this event is a shocker. Naturally, market traders have a lot of questions. I attempt to answer them below -
Question - Is the world running out of oil because of this attack?
Answer - No.
--- Advertisement ---
Smallcaps have been very volatile in recent days.

The amateur investor is probably scared...and thinking of dumping smallcaps.

But if you're a seasoned, long-term player, you know that moments like these are great buying windows.

In fact, the recent correction has opened a rare buying window in Richa Agarwal's 3 'Dark Horse' Stocks.

Watch This Free Video for More Details
------------------------------
Do remember how a week ago, even falling US crude inventories could not revive oil prices. The Saudis were trying to get fellow OPEC members to cut output to boost prices. The Russians too have cut output. So oil reserves are not the problem here.
Abqaiq is an almost depleted oil well which needs EOR (enhanced oil recovery) techniques to keep pumping oil. The Saudis have a giant GOSP (Gas Oil Separation Plant) onsite. It is this plant that was severely crippled. So it's not the Saudi oil reserves that were hit but the oil refining capacity.
And capacity can be rebuilt. The wildcard here is the element of time.
Q - Did the Saudis hit their own installations to push prices higher?
A - Conspiracy theorists think so. Frankly, the thought did cross my mind too.
But the weight of evidence seems to point the other way. Why did the Saudis keep pumping oil even at US$ 30/barrel in 2016? They wanted to retain market share. They also wanted to drive US shale oil sellers out of the export market.
FREE Stock Screener: Find India's Most Exciting Smallcap Stocks
These threats exist even now. Also, the US is a net oil exporter now. The Russians are raring to export more. The utter horror of the Saudi administration will be if Iran (its bitter competitor) gains Saudi market share.
So far oil prices were "boosted" by causing chokepoints in Bab-el-Mandeb, Straits of Hormuz, Malacca Straits, and Somali pirates. These tried and tested formulae worked just fine.
My gut feeling is the Saudis probably did not set fires to these installations themselves.
They have more to lose than gain from zooming oil prices. Price rise is fine. A skyrocketing price is not.
Then there is demand destruction that occurs at high prices. Alternate energy becomes viable. Let us not forget the Houthis have bombed the Riyadh international airport recently using missiles from Beirut. Drones are tiny, maybe mistaken as birds on radar and lethal. I would give the Saudis a benefit of doubt.
--- Advertisement ---
What CNBC Won't Tell You...


The next 10 years would be a golden period for Indian investors...

The "Big Bull" Rakesh Jhunjhunwala claims it could be one of the largest stock market bull runs in India ever...

And veteran investor Raamdeo Agarwal says the S&P BSE Sensex could even reach 200,000 points in the next 10 years... All thanks to these...

Highly Powerful Wealth-Building Mega-Trends
------------------------------
Mathematically speaking, the probability of the attacks being stage managed is under 25%-30%. Besides, the Houthis have recently owned responsibility for the attacks.
Q - How high and how long will oil prices stay high?
A - Saudis have claimed losing 5.7 m barrels/day capacity. This is approximately 5% of global output and approximately half of Saudi daily output. Since this is a disruption of refining capacity rather than loss of reserves, the problem is not as severe.
A 5% temporary drop in supplies should not send oil prices beyond 20-25% higher on a sustainable basis.
Sure, a bear squeeze may cause sentiment based volatility but prices will stabilise sooner than you expect.
Remember the Gulf war of 1990, Gaddafi's killing, the London bombing? Crude shot up only to cool off within weeks. I expect this time to be no different. All we need is word from the Saudis that their capacity is restored. The fall will be as spectacular as the rally.
Q - What should I do with my portfolio?
A - Don't panic and leave it be. When you look back and think of Saddam's occupation of Kuwait, do you feel panic? No, right?
A few quarters from now, these attacks will evoke a similar response. Stay invested.
Remember, ships are safest in the harbour but that's not what they're made for.
Have a profitable day.
Warm regards,

Vijay L Bhambwani
Editor and Research Analyst, Weekly Cash Alerts
Vijay L Bhambwani, is the editor of Weekly Cash Alerts and Fast Income Alerts. He is a professional trader, author, trading mentor, and lifelong student of the markets. He has been an active trader since 1986. Financial markets are his life and passion. Everything else in his life revolves around his main objective - trading. Vijay believes that no matter how much a trader has lost in the market, it is possible with hard work and smart work to get it all back over time. Understanding the method behind the madness of the markets interests him more than the profits. He specialises in predictive style of technical analysis, in the commodity, currency, and equity markets. That is the foundation stone of his style of trading - Neuro Behavioural Technical Analysis. Vijay trains other professional traders. He is empaneled with the BSE & NSE as a visiting faculty for various finance market courses. He created the early course content for the Diploma in Commodity Markets (DICM), certified by the Forward Markets Commission. He was a training mentor at the MCX between 2005-2009. He is the first author to have his book - A Traders Guide to Indian Commodity Markets published by CNBC Publishing 18, in 2009 - approved and sponsored by the NCDEX. Vijay has done over 8,000 TV shows in the last 17 years and has written over 4,000 columns/articles in the print and electronic media. He is one of the first columnists to write a weekly column in the English language print media after the commissioning of the MCX, via his columns in the DNA Money, Business Standard and others.