5 Specialty Chemical Stocks that Turned Multibaggers in One Year
Sep 17, 2021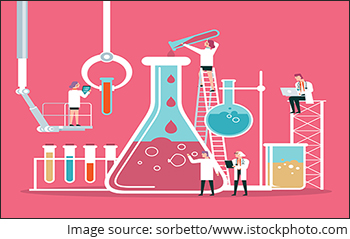 Lately, the specialty chemicals sector is creating a lot of buzz in the market.
This sector is not only attracting investors from the secondary market but also seeking their attention from primary markets as well.
Over the last few months, several specialty chemical companies debuted on the stock exchanges.
A few of them who came out with their initial public offerings (IPO) were Tatva Chintan Pharma, Clean Science & Technology, Ami Organics, and Chemplast Sanmar.
Specialty chemicals are particular chemical products which provide a wide variety of effects on which many other industry sectors rely.
Some of the categories of specialty chemicals are adhesives, agrichemicals, colors, cosmetic additives, construction chemicals, food additives, fragrances, industrial gases, lubricants, paints, surfactants, and textile auxiliaries.
Industries such as automotive, aerospace, food, cosmetics, agriculture, manufacturing, and textiles are highly dependent on such products.
This is one of the reasons why the specialty chemicals industry is booming in India and gaining traction from strong domestic demand and export opportunities.
The industry is particularly in a sweet spot as many global players are looking to reduce their reliance on China post-Covid-19.
Recent pollution control measures in China have also resulted in the closure of many factories in that country. It's directly benefiting their Indian counterparts.
--- Advertisement ---
Going LIVE Today: EV Gold Rush Special Event

Today at 5 PM sharp, we will go LIVE with our special event - the EV Gold Rush.

At the event, Tanushree will share with you the complete details of our multi-year research on electric vehicles...

Including details of 3 stocks to ride this massive 15x EV opportunity.

Tanushree believes these 3 stocks could potentially offer life-changing gains in the long run.

Don't miss it for anything.

Click the link below to register for free.

Click here to sign up for FREE.
------------------------------
Considering all these factors, specialty chemicals stocks have done exceptionally well in the last few months.
Here's the list of stocks from this space that have managed to give multibagger returns in the last one year.
#1. Balaji Amines
Balaji Amines is one of the largest manufacturers of aliphatic amines in India. It specialises in manufacturing methylamines, ethylamines, derivatives of specialty chemicals, and pharma excipients.
The company has a diversified product portfolio with a basket of over 25 different products.
Its products find application in many industries like pharma, agro, rubber chemicals, photographic chemicals, rocket fuel, pesticides, solvents, performance chemicals, water treatment chemicals, etc.
Balaji Amines operates its specialty chemicals business through its subsidiary Balaji Specialty Chemicals in which it holds a 55% stake.
The specialty chemical maker has a global presence and earns about 19% of its total revenues from exports. It exports its products to 50+ countries.
Over the last five years, the company has delivered good profit growth of 32.8% compound annual growth rate (CAGR) and sales growth of 15%.
The company has an installed capacity of 1,84,500 million tonnes per annum (MTPA) of amines and amines derivatives and it also have a capacity of 45,000 MTPA of specialty chemicals.
Capacity additions done by the company over the span of 3-5 years have really helped them to achieve new heights in the industry.
--- Advertisement ---
The Rebirth of India

India's leading research analyst, Tanushree Banerjee, will show our readers how an upcoming mega shift would drastically change the state of the Indian economy...

And how investing in three high-potential stocks at the heart of this rebirth...

...could potentially hand them 100%, 300%, 500%, even 1,000% or more in the long run.

Since you are one of our valued readers, we sincerely urge you to head over here for more details
------------------------------
Also, the company has a stable and diverse blue-chip customer base. Key customers include Sun Pharma, Dr. Reddy's, Aurobindo Pharma, Jubilant Lifesciences, Hindustan Petroleum, and Zydus Cadila.
Over the last year, Balaji Amines gave stunning returns to its investors. Its share price is up by 453%.
Currently, the counter is trading at Rs 4,813 per share. At this price, the company has a market cap of Rs 159.4 bn.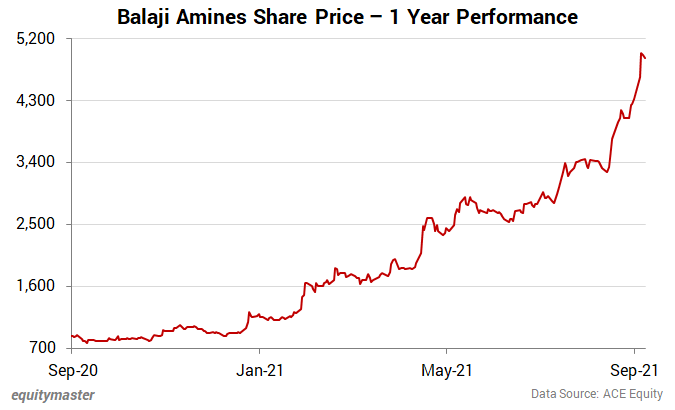 #2. Privi Specialty Chemicals
Privi Specialty Chemicals (formerly known as Fairchem Specialty) is India's leading manufacturer, supplier, and exporter of aroma and fragrance chemicals and a globally trusted partner and supplier of bulk aroma chemicals.
Growing demand from the fragrance industries is one of the major factors driving the stock higher.
Recently, Privi Speciality Chemicals announced that it has signed a joint venture (JV) agreement with Givaudan SA for setting up a new greenfield production facility which will be built in Mahad.
The facility will have state of the art manufacturing equipment tailor made to manufacture small-volume fragrance ingredients of medium to high complexity, also known as specialty ingredients.
Givaudan SA is a Fortune 500, Swiss multinational manufacturer of flavours, fragrances (F&F), and active cosmetic ingredients. It's the number one F&F company of the world, having worldwide operations across multiple countries.
On the financial front, net profit of the company jumped 39% in the quarter ended June 2021 due to strong operational performance. Also, the company has a good dividend track report and has consistently declared dividends for the last 5 years.
The share price of Privi Specialty Chemicals, a smallcap company, is up by 228% in the period of one year while in one month the stock is up by more than 19%.
The company's share price is trading at Rs 1,890 on the BSE and has a market cap of Rs 75.4 bn.
Going LIVE Today at 5pm: The EV Gold Rush Special Event
#3. Supreme Petrochem
Supreme Petrochem (SPL) is engaged in manufacturing and trading of petrochemicals. The company's primary business segment is styrenics. It's India's largest producer and exporter of polystyrene polymer (PS) based in Mumbai.
In India, it has a market share of more than 50%. The company is also the largest exporter of PS from India, exporting to over 93 countries around the globe.
For the June quarter 2021, the company reported a 1,331% increase in consolidated profit compared to loss of Rs 118.8 m in the same quarter last year.
Supreme Petrochem is gradually moving from the regular commodity-based business to value-added, high-margin products.
Moreover, SPL is benefitting in the domestic market from the shutdown of the LG Polymers facility in India. It is the second largest polystyrene manufacturer in India; accounting for close to 25% of India's PS capacity, post a styrene vapour leakage incident at its plant.
SPL reported significant volume growth in last two-three quarters, on account of the diversion of the incremental volumes catered by LG Polymers.
In relation to the same, the board is looking at a growth capital expenditure (capex) plan.
Supreme Petrochem' share price has surged over 215% in the last one year. The company's marketcap stands at Rs 65.6 bn and it's currently trading at Rs 702 on the BSE.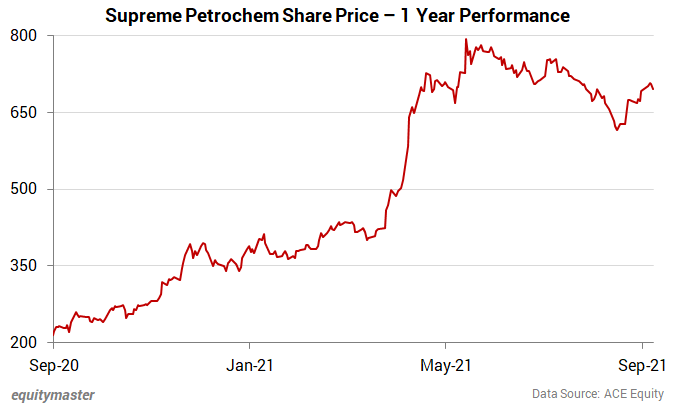 #4. Gujarat Fluorochemicals
Gujarat Fluorochemicals is India's largest producer (by volume) of chloromethanes, refrigerants and polytetrafluoro-ethylene (PTFE). It's a subsidiary of Inox Leasing and Finance.
The company has two subsidiaries - Gujarat Fluorochemicals Americas LLC and Gujarat Fluorochemicals GmbH.
The company has three manufacturing facilities in India, a captive fluorspar mine in Morocco, warehouses in Europe and US. It's expanded into fluorospeciality chemicals, exporting to over 75 countries.
The chemical company's clients belong to sectors such as automotive, aerospace, semiconductors, electronics, common household appliances, telecommunications, healthcare and architecture.
Gujarat Fluorochemicals has been adding various new products and has filed for Lithium Hexafluoro Phosphate (LiPH6) as one of the products. Due to rising emphasis on electronic vehicles (EVs), market analysts expect the demand for LiPH6 to rise.
Shares of Gujarat Fluorochemicals have rallied nearly 200% this year (year to date or YTD) alone and have surged around 228% in one year.
From below Rs 570 level in early January, the stock currently trades at around Rs 1,715 per share. The midcap multibagger has a market cap of Rs 188.6 bn.
#5. Alkyl Amines
Alkyl Amines Chemicals is in the business of manufacturing and marketing various aliphatic amines and other specialty chemicals.
The company has three manufacturing sites with 12 production plants and related utilities at Patalganga and Kurkumbh in Maharashtra and Dahej in Gujarat. The company has an R&D centre in Pune.
Alkyl Amines has a portfolio of 100 products and it's one of the global leaders in ethyl amines.
Apart from manufacturing basic aliphatic amines like methylamines and ethyl amines, Alkyl has over the years also diversified into value added products like amine derivatives and speciality chemicals.
These products find applications in end-user industries like pharma, agro, water treatment, foundry, dyes etc.
Amine makers are expected to do well because of the rapid scale-up in vaccine manufacturing.
On the financial front, the company has delivered good profit growth of 42.9% CAGR over last 5 years and it's almost debt free.
The current capacity is of 80,000-90,000 MTs per annum of various aliphatic amines and existing capacity utilisation is currently 80% to 90%.
With the growing demand for company's products, Alkyl Amines has approved additional capacities of approx. 30-40% in aliphatic amines depending on mix.
Alkyl Amines Chemicals' share has delivered 197% return to its shareholders in the last 12 months. Currently, the counter is trading at Rs 4,000 per share. At this price, the company has a market cap of Rs 206.7 bn.
To know more about the company's shareholding pattern, please click here.
Indian Specialty Chemical Industry Outlook
India's specialty chemicals market is expected to grow to US$40 bn by 2025 from US$28 bn in 2018, according to a study by McKinsey & Company. The country is the fastest growing major specialty chemicals market in the world.
Asia is expected to drive 70% of the incremental specialty chemicals demand till the financial year 2025, primarily fueled by disproportionate growth in China, and India. Thus, players have an imperative to make bold moves.
Also, some of the major chemical companies in India have been investing in research and development (R&D) from the past several years.
The R&D spend as a total percentage went up to three times over the last decade. Such investments will really help India to become one of the leading suppliers in the global market.
Low cost of manufacturing and availability of skilled labour amalgamated with a proven track record of producing world quality products is one of the enabling factors for the Indian specialty chemicals market to grow.
Talking about the sector's growth prospects and its outlook in near future, market observers are looking out for new investment opportunity in specialty chemicals space.
One needs to be very choosy in playing chemical stocks as they trade at valuations which are of consumer companies. If they disappoint on growth going ahead there can be significant de rating in these stocks.
If you are planning to invest in this sector, keep in mind the overall factors favoring and impacting the industry.
Happy Investing!
Disclaimer: This article is for information purposes only. It is not a stock recommendation and should not be treated as such. Learn more about our recommendation services here...