Why UCO Bank Share Price is Rising
Sep 18, 2023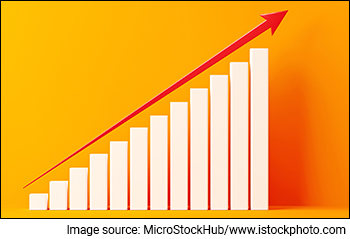 Over the past one-year, public sector banks (PSBs) have taken the lead in the Indian banking sector, surpassing their private sector counterparts.
The Nifty PSU Bank Index, which tracks the performance of PSBs, has experienced an impressive surge of 52% over the past year. This performance far surpasses the Nifty Bank Index, which recorded a gain of only 12% during the same period.
In the past week spanning 8-15 September, the Nifty PSU Bank Index continued to show strength, rising by 7.2%. In contrast, the Nifty Private Bank Index registered a more modest increase of nearly 2% during the same week.
Among these PSBs, UCO Bank's shares have excelled, yielding multibagger returns of 187% over the past year, with surging 27% in the last five days.
Here's why shares of the company have been on roll recently.
#1 Lending Rate Hikes
Following a decision by the state-run firm to raise lending rates, the company's shares have been performing exceptionally well. On 8 September, this public sector lender announced a 0.05% increase in lending rates across various tenures.
According to a regulatory filing, UCO Bank implemented these changes, affecting the Marginal Cost of Fund-Based Lending Rates (MCLR) and Treasury Bill Linked Lending Rates (TBLR) starting from 10 September.
The revised lending rates set by UCO Bank are as follows: Overnight rates: 7.95%, one-month rates: 8.15%, three-month rates: 8.30%, six-month rates: 8.55%, and one-year rates: 8.70%.
The benchmark rates like the repo-linked rate, base rate, and BPLR remain unchanged, as per the bank's announcement.
This can lead to improved profitability for the bank.
#2 Vostro Accounts Push
The rally in UCO Bank's shares can be attributed to its strategic advantage of India's push to elevate the rupee's international standing.
UCO Bank is the first Indian bank to have received approval from the Reserve Bank of India (RBI) to open special rupee vostro accounts for foreign banks. Vostro accounts are accounts that foreign banks maintain with Indian banks to facilitate trade transactions in rupees.
UCO Bank has already opened four such accounts for Russian banks and has will open eight more. The bank is also in talks with banks from other countries, including Sri Lanka, the Maldives, and Southeast Asia, to open rupee vostro accounts.
Out of these eight, six are from Russia and two from Belarus.
The Indian government is pushing to make the rupee international to reduce its dependence on the US dollar and to promote global trade in rupees.
This would make it easier for Indian businesses to trade with other countries and would also boost the value of the rupee.
UCO Bank is well positioned to benefit from this trend. The bank has a strong presence in international trade, and it is also one of the few Indian banks with experience in managing rupee vostro accounts.
What Next?
The decision by the Reserve Bank of India to allow banks to incorporate pre-sanctioned credit lines into the Unified Payments Interface (UPI) system is poised to have a substantial impact on transaction growth.
This move comes in response to a longstanding demand from customers, and its implementation is expected to lead to widespread adoption of the UPI platform. Banks will need to invest in technological advancements to make this feature accessible to their clientele.
Previously, the UPI System only permitted transactions involving deposited funds.
However, with the inclusion of pre-sanctioned credit lines, UPI is set to become a more versatile and widely used payment platform.
As the country continues to establish partnerships with other nations, UPI is foreseen to require a diverse range of payment mechanisms in addition to its existing solutions. Banks are committed to providing these services both now and in the future.
Recent data from the National Payments Corporation of India (NPCI) reveals that UPI transactions have reached an impressive milestone of 10 billion in a month. Projections suggest that this figure could double to 20 billion within the next 18-24 months.
How UCO Bank shares have performed recently
UCO Bank has gained over 26% in the last five days and more than 44% in the month gone by.
In the past year the shares of the company have surged by 267%.
The company touched its 52-week high of Rs 48.35 on 18 September 2022 and its 52-week low of Rs 11.46 on 28 September 2022.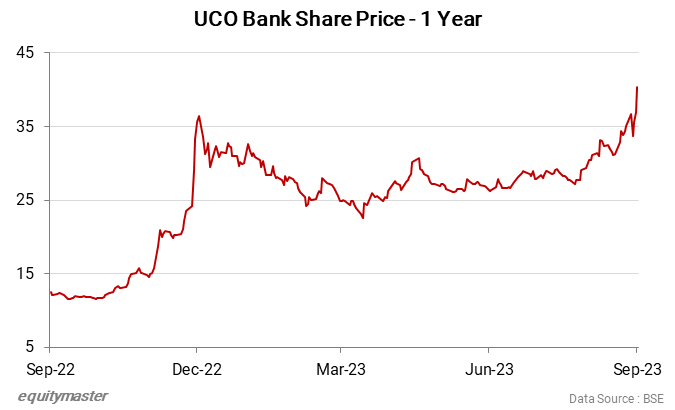 About UCO Bank
UCO Bank is a commercial bank and a government of India undertaking.
It offers a host of value-added banking solutions to its customers including international banking services, services for NRIs loan schemes, deposit schemes, and value-added e-banking solutions. They also possess a host of branches authorised for direct tax collection in India.
The bank has 34 regional offices and 230 branches in India.
The bank has an international presence with four overseas branches in two important financial centers in Singapore and Hong Kong and representative offices in Kuala Lumpur, Malaysia, and Guangzhou in China.
For more details about the company, check out the UCO Bank fact sheet and quarterly results.
You can also compare UCO Bank with its peers:
UCO Bank vs Bank of Maharashtra
UCO Bank vs Au Small Finance Bank
To know what's moving the Indian stock markets today, check out the most recent share market updates here.
Investment in securities market are subject to market risks. Read all the related documents carefully before investing
Want to Grow Your Wealth With Safe Stocks?
If you want a simple, safe, and hassle-free approach to long term wealth building...
Without having to worry about negative news or every little downswing in the market...
And without having to worry whether your investments will actually "deliver"...
You must read our note on Blue Chip Stocks now.
Details of our SEBI Research Analyst registration are mentioned on our website - www.equitymaster.com
Disclaimer: This article is for information purposes only. It is not a stock recommendation and should not be treated as such. Learn more about our recommendation services here...