Sep 18, 2023 - India's Solar Panel Manufacturing Boom is Here. 4 Stocks for Your Watchlist
India's Solar Panel Manufacturing Boom is Here. 4 Stocks for Your Watchlist
Sep 18, 2023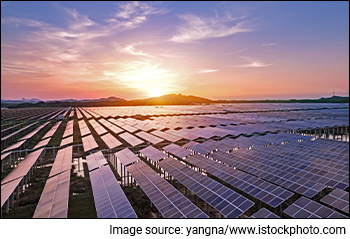 If someone was to ask you about the country of origin when it comes to buying solar panels in India, what would you say?
If your answer is China, you would have been right... last year. In the first half of 2022, India imported 9.8 GW of solar modules from China.
But in the first half of this year that number has crashed to 2.3 GW, a 76% reduction. In the same period, China's exports of solar panels actually went up by 3%. This is as per a report from a solar industry think tank.
In fact, India was the only country to see a fall in imports. Every other nation on Earth, including western nations, that are installing solar panels, are using imported Chinese equipment.
So why are Indians buying fewer Chinese solar panels?
Well, the answer is fundamentally tied to India's solar manufacturing boom and 'Make in India'.
To fulfil its commitment to the Paris Climate treaty, India is undergoing a revolution in the solar industry. The domestic solar industry is thriving on the back of robust demand and government support. The government's goal of establishing a resilient domestic solar eco system is gaining pace.
Let's dive into the reasons behind this boom...
Customs Duty Hike
Back in April 2022, the government imposed a 40% customs duty on the import of solar modules and 25% customs duty on the import of solar cells.
This move has made imports expensive and thus, given a boost to domestic manufacturing.
Industry experts say the trend towards self-sufficiency is now irreversible. It's only a matter of time that India drops its reliance on China in the solar sector.
Approved List of Models and Manufacturers (ALMM)
The ministry of New and Renewable Energy has a list of approved solar modules and manufacturers.
This ALMM was made compulsory along with the import duty hike. This gave a huge boost to Indian Solar companies as they were on the list. The Chinese firms were not.
Recently the government has suspended the ALMM until March 2024 so that there is no mismatch between demand and supply.
Indian Suppliers for Indian Government Projects
The government made it clear to PSUs, infra developers, government contractors, and sub-contractors, that if they were working on a government funded solar project, then they had to use modules and cells made by firms on the ALMM.
Thus Indian suppliers established a dominant position in government funded solar infra projects.
Solar PLI Scheme
The Indian government's Production Linked Incentive (PLI) schemes have been successful.
These schemes have given a boost to domestic manufacturing and have increased sales volumes of local firms.
The goal of the solar PLI scheme is to create 48 GW of module manufacturing capacity within India over three years.
The scheme is being executed in phases. In phase one, 8,737 MW capacity was allotted. A big jump was seen in phase 2 when 39,600 MW capacity was allocated. Allotments in this phase could see investments of about Rs 930 bn as per media reports.
The government has spent Rs 185 bn on this PLI scheme. The 48 GW capacity, envisaged under this scheme, is expected to come online by 2026.
Indian Companies Profiting from the Solar Boom
#1 Tata Power
Tata Power, a subsidiary of the Tata Group, has a wholly owned subsidiary called Tata Power Solar which specialises in solar energy services.
The company manufactures solar modules, solar cells, and other solar products, and provides EPC services for solar power projects.
Recently the company announced plans to raise up to $425 million in financing from the US Development Finance Corporation (DFC) for its solar cell and module manufacturing plant in Tamil Nadu.
The plant aims to produce high wattage solar modules and cells and implement Industry 4.0 standards for smart manufacturing.
Tata Power is targeting an increase in its clean energy capacity from 38% to 70% by 2030.
#2 Borosil Renewables
Borosil Renewables is the first and only solar glass manufacturer in India.
The company spotted the opportunity in the segment quite early and commissioned its solar glass manufacturing facility in January 2010.
In the solar panel glass business, Borosil meets 40% of the domestic demand of 650 tonnes of glasses per day, while the rest is imported from China and Malaysia.
The company also exports almost 20% of its present solar panel glass capacity to Europe, with the primary focus being Germany, Spain, Portugal, Russia, and Turkey.
The company has invested Rs 5 bn to more than double its capacity. It can now manufacture 1,000 tonnes of solar panel glass per day. It aiming to add another 1,100 tonnes per day capacity by the end of 2025.
Borosil Renewables stands to benefit from the government's solar mission and the product-linked incentive (PLI) scheme.
#3 Sterling and Wilson Solar
Sterling and Wilson Solar is a global end-to-end solar engineering, procurement, and construction (EPC) solutions provider.
The company provides EPC services primarily for utility-scale solar power projects with a focus on project design and engineering.
It also manages all aspects of project execution from conceptualising to commissioning and operations and maintenance (O&M) services.
It's currently expanding its renewable energy offerings to include EPC solutions for hybrid energy power plants, energy storage and waste to energy.
#4 Websol Energy System
Websol Energy System is a leading manufacturer of photovoltaic monocrystalline solar cells and modules in India. The company went into business as a fully export-oriented unit catering to Europe and the US.
The company has a reputation for high-quality products ranging from 5 W to 220 W, for homes, as well as commercial and industrial institutions. It has been in business for more than two decades.
Websol has invested in cutting-edge developments to manufacture world-class photovoltaic cells and solar modules at its state-of-the-art facility in Falta, SEZ. The facility comprises a production capacity of 250 MW cells and 250 MW modules.
It has also invested in an R&D (research and development) team focused on maximising equipment utilisation and quality standards with the objective of product customisation.
Conclusion
India's solar boom is at an inflection point.
Once the country's solar ecosystem becomes self-sustaining, the sky will be the limit for these companies.
But it's important to understand that India is not there yet. We have a long way to go before we can shake of the Chinese dominance.
So keep these stocks on your watchlist and be ready to act when the right opportunity comes along.
Check out the list of solar stocks listed on the exchanges.
Also we highly recommend watching this video by Equitymaster's smallcap editor, Rich Agarwal, for more on this...
Happy Investing!
Investment in securities market are subject to market risks. Read all the related documents carefully before investing
Want to Grow Your Wealth With Safe Stocks?
If you want a simple, safe, and hassle-free approach to long term wealth building...
Without having to worry about negative news or every little downswing in the market...
And without having to worry whether your investments will actually "deliver"...
You must read our note on Blue Chip Stocks now.
Details of our SEBI Research Analyst registration are mentioned on our website - www.equitymaster.com
Disclaimer: This article is for information purposes only. It is not a stock recommendation and should not be treated as such. Learn more about our recommendation services here...