Sep 18, 2023 - Why Bharti Airtel Share Price is Rising
Why Bharti Airtel Share Price is Rising
Sep 18, 2023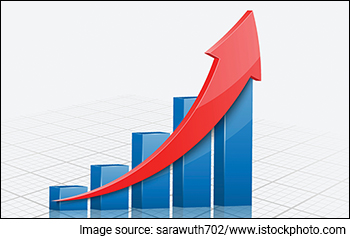 Last week, key equity benchmarks witnessed a powerful performance as Nifty and Sensex garnered around 2% of gains and settled at their all-time high closing levels amid ease in retail inflation and a rise in industrial output.
During the last trading session of the week, Nifty extended its gains for the third consecutive session while Sensex recorded its 11th consecutive day of rise, marking the lengthiest winning streak since October 2007. Every week, these indices posted gains for the third consecutive week.
Buying in telecom, auto and tech stocks also helped markets to settle with gains.
Amid this prevailing positive market sentiment, the share price of telecom giant Bharti Airtel emerged as the leading gainer in the Sensex pack, surging by 2.37% to reach an all-time high.
Renewable Energy Push
Bharti Airtel recently said that it will procure 23,000 MWh of renewable energy for its data centre subsidiary, Nxtra, by the fourth quarter of the current fiscal year 2023-24, to reduce its carbon footprint.
Airtel will invest in renewable energy projects developed by Continuum Green India and Vibrant Energy Holdings Pte., which will supply power to six of Nxtra's Edge data centre facilities.
It plans to acquire renewable energy through an open access route, involving stakes in Continuum Green's project company. This will provide environmentally friendly power generated from solar and wind projects to its Edge data centres located in Madhya Pradesh.
Additionally, Airtel has also entered into a similar agreement with Vibrant Energy's project company to supply solar power to its Edge data centre in Vijayawada.
These additions will bring the total contracted renewable energy capacity for Nxtra data centres to over 274,000 MWh.
As a leader in India's data centre industry, Nxtra is committed to becoming a Net Zero Company by 2031.
Positive long-term outlook
As India's digital economy expands to US$ 1 trillion by 2030, driven by telecom companies, to a large extent, Bharti Airtel is likely to emerge as a big winner.
The Sunil Bharti Mittal-led telecom company has the potential to ride digital growth since it can bring much-needed investments for network expansion and enhancing coverage.
Going forward, Bharti Airtel sets to consolidate its position further where rivals falter domestically and internationally. This includes expanding its offerings in 5G technology, digital services, as well as its customer base.
India's telecom market is increasingly becoming a duopoly - dominated by India's telecom market is gradually transforming into a duopoly, with Bharti Airtel and Reliance Jio as dominant players while other companies struggle financially or undergo mergers.
The market anticipates that Bharti Airtel will achieve an Average Revenue Per User (ARPU) of Rs 257 by FY26, which implies a cumulative tariff increase of 20% and a 2% gain in market share, reaching 38% by 2026.
Furthermore, the telecom industry's 3+1 structure is expected to endure in the medium term, with government support through policy reforms to maintain the existing framework. In September 2021, telecom reforms were introduced to tackle the challenges faced by the sector.
These reforms involve the removal of spectrum usage charges during new spectrum auctions, changes in the definition of adjusted gross revenue, and a suspension of AGR dues payments. These steps indicate progress towards addressing the issues in the telecom industry.
While the key operating metrics in the sector are showing signs of improvement, it may take a few more years to witness tangible enhancements in the return on capital employed profile.
How Bharti Airtel shares have performed lately
Bharti Airtel shares have gained 3% in the last five days and more than 5% in the month gone by.
At the current price, Bharti Airtel trades at a PE multiple of 1,040.3 and a price to book value multiple of 7.1.
The company touched its 52-week high of Rs 948.0 on 15 September 2022 and its 52-week low of Rs 736.2 on 2 March 2022.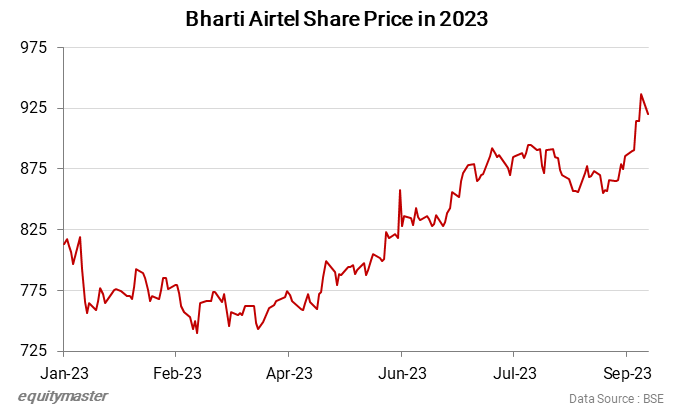 About Bharti Airtel
Bharti Airtel Limited is an Indian multinational telecommunications services corporation. It is India's second-largest network operator.
It offers an integrated suite of telecom solutions to its enterprise customers with long-distance connectivity, nationally and internationally. The company also offers Digital TV and IPTV Services.
It operates in four strategic business units mobile, telemedia, enterprise, and digital TV.
The company also deploys, owns, and manages the passive infrastructure of telecom operations under its subsidiary Bharti Infratel.
For more details about the company, you can have a look at Bharti Airtel's factsheet and quarterly result.
You can also compare Bharti Airtel with its peers.
Bharti Airtel vs Vodafone Idea
To know what's moving the Indian stock markets today, check out the most recent share market updates here.
Investment in securities market are subject to market risks. Read all the related documents carefully before investing
Want to Grow Your Wealth With Safe Stocks?
If you want a simple, safe, and hassle-free approach to long term wealth building...
Without having to worry about negative news or every little downswing in the market...
And without having to worry whether your investments will actually "deliver"...
You must read our note on Blue Chip Stocks now.
Details of our SEBI Research Analyst registration are mentioned on our website - www.equitymaster.com
Disclaimer: This article is for information purposes only. It is not a stock recommendation and should not be treated as such. Learn more about our recommendation services here...