Why Adani Enterprises Share Price is Rising
Sep 20, 2022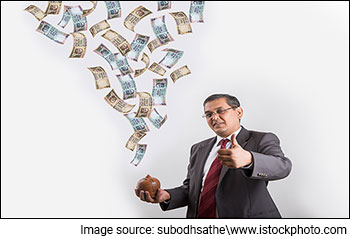 After a drought of almost three years, Virat Kohli was back in sublime touch and scored his 71st century in the international T20 encounter against Afghanistan.
Indians rejoiced with joy and social media erupted as Kohli broke multiple records along with scoring his century.
Those who missed watching the match live should definitely watch the highlights...you're in for a treat.
But do you know what's a bigger regret than missing the chance to see Virat hit his 71st century?
In the stock market, it has to be not buying shares of Adani Enterprises (or any Adani group stock for that matter).
I am not the only one, take a look at this tweet: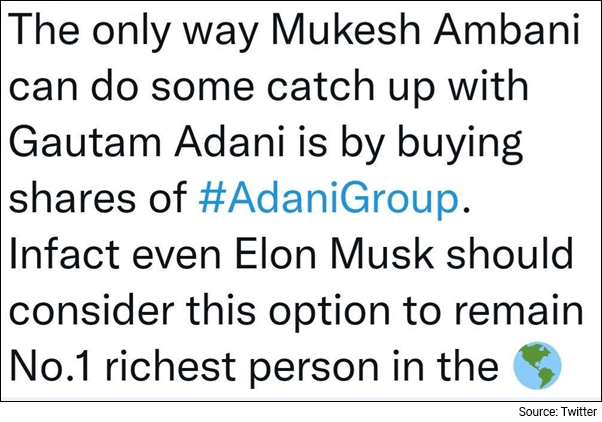 All jokes apart, Adani group shares have rallied like there's no tomorrow in the past one year.
A similar instance was post the Covid 19 crash when most of these stocks became the top performing stocks since the March 2020 crash.
The group's flagship firm Adani Enterprises in particular, has seen a stellar rally.
Let us take a look at the reasons behind the rally and how the company has helped Gautam Adani become the third richest man in the world.
#1 Inclusion in Nifty 50 index
Earlier this month, a wave of happiness flowed for shareholders of Adani Enterprises when it was announced that the company will be included in the benchmark Nifty 50 index.
Nifty 50 is a collection of 50 top-performing stocks listed on the NSE. These 50 stocks are the largest Indian companies.
Being included in the top 50 companies of India is a big achievement for Adani Enterprises. Inclusion usually means higher inflows in the stock. This could be one reason why the stock has continued its uptrend in recent days.
#2 Stellar financial performance
For the quarter ended 30 June 2022, the company's total income was Rs 408.4 bn which is 64% higher if compared sequentially. In the March 2022 quarter, it had a total income of Rs 248.6 bn.
If compared on a year-on-year (YoY) basis, it's the total income has increased by a whopping 225%.
Net profit for the quarter ended 30 June 2022 stood at Rs 6.3 bn. This is 35% higher compared to March 2022's net profit of Rs 4.7 bn, and 67% higher when compared on a YoY basis.
The stellar performance was on account of its integrated resources (IRM) and airport business reporting strong numbers after full consolidation.
#3 Domino Effect
It is a known fact that the Adani group is spreading its wings in many sectors. From sports to cement to power to green hydrogen, Adani group has covered most of the high growth sectors.
Being the flagship company of the Adani group, Adani Enterprises is the engine of the train which is stopping at various sectors. Adani Enterprises is the incubator of the Adani group helping it to enter diverse business.
Hence, the success of the Adani group depends indirectly on the benefits of other companies in the group. When other companies of the group are doing well, a domino effect is created and Adani Enterprises would also do well.
This is what Gautam Adani said when Adani Enterprises reported its Q1 results:
Adani Enterprises' high growth lays the foundation for us to accelerate the continued development of new businesses like data centres, airport ecosystems, road and water infrastructure, defence and aerospace, and digital technology services.

Through our partnership with TotalEnergies in ANIL, we have also begun our journey to become the world's largest player in green hydrogen.
At present, it is getting the benefit of falling coal prices. The price of coal has fallen by 9.3% in the last month. This will be a relief on the margin of power and distribution arm of the Adani group. It will ultimately benefit the margins of Adani Enterprises.
Just like this, there are various other sectors of the Adani group that are running in profit right now because of which the Adani Enterprises share price is benefitted.
#4 Insider Buying
The promoter's holding indicates the promoter's trust in the company. So if promoters are buying shares in the company, they either think the shares are undervalued, or something big is about to happen in the company.
Hence, when promoters buy shares of a company, investors' trust in the company also increases. On 13 September 2022, the promoters of Adani Enterprises bought 500,000 shares worth Rs 1.8 bn of Adani Enterprises, in an open market transaction.
How Adani Enterprises has performed recently
Shares of Adani Transmission are up 121% so far in 2022. On a YoY basis, the share price has rallied 166%.
The stock is up 25% in the last month alone due to aggressive buying by investors across the board.
Today, it reached a new 52-week high of Rs 3,873.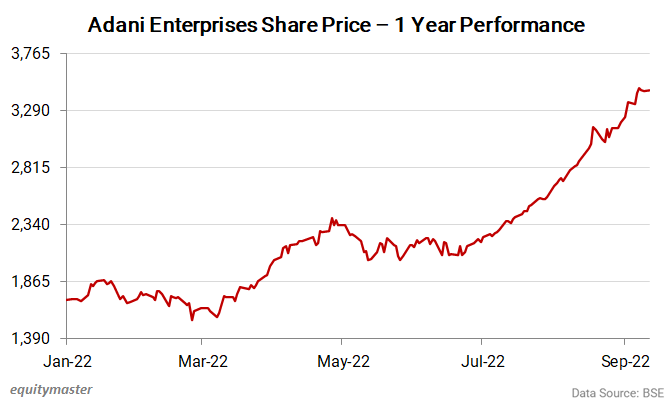 Investment Takeaway
The rally in Adani group stocks is massive and it looks like there is nothing that would stop the growth of this behemoth conglomerate.
However, one should be very careful. Adani group is loaded with heavy debt. Even one default by any company will send all the group companies tumbling down on the bourses.
Financial Snapshot
| Rs m, consolidated | FY18 | FY19 | FY20 | FY21 | FY22 |
| --- | --- | --- | --- | --- | --- |
| Total Income | 390,631 | 416,364 | 440,862 | 402,909 | 705,195 |
| PAT | 3,773 | 3,166 | 7,980 | 7,463 | 4,754 |
| Total Debt | 176,367 | 112,432 | 124,193 | 160,012 | 405,080 |
| Debt to Equity (x) | 1.17 | 0.76 | 0.73 | 0.93 | 1.82 |
Data Source: Ace Equity
Shares of Adani Enterprises are trading at a PE ratio of 448.7. Most of the Adani group stocks are overvalued.
To know more about the company, check out Adani Enterprises financial factsheet and its latest quarterly results.
Happy Investing!
Disclaimer: This article is for information purposes only. It is not a stock recommendation and should not be treated as such. Learn more about our recommendation services here..