PLI Scheme for Solar Module Manufacturing. Here's All You Need to Know...
Sep 22, 2022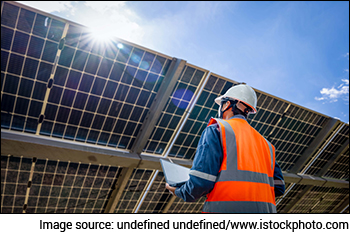 People over the world are seeing that renewable energy is the way forward to achieve a cleaner and greener world. Resultantly, the demand for clean power is growing rapidly.
With rising and stringent taxes on fossil fuels, the world has turned towards renewable sources of energy. There has been a paradigm shift towards renewable energy.
One of the biggest benefactors of this shift is solar energy. It is the future. It's no longer just a fad, but the solar sector all over the world is booming.
Companies involved in the segment are today considered the fastest growing companies.
With many government developments and private players entering the sector, it's only going to grow from here on!
However, there is one problem with boosting the solar sector - PV modules.
PV modules known as solar panels, are a web that captures solar power to transform it into sustainable energy. Solar panels use sunlight as a source of energy to generate electricity.
It's one of the most important components of generating solar electricity. Solar panels are a big portion of the total cost of the solar energy plant.
However, the problem with them is that they have to be imported. Hence, boosting solar energy means increasing import bills.
However, the government has tried to come up with a solution to overcome this problem.
Yesterday, the government approved a scheme worth Rs 195 bn for manufacturing solar PV modules.
Let us take a look at the details of the scheme.
PLI scheme for manufacturing solar panels
On 21 September 2022, information and broadcasting minister Anurag Thakur said the centre has approved a production-linked incentive (PLI) scheme as a 'national programme on high-efficiency solar PV modules'.
As per the approved scheme, benefits worth Rs 195 bn will be given by the government to solar PV manufacturers. The benefits will be given for five years after commissioning the PV manufacturing plants.
It is expected that with the help of this scheme, imports worth Rs 1.4 tn will be substituted by domestic production of solar panels. In the five years, it's expected that about 65,000 MW per annum manufacturing capacity of fully and partially integrated solar PV modules would be installed.
Through this scheme, approximately 200,000 direct jobs and 700,000 total jobs will be created. The centre aims at attracting investment worth Rs 940 bn through this scheme.
It will boost the entire solar sector as it will be a win-win for all: the PV manufacturers, the solar power generation and distribution companies, and the government.
The list of companies qualified for this scheme is not confirmed yet.
Here are the top companies from the solar space that can benefit the most from this scheme.
#1 Tata Power
Tata Power, a subsidiary of the Tata Group, has a wholly owned subsidiary called Tata Power Solar which specialises in solar energy services.
The company manufactures solar modules, solar cells, and other solar products, and provides EPC services for solar power projects.
Tata Power Solar Systems has commissioned 1.5 GW of utility-scale projects and has an order book of around 3 GW amounting to Rs 120 bn as on 31 March 2022.
#2 Borosil Renewables
Borosil Renewables is the first and only solar glass manufacturer in India.
The company spotted the opportunity in the segment quite early and commissioned its solar glass manufacturing facility in January 2010.
In the solar panel glass business, Borosil meets 40% of the domestic demand of 650 tonnes of glasses per day, while the rest is imported from China and Malaysia.
The company also exports almost 20% of its present solar panel glass capacity to Europe, with the primary focus being Germany, Spain, Portugal, Russia, and Turkey.
#3 Sterling & Wilson Solar
Sterling and Wilson Solar is a global end-to-end solar engineering, procurement, and construction (EPC) solutions provider.
The company provides EPC services primarily for utility-scale solar power projects with a focus on project design and engineering. It also manages all aspects of project execution from conceptualising to commissioning and operations and maintenance (O&M) services.
The company's unexecuted order book was Rs 32.5 bn as of 31 March 2022. This compared to Rs 91.3 bn as of 31 March 2021. Total order inflow was Rs 7.2 bn for the financial year 2021-22 as compared to Rs 79.4 bn for the year ago period.
#4 Websol Energy
Websol Energy System is a leading manufacturer of photovoltaic monocrystalline solar cells and modules in India.
The company went into business as a fully export-oriented unit catering to Europe (mainly Germany and Italy) and the US.
The company has a reputation for high-quality products ranging from 5 W to 220 W, catering to the demands of home, commercial, and industrial institutions. It has been in business for more than two decades.
The company's order book comprised 3 months of sales at the close of financial year 2021-22. More than 44% of the customers were associated with the company for five years or more during the same period.
Apart from these, there are other companies involved in the solar space which may benefit if they get selected for the scheme.
These companies include Reliance Industries, Swelect Energy Systems, Gita Renewable Energy, and Visaka Industries.
Investment Takeaway
The solar sector has huge growth potential. This focus on renewable energy is just the beginning.
As more and more people are becoming aware of the environment, solar power will become a must-have for every household 5 to 10 years from now. This is when we see solar companies competing with each other for market share.
To conclude, if the fundamentals are in place, there is no doubt that solar energy companies will grow further as India is already in a good position.
Under the current circumstances, putting money into companies that are already close to achieving their goals or having a strong forward growth plan is always better than putting money into companies that are at the nascent stage.
Stay tuned to Equitymaster, for more such updates.
Disclaimer: This article is for information purposes only. It is not a stock recommendation and should not be treated as such. Learn more about our recommendation services here...
Yash Vora is a financial writer with the Microcap Millionaires team at Equitymaster. He has followed the stock markets right from his early college days. So, Yash has a keen eye for the big market movers. His clear and crisp writeups offer sharp insights on market moving stocks, fund flows, economic data and IPOs. When not looking at stocks, Yash loves a game of table tennis or chess.