Bharti Airtel's Humongous Rights Issue to Open on 5 October. Key Points Investors Should Know
Sep 23, 2021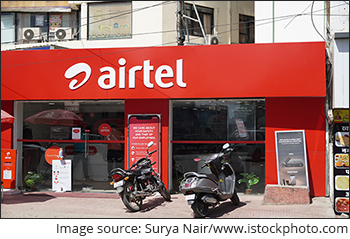 Telecom major Bharti Airtel shares are in focus as the company's Rs 210 bn rights issue to open on 5 October 2021.
The telecom operator informed the exchanges on Wednesday that its special committee of directors for the rights issue has approved 5 October 2021 as the issue opening date and 21 October 2021 as closing date.
The committee has approved 28 September 2021 as record date for the purpose of determining the eligible shareholders. Eligible investors will receive one share for every 14 shares held as on the record date.
A total of up to 392.2 m shares will be offered as part of the rights issue. The rights shares will be issued at a price of Rs 535 per fully paid-up share, including face value of Rs 5 and a premium of Rs 530 per share.
--- Advertisement ---
Automobile Sector's Colossal Disruption Could Make You a Fortune

During any major disruption in a sector, fortunes are created.

And now, we are at the cusp of a major disruption that the automotive sector will experience.

It is the electric vehicles gold rush.

At Equitymaster, we have unearthed a hidden way to ride the 15x EV opportunity so that you could take home potentially life-changing gains in the long run.

You can get all details of the hidden way in our upcoming special online event.

YES, Register Me for FREE
------------------------------
The terms of payment of issue price stated that 25% will be paid upfront and the rest will be called as per requirement over the next 36 months.
Key Bharti Airtel's Rights Issue Details
| | |
| --- | --- |
| Record date | Tuesday, September 28, 2021 |
| Issue opening | Tuesday, October 5, 2021 |
| Issue closing | Thursday, October 21, 2021 |
| Issue Size | Rs 210 bn (only 25 per cent will be collected on application) |
| Issue Price | Rs 535 per fully paid-up equity share |
| Rights ratio | 1:14 (1 share for every 14 shares held). |
| Date of allotment (on or about) | Tuesday, October 26, 2021 |
| Date of credit (on or about) | Wednesday, October 27, 2021 |
| Date of listing (on or about) | Thursday, October 28, 2021 |
Data Source: Company's Report
Earlier on 29 August 2021, the teleco said its board comprehensively reviewed the industry scenario, business environment, financial/ business strategy of the company and approved the plan to raise up to Rs 210 bn via rights issue of equity shares.
Will the promoter participate in the issue?
Yes.
The promoter and promoter group of the company will collectively subscribe to the full extent of their aggregate right. In addition, they will also subscribe to any unsubscribed shares in the Issue.
Promoter holding in the company stands at about 55.8%, while the public holds 44.09%.
In last 6 months, promoter and mutual fund holding in the company has almost stayed constant.
To know more, check out Bharti Airtel's latest shareholding pattern.
Singtel will fully subscribe to its share in Bharti Airtel's rights issue
Singapore Telecom, co-promoter of Bharti Airtel, intends to subscribe to its full entitlement in shares that the operator will issue to existing investors to raise funds in October.
The Singapore based company will spend about Rs 29.4 bn (about US$405 m) over three years to subscribe to its allocation based on its 14% ownership. It will remain the single-largest shareholder.
--- Advertisement ---
The Rebirth of India

India's leading research analyst, Tanushree Banerjee, will show our readers how an upcoming mega shift would drastically change the state of the Indian economy...

And how investing in three high-potential stocks at the heart of this rebirth...

...could potentially hand them 100%, 300%, 500%, even 1,000% or more in the long run.

Since you are one of our valued readers, we sincerely urge you to head over here for more details
------------------------------
Singtel in its latest statement said it believes funds raised through the rights issue will equip Airtel to invest in 5G capabilities and ride the digital growth momentum in India.
The group noted this is in line with its strategic reset announced in May to build out digital ecosystems in the region, through a multi-local strategy.
This could involve unlocking assets to reinvest in critical infrastructure to power the digital economy.
Citing an anticipated increase in the number of smartphone users in India and a steady rise in month-on-month growth in broadband connections, Singtel believes Airtel is seeking to capture 'tremendous opportunities' in areas such as 5G, home broadband, data centres, cloud services, and cybersecurity.
Arthur Lang, Singtel's Group chief financial officer, said,
Our participation in this rights offering underscores our confidence in Airtel's growth prospects.

Along with Indian government's relief measures on statutory payments, the fundraising will significantly improve Airtel's liquidity.
Recently, the Union Cabinet announced a relief package for telecom sector which is likely to include a moratorium on payments for airwaves, will help India's three major wireless carriers including Bharti Airtel.
Airtel's Rights issue will give an edge over its rivals
The mega fundraising is bound to give more firepower to Airtel as the company takes on rivals in the fiercely-competitive Indian telecom market.
Bharti Airtel is the second largest telco in the Indian telecom market followed by Reliance Jio, with a mobile user base of 352 m.
It added 3.8 m wireless subscribers in June, as per subscriber data recently released by telecom regulator, Telecom Regulatory Authority of India (TRAI).
Recently, international ratings agency S&P maintained Bharti Airtel's credit rating at 'BBB-' and upgraded the outlook to stable from negative, indicating the company's improved financial status and ability to pay back debt.
Join Today: Equitymaster is on Telegram. Join FREE Today for Exclusive market Updates
Equitymaster's view on the telecom sector
We reached out to Tanushree Banerjee, Co-Head of Research at Equitymaster, and editor of the premium stock recommendation service StockSelect, for her view on the telecom sector.
Here's what she has to say...
While the telecom sector can have huge upsides due to 5G, investors must be very selective about the stocks. Higher-than-expected investments in spectrum acquisition or 5G deployment remain a risk.

Other than a few telecom companies, most others do not have sufficient balance sheet strength.
In a separate vein, back in the month of April, Rahul Shah had recorded a video analysing the stock of Bharti Airtel.
In the video, Rahul discussed whether Bharti Airtel's valuations are running ahead of fundamentals or the stock still seems reasonably priced from a long term investment perspective.
You can watch the video here: The Dilemma of Investing in Bharti Airtel
How the stock markets reacted to Bharti Airtel
Shares of Bharti Airtel opened the day at Rs 731.6 on the BSE and Rs 733.4 on the NSE.
Its share price closed at Rs 726.2 (down 0.1%) on the BSE and Rs 726.8 (down 0.1%) on the NSE.
The share touched its 52-week high of Rs 743.9 and 52-week low of Rs 394.1 on 17 September 2021 and 19 October 2020, respectively.
Over the last 30 days, the Bharti Airtel share price is up 17%. Over the last one year, the company's share price is up 55.6%.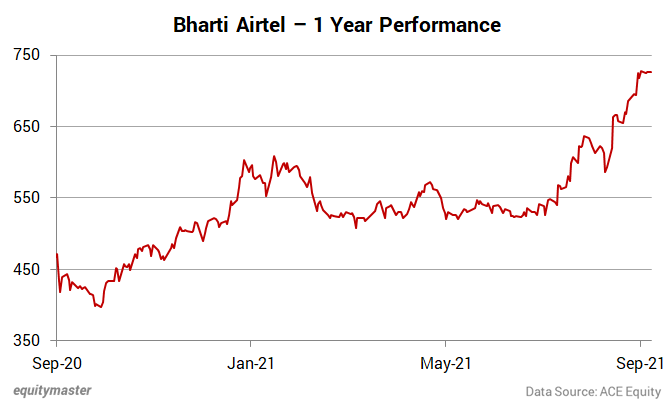 About Bharti Airtel
Headquartered in India, Bharti Airtel is a global telecommunications company with operations in 18 countries across South Asia and Africa.
The company ranks among the top three mobile operators globally and its mobile network covers a population of over two bn people.
Bharti Airtel is India's largest integrated telecom provider and the second largest mobile operator in Africa.
Airtel's portfolio includes high speed 4G/4.5G mobile broadband, Airtel Xstream Fiber that promises speeds up to 1 gbps, converged digital TV solutions through the Airtel Xstream 4K Hybrid Box, digital payments through Airtel Payments Bank, as well as an integrated suite of services across connectivity, collaboration, cloud, and security that serves over one million businesses.
Airtel's OTT services include Airtel Thanks app for self-care, Airtel Xstream app for video, Wynk Music for entertainment and Airtel BlueJeans for video conferencing.
In addition, the company has forged strategic partnerships with hundreds of companies across the world to enable the Airtel platform to deliver an array of consumer and enterprise services.
For more details about the company, you can have a look at Bharti Airtel's factsheet and quarterly results on our website.
You can also compare Bharti Airtel with its peers.
Bharti Airtel vs Vodafone Idea
Here are links to some very insightful Equitymaster articles on Airtel:
To know what's moving the Indian stock markets today, check out the most recent share market updates here.
Disclaimer: This article is for information purposes only. It is not a stock recommendation and should not be treated as such. Learn more about our recommendation services here...